Who doesn't love a resource that does it all?! I know I do! That's why I LOVE digital spinners!
Digital spinners can be used in so many parts of our day! Want to facilitate a discussion in math, reading, etc.? Digital spinner. Need a brain break? Digital spinner. Can't decide on a prize for the class? Digital Spinner. You get the point!
Digital spinners are such a versatile engagement tool that gets students excited!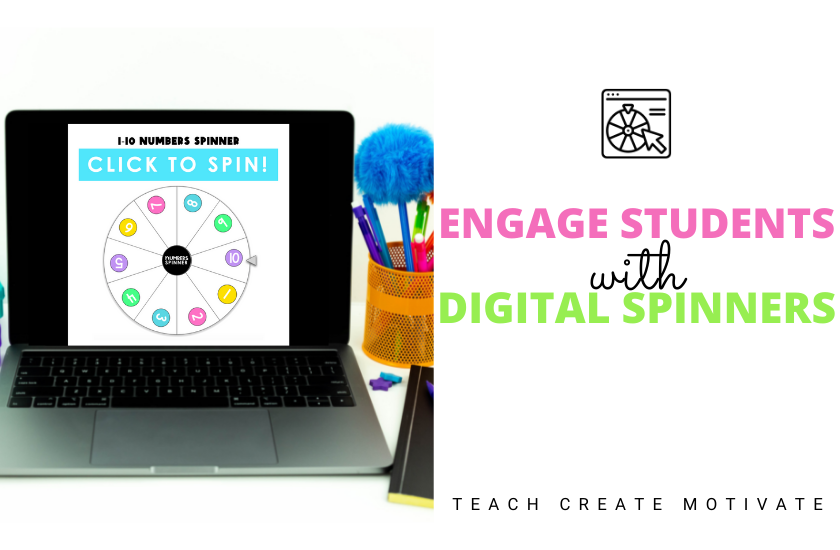 What are digital spinners?
Maybe you have seen the prize wheel I've shared in the past… students LOVE it! It is engaging and so exciting because you never know what you're going to get!
Going digital isn't anything new, but last year it was a necessity! I started by adding digital spinners to classroom management games like bingo and wanted to create digital spinners for other things. Who doesn't want more ways to engage students, right!?
Highlights of digital spinners:
Ready to use in your classroom!
SOUND EFFECTS!!
Google Slides and some Powerpoint options
Use with the click of a button!
How to Use Digital Spinners
Spinners can be used in any part of your day! They are great for facilitating discussions and engaging students in different ways. Here are just a few ideas on how to add digital spinners to your classroom routine:
Morning Meeting
Take your morning meeting engagement up a notch with these digital spinners!
Would You Rather
Social-emotional
Energizers (great for brain breaks)
Affirmations
Sharing Prompts
There are so many ways you can work one of these in to the beginning of your day! Start your meeting off with a "Would You Rather" ice breaker, wake students up on a Monday with an Energizer, or start a Talk About It Tuesday with a Sharing Prompt.
Students will be so eager to be the ones to spin! This would be a great job for the V.I.P., or you can randomly select a name (there's a spinner for that too!)
Math
One of the trickier parts of math is getting students to talk about it. Try using a spinner! Students will get so wrapped up in the excitement and anticipation of what the wheel will land on that they will be eager to share their response to the prompt!
Some examples of the "Math Talk" spinner prompts are:
"What strategy did you use?"
"Was there any math vocabulary that you used?"
"What did you notice?"
and 10+ more!
You can use a math talk prompt to start class and use it as a focus strategy, spin the wheel during a problem and use it for a turn and talk, or take problems a step further and spin after students work it out to deepen understanding.
Reading
Students struggling with accountability during independent reading? Spin the Fiction (or Nonfiction) Discussion Spinner for a question they need to answer about their book while reading! Pass out a sticky note, and they can write their response there!
Practice reading skills during a read-aloud with the Reading Skills Spinner. Stop in the middle of the book and spin or set a purpose for reading at the beginning. Great for modeling what good readers do and think about while reading!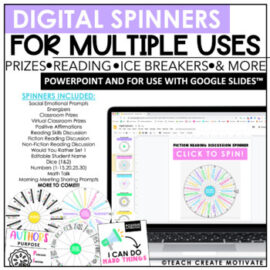 Digital Spinners
– 20 different spinners
– Ready to use in your classroom!
-Google Slides and Powerpoint options
What Teachers are Saying
"My students LOVE these spinners! They keep them so engaged and ready to learn. I love using them for read alouds and as brain breaks!"
My students love how interactive this wheel is. There were so many categories to choose from, which makes it so this resource was used at many different times of the day throughout the week. We used this online for small groups and in-person whole group. It was a great way to supplement and frontload concepts. This resource also helped with community building because everyone was so excited to see where the wheel would land."
"This resource has been great to use in my virtual classroom. The kids think it is so fun and is really engaging in our lessons and morning meetings. Thanks so much!!"
"I used this with my whole group class and then again on a one-on-one meeting with a student with disabilities, and it worked great!!! I love this!"
Pin the image below to revisit this post later!