Coming back to school after any type of break is always a bit challenging for everyone! Whether it's summer break, winter break, spring break…I've got you covered! Student engagement is the number one factor for good classroom management. Getting students engaged back into the routine of school is key so let me show you how!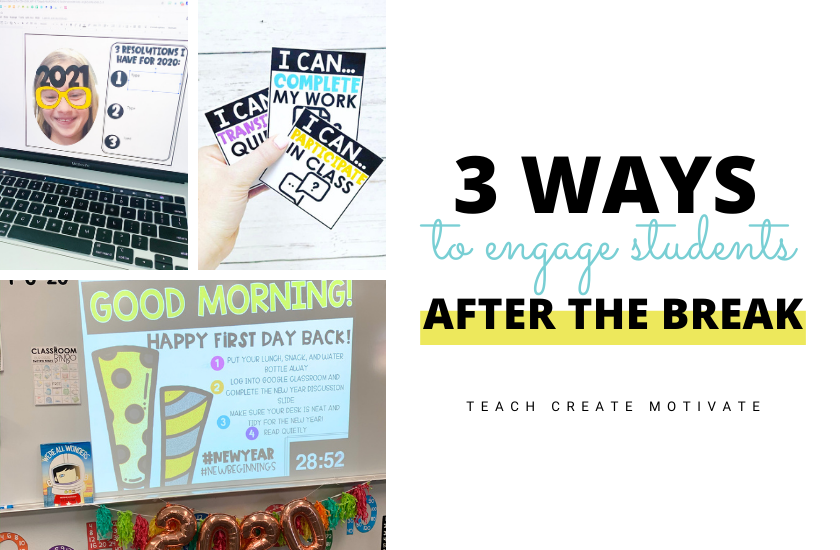 1. Focus on Time
Over the break, there was probably at least one instance when you forgot what date or time it was (probably not on Christmas morning though). ????When we fall out of routine, we tend to find ourselves enjoying the moment – which is a great thing!! BUT – everyone knows that in the classroom, there's so much to do that we must be diligent about our time.
Using Class Slides with Timers are a life. saving. tool. NO JOKE! These are fantastic to use EVERYDAY to help create that routine that our students need! It helps students manage how much time they have left which in turn then keeps them engaged in whatever task they are working on.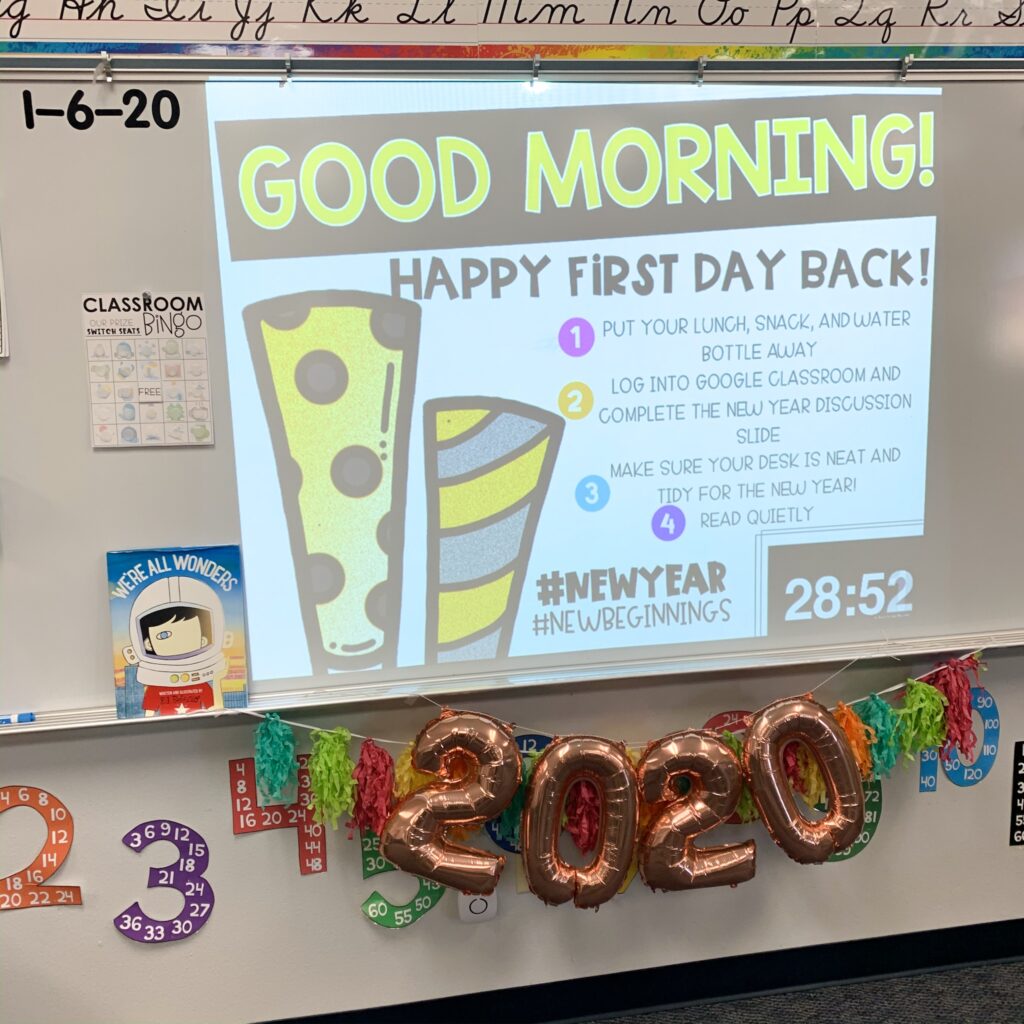 Adding instructions right on the slide with the timer is G O L D ! Visible instructions are great student engagement because it allows them to take ownership of their learning. If you haven't tried using timers yet in your class, I highly suggest you make it the one thing you do in 2021!
Distance Learning Class Slides with Timers | Classroom Management
Easily use these slides for distance learning by sending the slides as instructions for your students home learning! Use with or without the timers.
2. Get Creative
Remember, students learn best when they are engaged and having FUN! Coming back from a break is difficult enough so instead of diving right into content, let students express their creativity!
Instead of just doing a morning work assignment that says "Write a paragraph about what you did over the break", you could use Themed Selfie Writing Prompts instead! These prompts are GREAT for allowing students to think outside of the box. Some of my favorites include, "If I could pick up my house and go anywhere" and "What has a "pizza" your heart?"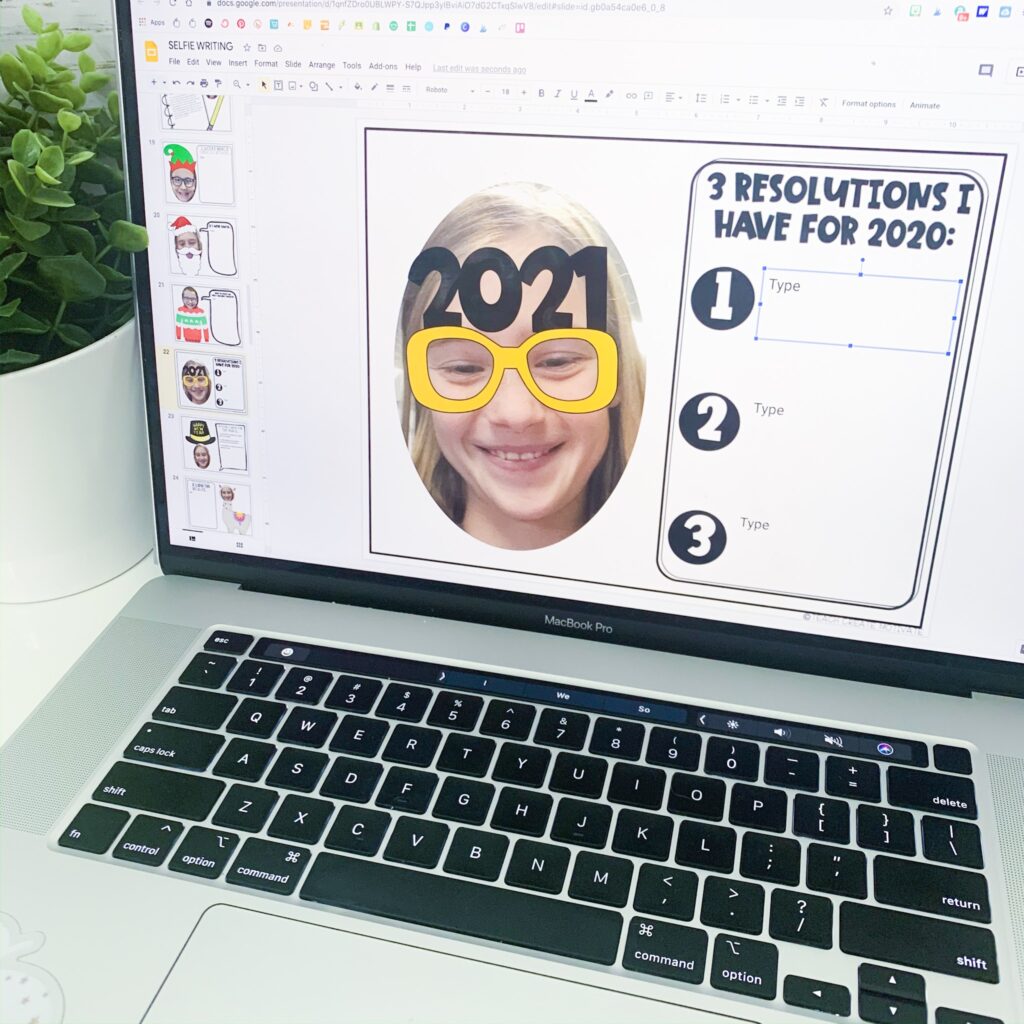 This is the perfect morning work activity because it creates that student engagement with something fun for when students might not "feel" like being at school. They will be practicing their writing skills without even knowing it because they'll be having so much fun thinking about "If I were trapped in a snowglobe…" Head over to this blog post here where I share 3 different ways you can use themed selfie writing prompts in your classroom!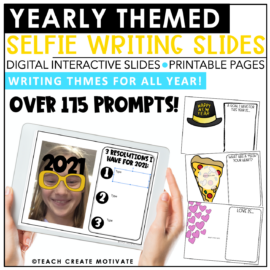 Distance Learning Digital Themed Selfie Writing | Slides | for Google Classroom™
You will love these themed and holiday writing pages. These selfie writing prompts pages can be used in print or for digital writing (version to be used with Google Slides™, Seesaw, Canvas, Teams, or PIC Collage,). Have your students "take a selfie" with over 100 writing prompts.
3. Set Students Up for Success
The best way to engage students after any type of break is to set them up for success! What I mean by this is to have students brainstorm goals! These goals can be academic, personal, or whatever you see best fit! If setting goals overwhelms your students, start small. They don't have to tackle the whole school year, but instead focus on what they want to accomplish in one week, a month, etc!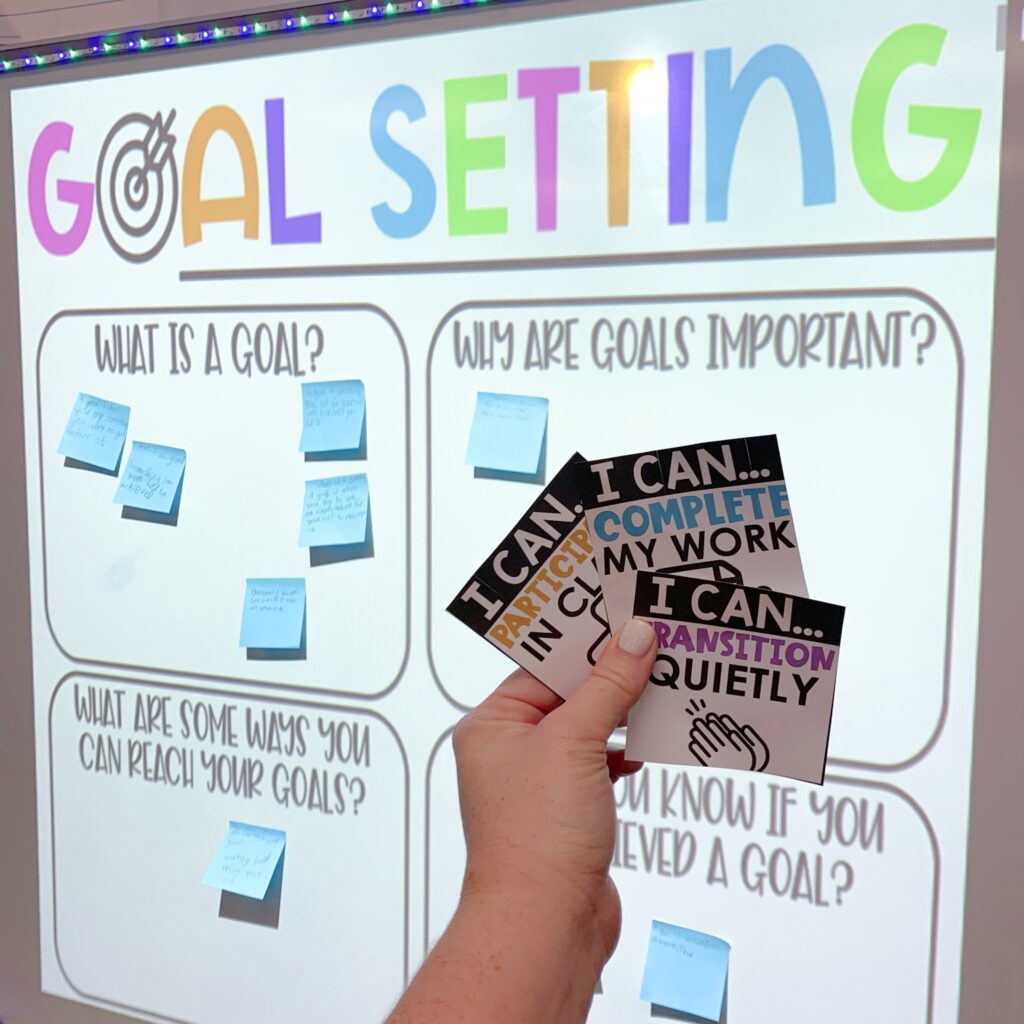 I love using Student Goal Cards because it instills positive self talk with each student. It gives students an opportunity to practice saying things like "I CAN" . Not only is it good to engage students in academics, but it's also important to teach them how to set personal goals and reach them! These goal cards can help with classroom management, as well as, are the perfect tool to teach students about goal setting!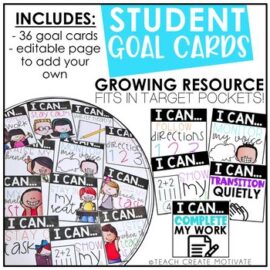 Student Goal Setting Cards | I Can Statements | Editable
Encourage student goal setting with 30 different student desk reminders in the form of "I can" statements. This resource is editable so you can make your own desk reminder cards for students. These student reminders go great on the corner of a student's desk-they even fit PERFECTLY in the target adhesive pockets!
I hope that one or more of these tips can hep you and your students start strong after the break! Remember, that it's always a good time to do a quick refresher on the rules and procedures of how your class runs. Nothing about this school year has been normal, so it's ok to change it up and try something new!
Feel free to pin the image below to save this post for later!