November is a time to practice gratitude and reflection as we approach the start of the holiday season. Part of that is focusing on the importance of Veterans Day, which is November 11th.
MORNING MEETING CONVERSATIONS
Morning meetings are a perfect time to introduce or discuss the significance of Veterans Day with your students. Students usually know at least one Veteran and are excited to share about the military Veterans in their lives.
One great way to start the conversation is through picture books and a read-aloud. The Poppy Lady: Moina Belle Michael and Her Tribute to Veterans is a sweet book that focuses on how the poppy becomes a symbol of support for Veterans.
Another great read-aloud is Rags: Hero Dog of WWI: A True Story. This is a touching story of a dog and a soldier's bond throughout WWI. This true story gives students a view into the life of a soldier. Find more favorite November read-alouds and practice comprehension skills with meaningful texts HERE.
VETERANS DAY ACTIVITIES
A Veterans Day KWL chart is a wonderful way to begin activities about Veterans Day in an elementary classroom. It will give you insight as to what your students already know about military members and the national holiday, and where you need to focus. These activities are perfect to include for elementary students across many grade levels.
Veterans Day activities can easily be integrated into your schedule. Simply add a few of the meaningful activities throughout the week in stations or centers, or add them to your social studies block to learn about American History. Graphic organizers, writing prompts, letter writing, and reading passages are great ways to teach both younger students and older students about the history of Veterans Day.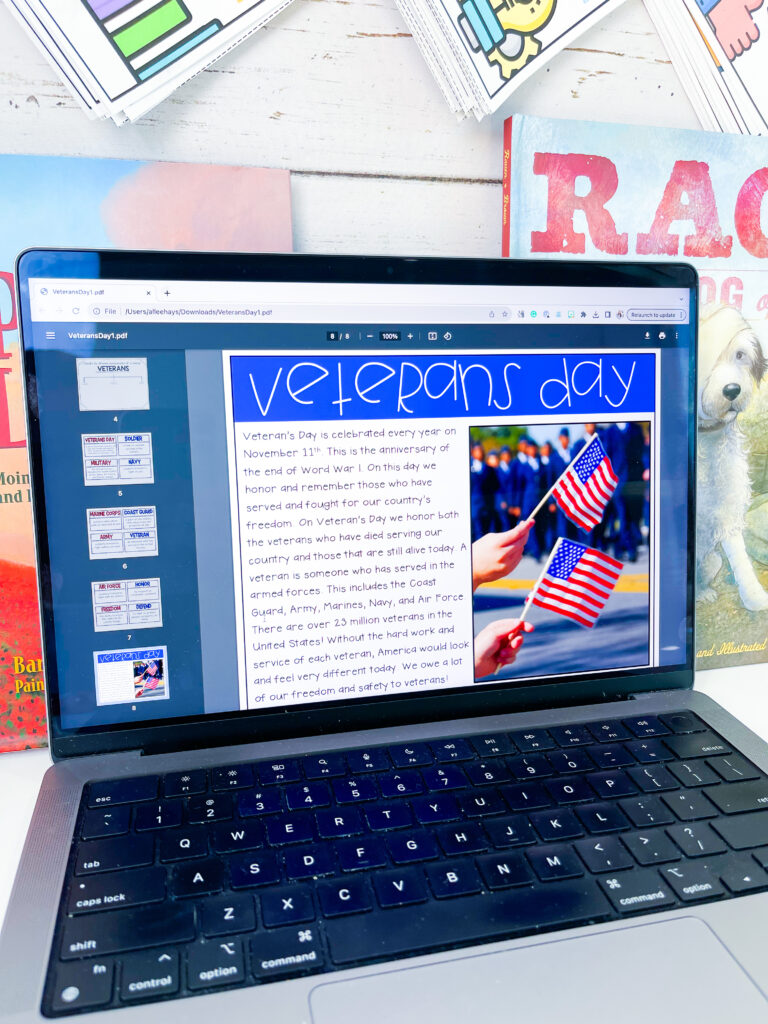 Veterans Day activities are the perfect addition to your classroom. You can print the Veterans Day worksheets and activities, or assign them online. The Veterans Day pages and activities focus on vocabulary associated with Veterans Day, graphic organizers, as well as a mini flip book, and a nonfiction text.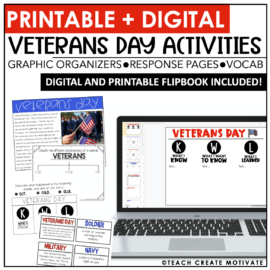 Veterans Day Activity Pack
This pack includes flipbooks, writing pages, vocab, and more!
WRITE A LETTER
A unique opportunity on Veterans Day is having students write a letter to an American Soldier. In addition to a mini letter writing lesson, this writing activity is a great tie-in for SEL. Writing a letter is a perfect opportunity for students can gain a better appreciation for veterans today by a simple and kind gesture – writing a letter.
Go to this website for more info on writing letters to members of all branches of the military…Support Our Troops.
Here is a Veterans Day freebie, just enter your info below!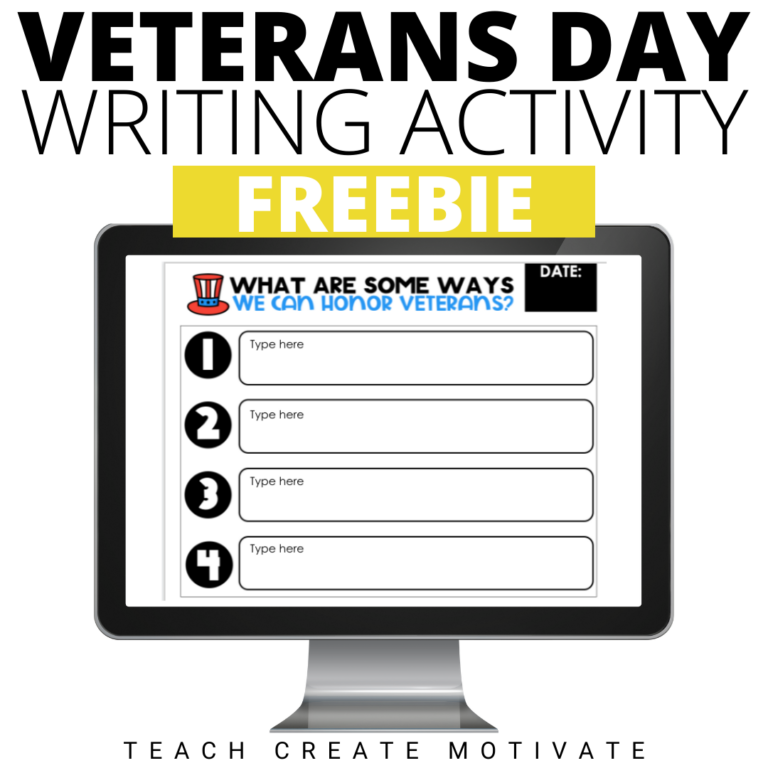 I hope you found a great idea or two to add to your Veterans Day lesson plans. These student activities and Veterans Day ideas are an easy way to learn more about one of our nation's important holidays, the experiences of service members, and the history of the federal holiday.
Pin the image below to revisit this blog post later!