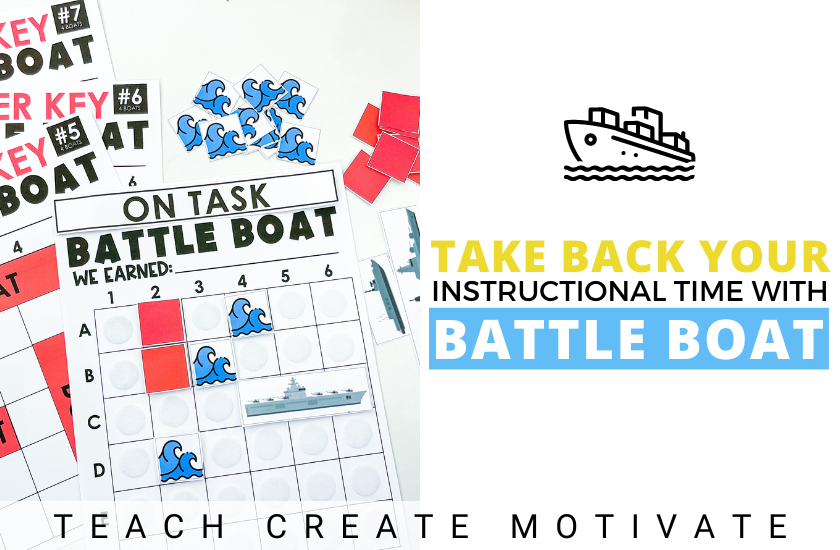 Battle Boat is a spin on a classic board game and is perfect for this time of year when behaviors are high, and engagement is low. Take back your instructional time from behavior problems and work on desired behavior while creating a fun classroom environment.
PREPPING THE GAME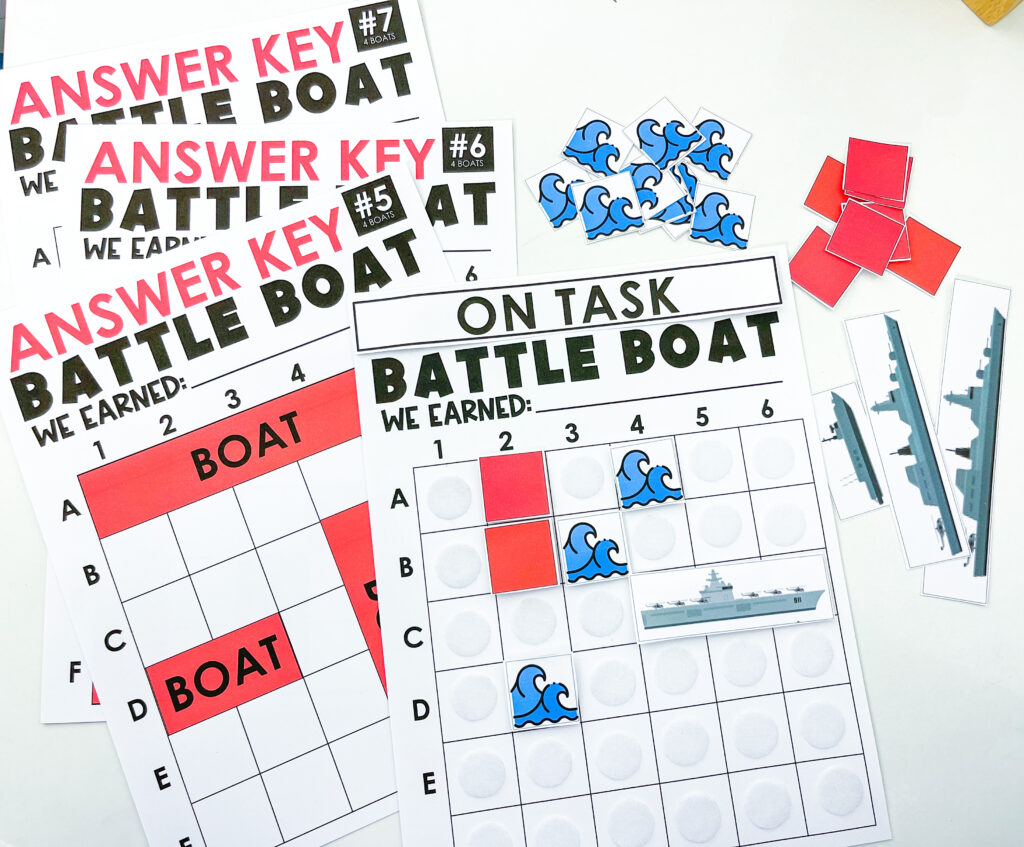 The thing with classroom management games is that you can use them again and again year after year. So once you prep the board and pieces once, all you have to do is pull out the game board you want to use and GO!
Print the game boards and pieces on cardstock for long-lasting prep so they are durable! Then, laminate and cut out the pieces. I've linked some of my favorite game prep essentials and storage options HERE!
ESTABLISHING EXPECTATIONS
You can work on specific expectations with your whole class or play a generic "classroom" board and work on some of everything!
Transitions
Kindness
Teamwork
Homework
Participation
Monitor your voice
On task
No blurts
Blank board
One way to decide what to work on is by giving your class ownership to choose! Ask your students during the morning meeting to share some of the behaviors they are noticing, and determine the game board based on what they are saying!
HOW TO PLAY
If you've ever played the popular board game "Battleship," this classroom management game is a spin on that!
When the entire class earns a piece, a student names a coordinate on the grid. If the coordinate is in the water, you will put a water piece up on the board in that place. If the student names a coordinate where part of the boat is, you will put a red piece marking that part of the boat is there.
It's a mystery where exactly the boats are until the entire boat is found! Once the entire boat has been marked with red pieces on the board, you'll replace the red pieces with a boat piece so students know they found the whole boat.
The best part is students work toward a common goal through this positive classroom management system.
WHAT'S INSIDE
Two grid options
Premade ship layouts

Ten options with four ships
Ten options with three ships
Ten options with two ships

Blank templates
Premade expectation cards for the top of the game board
Blank expectation cards to customize
Water pieces for 'misses'
Red pieces for 'finding' a ship
Ship pieces to use once an entire ship has been 'found'
You can play this game with younger or older elementary students with multiple grid and ship options. Make it work for any grade level! Since there are 30 game board choices, you can play throughout the school year and never repeat a board!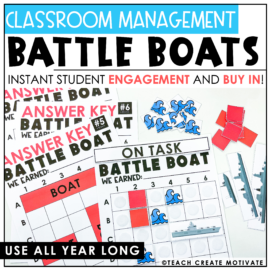 Battle Boat Classroom Management Game
Engage your students and add another tool to your classroom behavior management belt with this new classroom management game – Battle Boat! This is a different twist on encouraging positive student behavior. Perfect for leading up to a break, end of the year, or anytime! This game offers printable options that will keep your students wanting to earn the next piece!
Earning a Reward
When students find all the boats on the game board, celebrate the end of the game with a reward! Here are some ideas for positive behavior rewards.
Say goodbye to disruptive behavior and polish up classroom rules with this fun and engaging classroom management strategy! Battle Boat is a great way to create student buy-in for classroom expectations especially this time of year. Battle Boats makes it easy to take back your instructional time.
Pin the image below to revisit this blog post later!