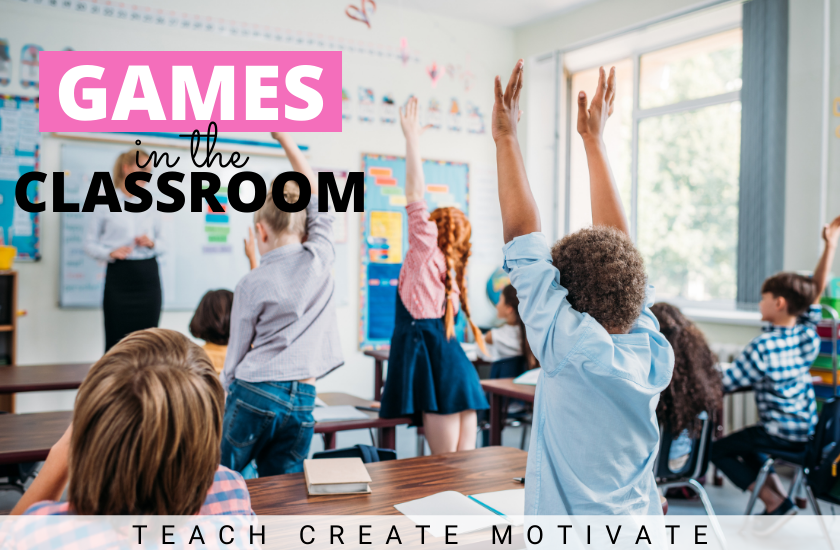 Games in the Classroom
Bringing games into the classroom is one of the best ways to create student buy-in and engagement. It can be as simple as a station where students play a board game together or as big as a room transformation. There are so many resources out there that can make learning fun! Here are a few of my favorites to do in the classroom.
Games for Review
Scavenger Hunt: Set up task cards so that they are visible throughout the room in no particular order. Students have an ordered list and have to "hunt" for the cards to complete their list. You can have students complete all tasks or some students odd numbers, some students even numbers, it's up to you!
Stations: Make stations around the room to get students up and moving! Have different writing utensils at each station like a dry erase marker/board at station 1 and crayon at station 2 to complete the task. Let students work with a group to complete the activities.
Prize Wheel: Use a prize wheel to create enagagment for vocabulary, math facts, comprehension and more!
Themed Review:
One way I love to create student engagement is through room transformations! A carnival-themed review day is one of my favorites! I find most of the props, games, and fun little details at the dollar store or the Target Dollar Spot so that it won't break the bank! Here are some games I have grabbed there and seen often:
ring toss
bean bag toss
bowling
Jenga
Of course, this room transformation takes some time to prep and set up, but the excitement on your student's faces when they see it is so worth it! I use my Carnival Theme Set Up Kit for all the printables and slides for the day.
Early in the year, I hold a math review carnival day for a big unit test. Then, I'll use the same printables and games later in the year for a different subject area like reading to review reading skills like making inferences.
Themed Review All Year
The thing that is great about room transformations is that everything is reusable from year to year! So once you print, laminate, and prep all of the printables, you can use them later in the year for another subject area or save them for next year, and they are ready to go!
I do all the work for you to create engaging themed review lessons with these set up kits. Choose a theme that fits your school, classroom, or unit theme. There are 9 room set up kits so there is something for everyone!
Camping
Luau
Detective
Restaurant
Coffee Shop
Construction
Hospital
Basketball
Carnival
Classroom Transformation Set Up Kits
These themed room transformation set up kits are the perfect way to add some fun to any content. Simply use the editable files to add your own math, reading, science, etc content for your students to work on and review.
Online Review Games
Students LOVE tech time! Of course, there is a time and place for tech in the classroom, but using students' love for technology can be the ultimate engagement tool! Here are 4 websites that your students will go nuts over and have them crushing their learning goals too.
Kahoot
Kahoot is a free review game where students compete against each other by answering the questions correctly. You can create your own questions and answers and add images to support the question. There are also premade games that you can browse by topic!
Students can play this with one-to-one devices (tablets or laptops) or in teams. This is another crowd favorite because it mixes up everyday review strategies. It's great to play right before a quiz because it can be a quick review! You set the time on the game.
Gimkit
Gimkit is an interactive review game that students play simultaneously but can answer questions at their own pace. Students earn in-game cash by answering questions correctly. They can lose money by answering incorrectly. Students can use their game money by purchasing upgrades & powerups that will help them in the game or even cost their classmates (you can turn this feature off!)
A pro about Gimkit is that there are multiple game modes, and they are constantly changing. A con is that you only have 30 days free, and after that, there is a fee to play. However, you do not need to give any payment information to sign up and play for those 30 days.
Like the other online review games, you can browse premade games based on your curriculum or create your own questions and answers! The game mode settings are customizable. Pick how much time the game runs, how much cash students start with, if students can see correct answers to a wrong choice, and more!
Blooket
If Gimkit and Kahoot had a baby, it would be Blooket! Blooket has TONS of game modes to choose from. You can easily customize each mode to fit your class's needs (time, questions, teams, rewards.)
One thing I like to do is reuse the same content in different modes. Each game mode is new and exciting! Students can play as individuals, in teams, or face-off against other classmates. Students get rewarded for answering questions correctly, and they can use those rewards for different game benefits in each mode.
Prodigy
Where are my math teachers at?! (Sorry, ELA, it's too good not to share!) Prodigy is an adaptive math game that can align with your curriculum (grades 1-8) and differentiate based on your student's individual needs.

Students create a character, can visit different worlds, and battle their classmates by answering math questions! For example, one student could be answering one-digit addition problems, and the student they are battling is doing multi-digit division problems. Neither would ever know the other is working on different skills.
Seriously, your students will be begging you to play this game all the time. Use it for test review by assigning the standards you are working on in class, or use it to spiral skills learned throughout the year to keep them fresh. You can even use it as a reward!
Classroom Management Games
Classroom Management Games are another easy way to create student buy-in and engagement! They are something that you can use all year and still hold engagement. Use the games to focus on specific skills your class needs to brush up on, like transitions, on-task behavior, or blurting out. There are different games to choose from, so you can keep it fresh and exciting all year!
Bingo
Tic-tac-toe
Make a Deal
Connect
Unscramble
Crack the Code
Tumbling Towers FREEBIE
Try out the newest classroom management game with your class for FREE!
Tumbling Towers is a game where students earn mystery tower pieces by demonstrating expected behaviors. They will earn points to work towards a goal!
Add your name and email to the box below to grab the freebie! The game, instructions, and tips will come straight to your inbox!
To keep reading about student engagement with classroom games, visit these three places:
Instagram: @teachcreatemotivate (Click on these stories: Class Kits, Bingo, Crack the Code, Unscramble, Make a Deal)
Pin this image to revisit this post later!