The 2022 Winter Games are at the end of this week! Can you believe it?! They run from February 4th-February 20th. This is a perfect opportunity to bring current events into the classroom as an engagement tool. Here are some ideas on how to incorporate the winter games into your classroom.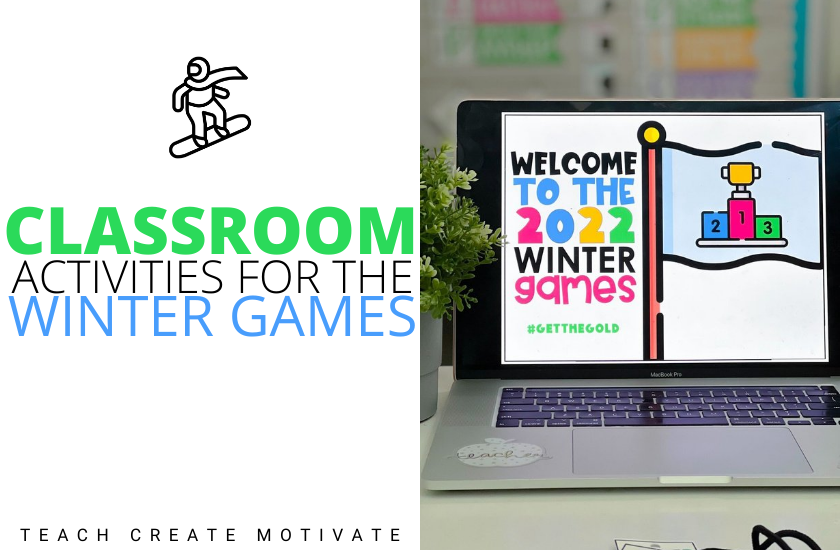 Winter Games Digital Research Project
In this digital research project, students discover winter sports they may have never heard of or learn even more about their favorite winter sport and can watch them live during the upcoming winter games.
The best thing about this project is that EVERYTHING is done for you! You can easily edit, pick, and choose what you assign for your students because it is all in Google Slides.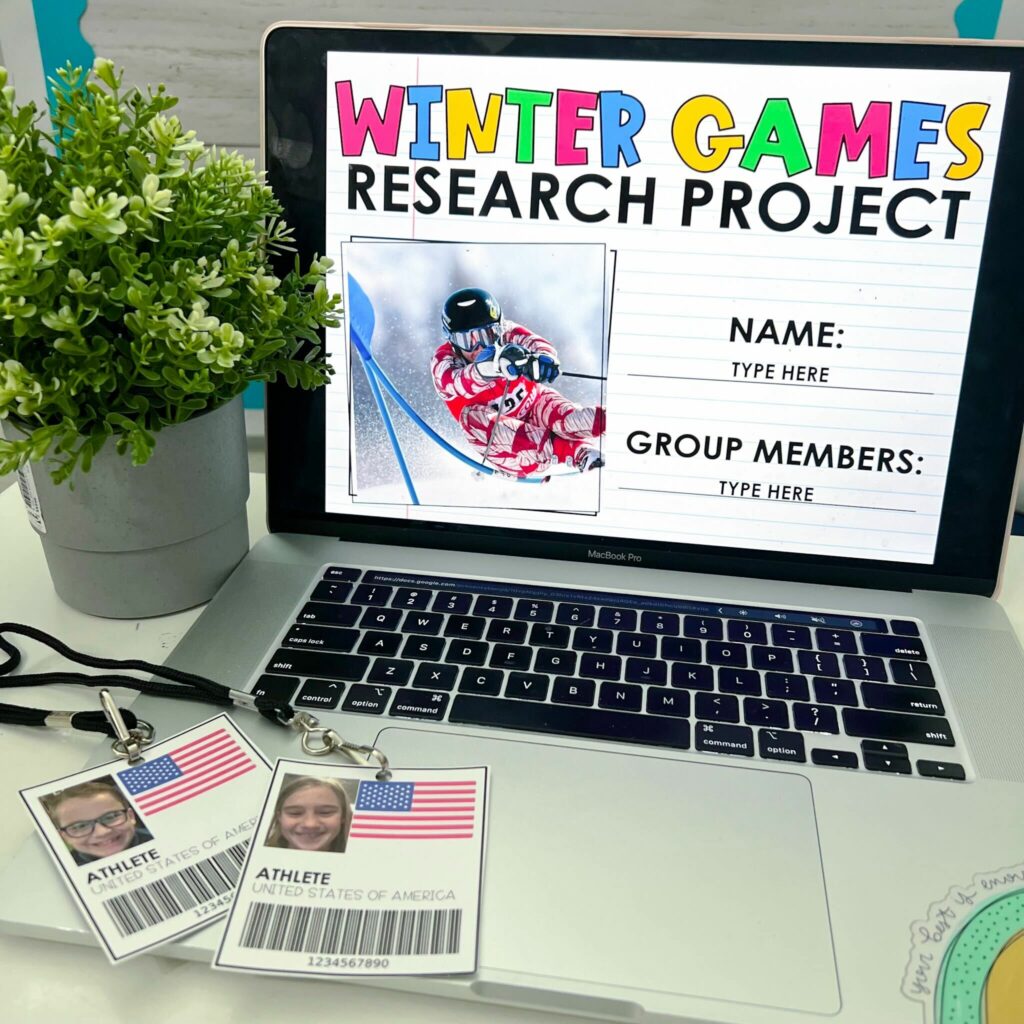 What's Inside
Every part of this project is linked and ready to assign to students. There are 2 articles and 1 video about the winter games in general at the beginning of the project. Each of these resources has 5 comprehension questions that go with it. So that's 15 questions total just about the winter games in general!
Each of the 14 sports included has an article and a video already linked in the slides. In addition, three comprehension questions go along with the article for the sport.
After students research the sport with the linked article and video, they can fill out a research page with the information they learned.
How to Play
History & Background
3 Interesting Facts
Photo of the sport
Check your school library or your local library for informational texts on the sports for additional resources students can reference. Many local libraries have special educator cards just for teachers! These cards allow you to check out more books than the allotted amount for the general public. Some even include perks like lost or damaged book forgiveness.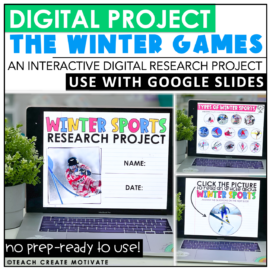 Winter Games Digital Research Project
Grab this READY-TO-USE research project just in time for the 2022 Winter Games! ⛷️ Engage students with current events as they learn about the sports they're seeing in the winter games. This digital research project is complete with:
🥇14 winter sports to research
🥇linked articles and videos
🥇research slides
🥇writing prompts
🥇and MORE!!
Extension Activities
There are quite a few extension activities included in the project as well! Use these for fast finishers or as part of the project assigned to students.
Compare and Contrast Sports- students compare and contrast two winter sports
Map It- students maps where previous winter games have taken place
Drag and Drop Winter Games Vocab- match the word with it's picture and/or definition
Writing Prompts
Research about the Paralympics
Assigning the Project
The digital research project can be assigned in a few different ways. Students can work independently and focus on just one or two sports. Then, if you decide to have students present their research, the whole class will learn about each sport through their peers.
This would also make a great group project! Assign the entire project to a small group of students to support each other in work. You could also let groups, partners, or individuals decide on a few sports they want to research.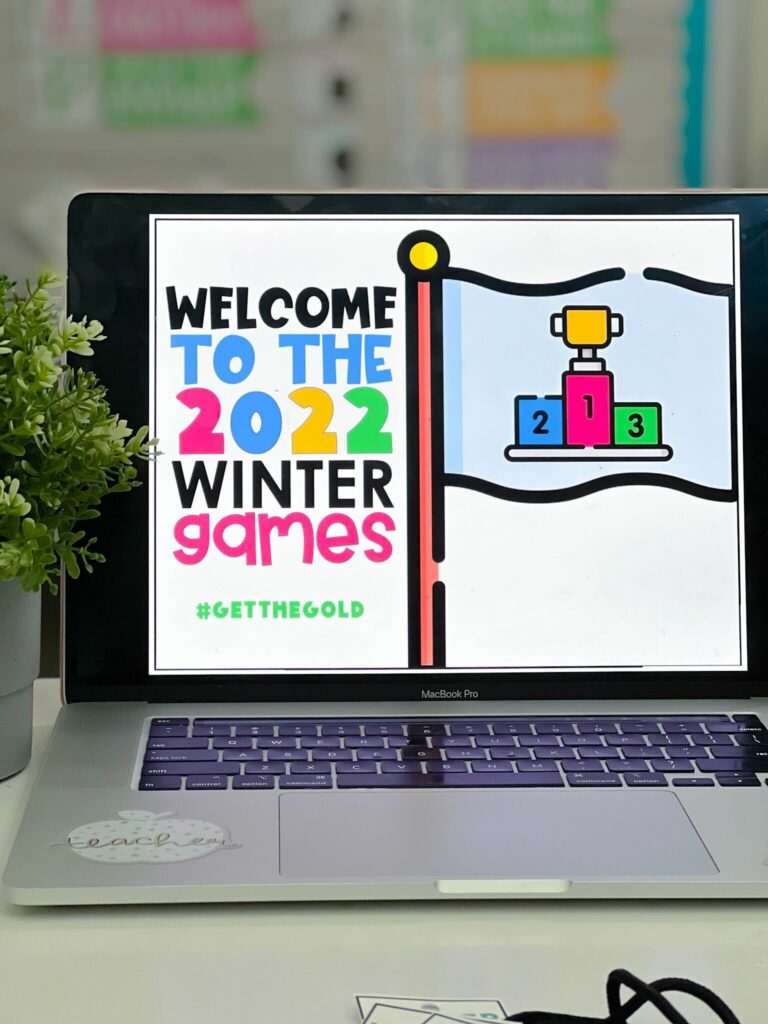 Rubrics
Editable rubrics are included for easy grading! You can use them to grade individuals or group projects. There are options for ready-to-use rubrics or ones you fill in yourself based on the criteria you are looking for to match your learning goals.
Winter Games Graphing Activity Freebie
The winter games graphing activity covers math skills like bar graphs, pictographs, and tallying. Students will track the medals earned by the top countries in the winter games and graph the information at the end.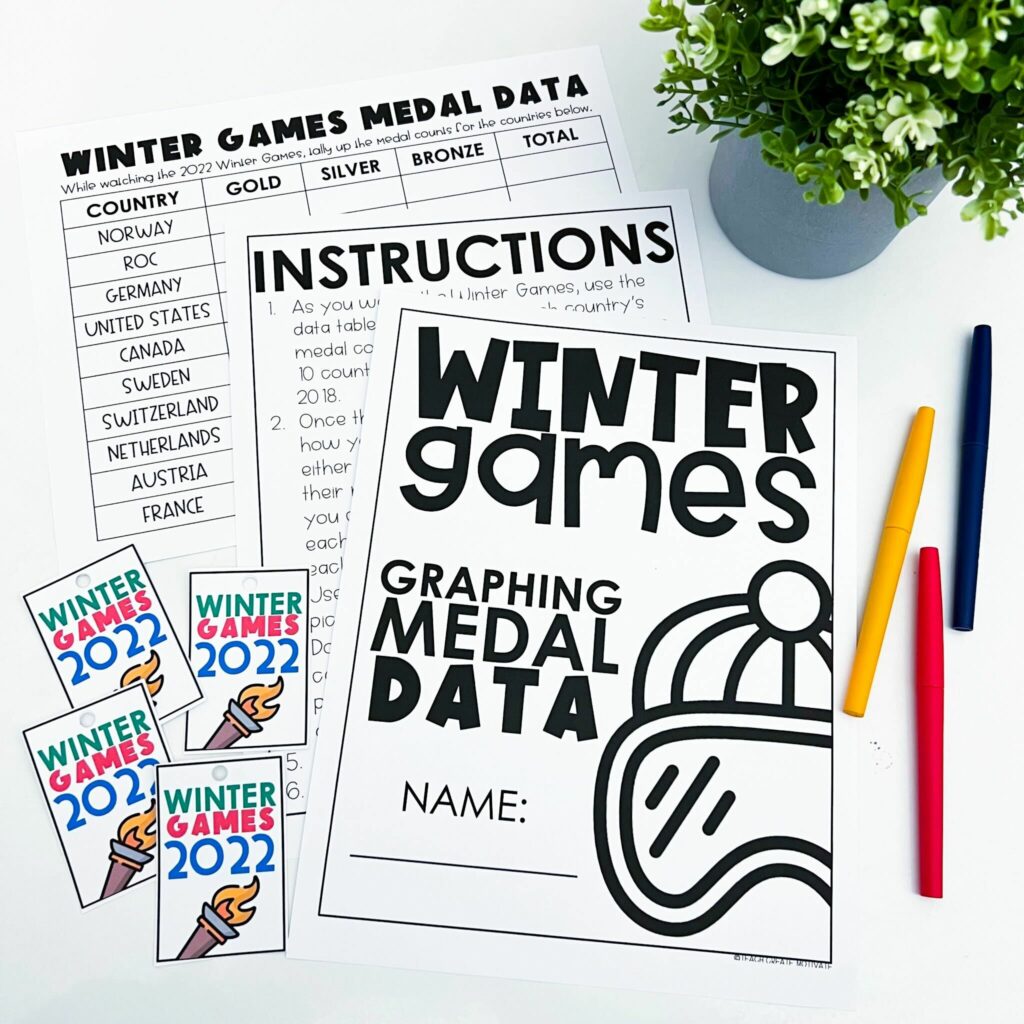 This freebie is great for:
stations
whole class math activity
extra credit
and MORE!
Students can get their families involved, watch the Olympics at home, and keep track of the medal count together. For students who may not watch at home, use a website that tracks the medal count and look at it together as a class or provide it to students on their online learning platform to view during morning work or as a fast finisher activity.
Grab it for FREE by entering your info below!
Mini Room Transformation
While the winter games are going on, a mini room transformation would be so much fun! You could do an opening ceremony, closing ceremony, or just a winter games theme in general!
Mini room transformations don't have to be complicated or cost a lot of money! The Dollar Tree, Amazon, and Pinterest are your friends! Some easy props from Amazon are linked HERE. ANYTHING fun, engaging, and a little out of the ordinary can significantly impact your students.
Inexpensive winter game-themed ideas:
red, white, and blue plastic table cloths
class set of gold medals
create torches out of paper
create the Olympics rings out of paper or borrow hula hoops from your gym teacher
play the Olympic ceremony music from Youtube
play minute to win it games, math games, vocab games, etc. for medals or swag tags included in your freebie
This can be a whole day-themed event or an hour at the beginning or end of the day. You can use this time to introduce or wrap up your Winter Games Graphing Activity freebie or The Winter Sports Research Project.
A winter games mini room transformation can be anything you make it! Most importantly, your students will be engaged in learning and having fun!
Fun Extras
As a fun little extra in the research project, I included a template for participant badges for students to wear during their research, the room transformation, or the winter games' duration! You can easily type each student's name and put their picture on the badge, just like a real athlete.
Swag tags are also included in the freebie. Use them as prizes for completing the graphing activity, the digital research project, or even games you come up with for the room transformation.
I hope you and your students have fun learning all about the winter games with these activities. The winter games only come around every four years, so this is for sure going to be a memorable time for your students.
Pin the image below to revisit the post later!