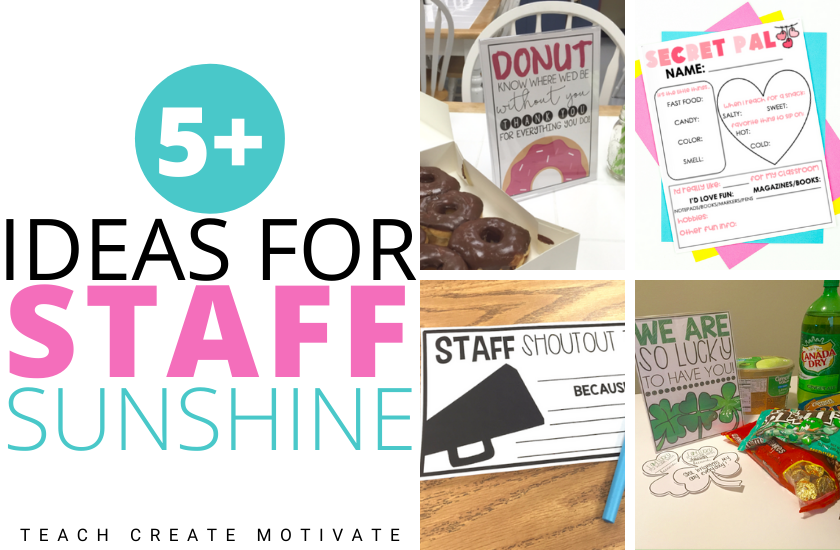 Does your school have a staff sunshine committee? Or another way to spread cheer to the staff?
These are some of my favorite ways to spread staff sunshine! You may have seen some of these ideas sprinkled on my blog before, but I wanted to put them all in one place for you to reference and add something new! All of these ideas are FREE to support you in spreading sunshine at your school!
Even if you don't have a sunshine committee or are not part of one, you can still use these ideas to treat your teammates, office staff, custodial staff, or a small group of people you want to show your appreciation for. Many of the ideas are seasonal, so they would make the perfect pick me up throughout the year!
What is staff sunshine and how does it work?
A sunshine committee is a group that coordinates fun little treats for teachers throughout the year. They may also help celebrate staff getting married or having a baby. In addition, the group may send flowers to staff who are experiencing a loss or health crisis. It really depends on the guidelines of the specific school!
Typically, staff members choose to pay dues at the beginning of the year to create a fund for sunshine items. All treats, cards, flowers, etc., are purchased with money from the fund. A few staff members are elected or volunteer to budget for and plan the events throughout the year.
The download for all of the freebies will be at the bottom of the post. Look for "Download ALL Freebies."
Stock the Fridge
Stock the Fridge is a crowd favorite because the sunshine team fills up the staff fridge with goodies! Fill it up favorites like soda, flavored water, coffee, and tea. Post the "This fridge has been stocked" sign on the door, and you'll have some happy teachers!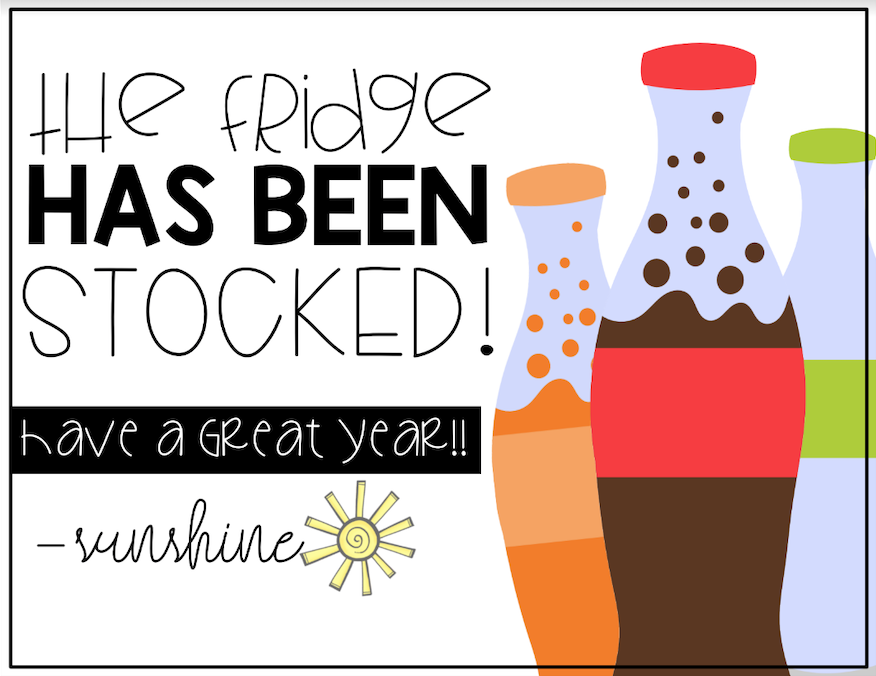 Donuts for the Staff
Leave a few dozen donuts out for the staff in the lounge or office with a sign thanking them for all of their hard work! This is a quick and easy way to show appreciation and celebrate your coworkers. Plus, who doesn't love a surprise donut in the morning?!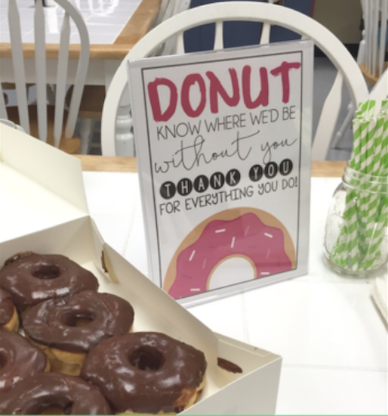 Sunshine Cart
Wheel the cart full of sunshine around your school filled with goodies for the staff! Stock it with at least one drink and one snack per staff member. Some schools have memberships to Sam's Club or Costco, so make sure you check on that to stretch your budget. Grab items like…
soda
coffee/tea
water
salty snacks
sweet treats
Staff Shoutout
Staff shoutouts are an easy way to recognize staff members for their hard work, support, and thoughtfulness. There are so many reasons to appreciate each other at work, why not recognize them? Did someone help you with a student? Shout them out! Did an office member help get you out of a bind? Appreciate them!
Simply leave them in the staff lounge for people to fill out and display them on a bulletin board or have them out into the recipient's mailboxes. This is just a quick and easy way to spread some love and lift each other up!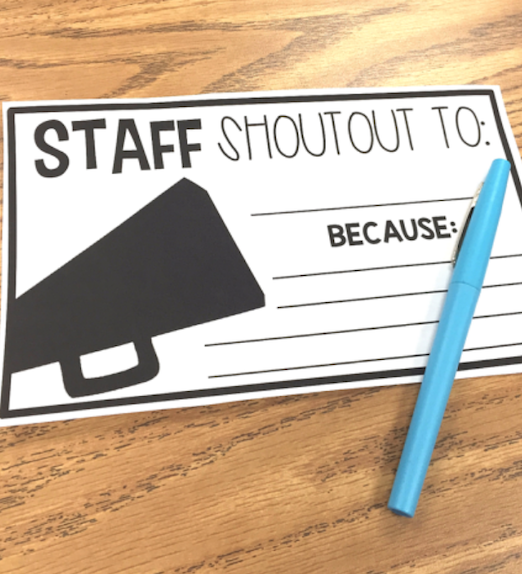 You've Been Boo'd
You've Been Boo'd is a popular staff sunshine surprise! Begin BOOing on the first Monday in October to make its rounds throughout the school. Usually, a few people in the Sunshine committee start it out. It's EASY! Get a cute little treat, $5 or less, and put it in someone's mailbox along with this BOO'd poem. Then they pass it along. That's it!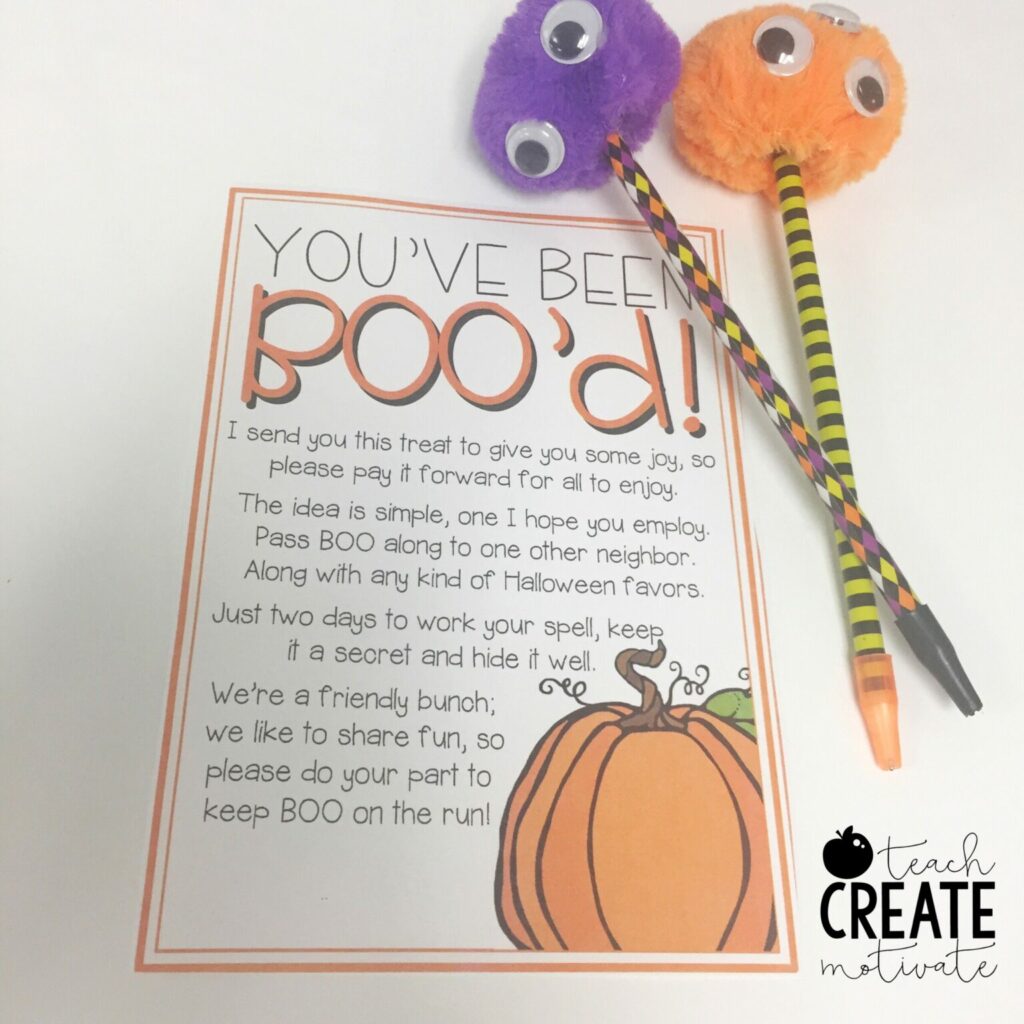 You've Been Mugged
This is an adorable idea where you secretly leave a mug of goodies on sometimes desk. That person then refills the mug (or sends a new one) and "mugs" someone else!
The fun stuff does not have to be expensive. Think candy, new pens, cute new sticky notes, a $5 Starbucks/Dunkin gift card, anything a teacher pal would enjoy! Utilize the Target Dollar Spot or the Dollar Tree (they have tons of mugs!). It is so fun to see a mug full of surprises on your desk!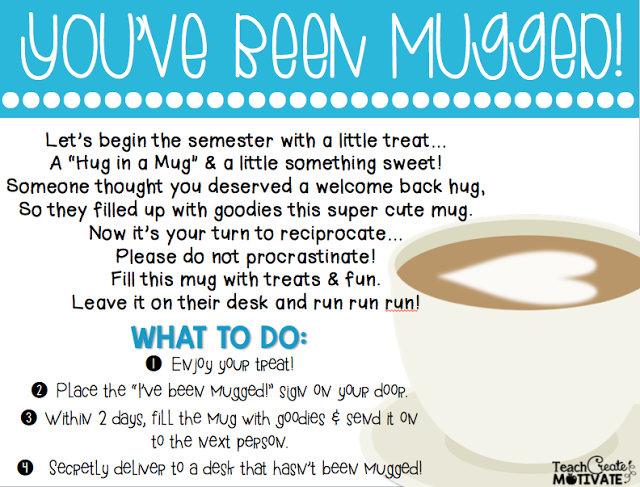 Secret Pal
Secret Pal is fun to do in February around Valentine's Day. Members of the sunshine committee fill out a secret pal question sheet and then submit it to when of the sunshine committee leaders. The leaders then distribute secret pals to everyone who filled out a sheet.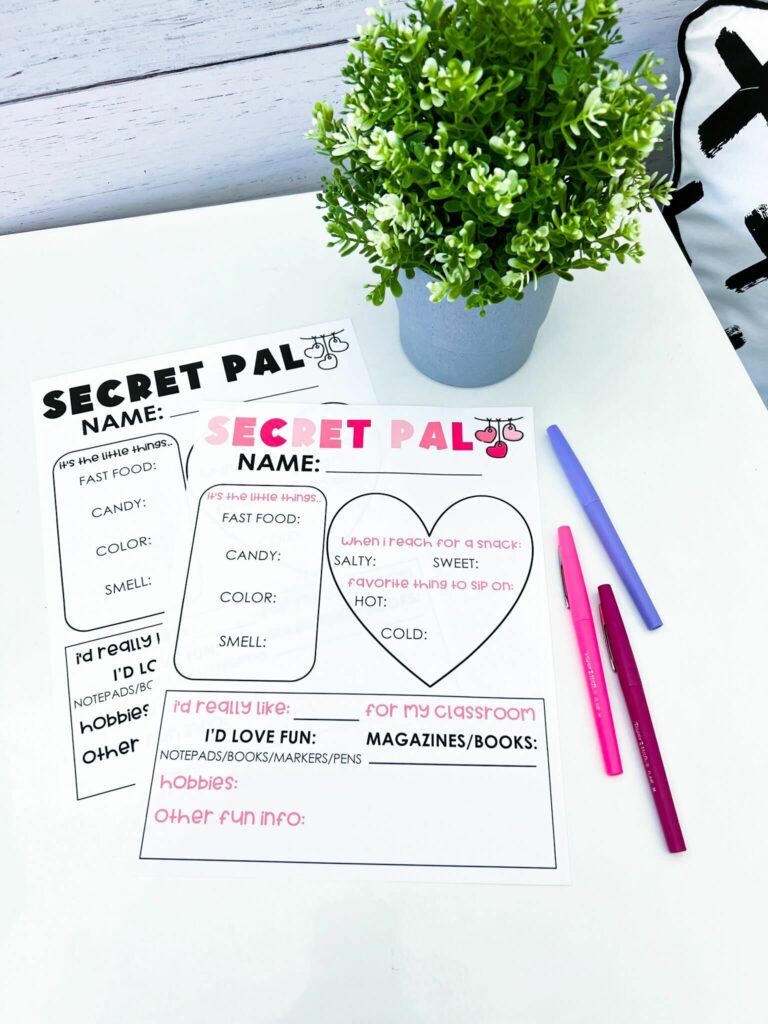 Every Friday in February, the pals will put a goodie from their secret pal's list in their box as a surprise. This is fun to do weekly because everyone can look forward to something every Friday. Then, the pals will reveal themselves at the end of the month!
You could even do a quick little 15-minute "meeting" at the end of the month where the pals bring their final gift to give to their secret pal in person for the big reveal. Snacks are optional at this "meeting," but recommended!
We are so lucky to have you!
This is a great one for March and St. Patrick's Day. If you have a staff meeting in March, try this activity or leave it in the lounge, copy room, or office for staff to fill out!
Everyone will get a shamrock with someone's name written on it. You can leave it in mailboxes or do this in a meeting. This way, everyone gets a message (versus picking who to write it to). The shamrocks say, "I am lucky to work with ____ because…." Each teacher/staff member will write at least one reason they are lucky to work with the person on their shamrock! Then, collect them and hang them up in the lounge for everyone to see.
Lay out some green treats for everyone to enjoy!
"EGG"STRA SWEET TEACHERS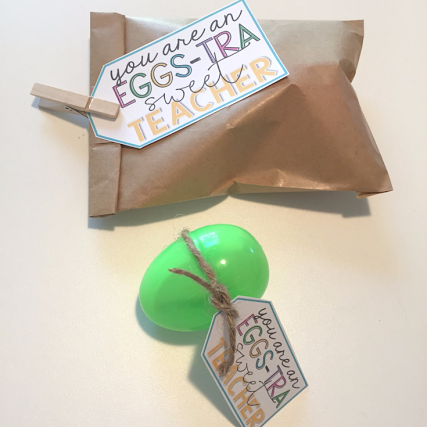 Spread staff sunshine with some "egg"stra sweet treats! Grab a few bags of plastic Easter eggs and fill them with candy. Attach a tag and put the treat in mailboxes for staff to find!
Download ALL Freebies
Please enter your information below to download all of the freebies in one file so you can have them all in one place! This download will go straight to your inbox.
Pin the image below to revisit this post later!