Are you looking for the perfect Earth Day activity? You can easily add any of these seven ideas to your Earth Day lesson plan!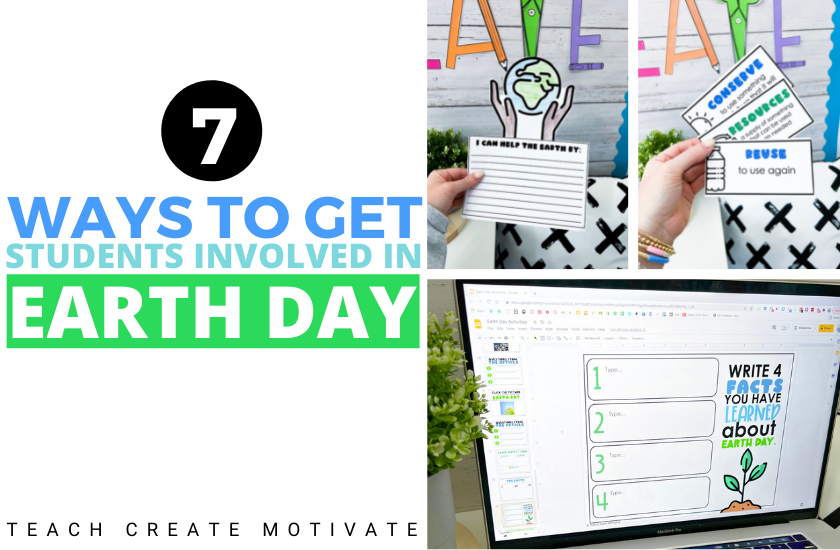 1. Earth Day Read Aloud
Just a Dream by Chris Van Allsburg Read Aloud
Walter does not appreciate the beauty of nature, or understand his role in keeping the planet healthy . . . until a fantastic journey shows him the tragic fate that could befall Earth if humans like him are not more careful."
Read Just a Dream to your class during morning meeting, science, or social studies. The main character, Walter, struggles to respect the Earth and does not appreciate its beauty. As a read-aloud, this book presents many opportunities for meaningful classroom discussion. In addition, you can build on its theme and introduce reading and writing activities.
After reading the book with your class, try these print and go book companion activities!
Beginning, Middle, End Flipbook on Just a Dream
4 different graphic organizers
Story element flipbook on Just a Dream
Add your own dream to the story drawing page
8 Comprehension Cards with self-check QR Codes and without
Describe and draw your ideal future Earth
"What would a different ending be like?" writing prompt
2. Easy Earth Day Craft & Other Print and GO Activities
This simple Earth Day craft and writing activity would make a great April bulletin board! Students can respond to the prompt and color the hands holding the Earth afterward.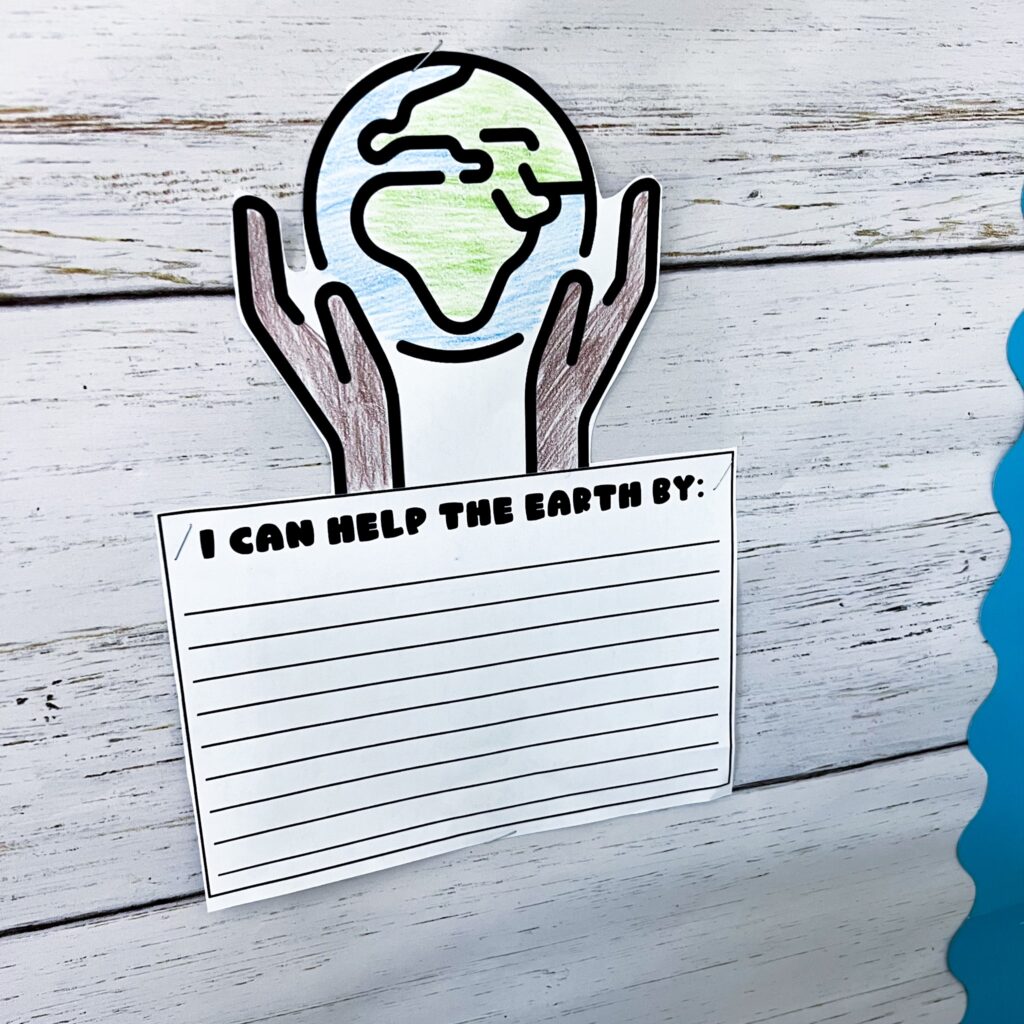 Complete this mini flipbook with your students during or after they learn about Earth Day with the ready-to-use articles in the activity pack. The questions are open-ended to extend their learning even further!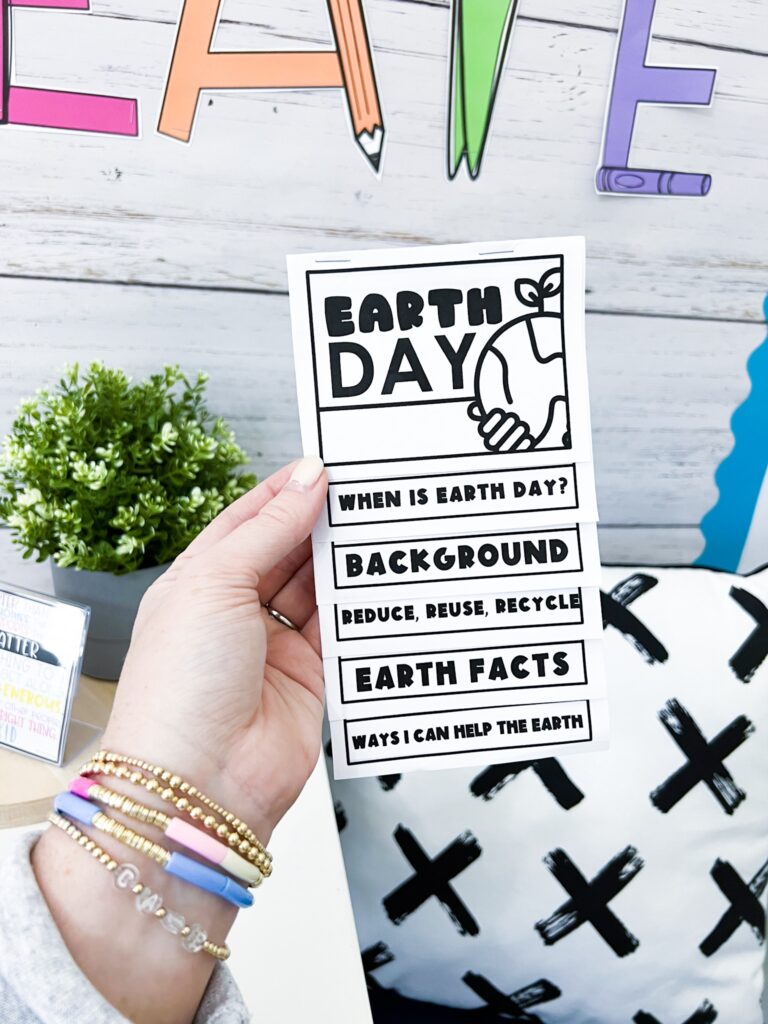 You'll find so many print and GO activities for Earth Day in this printable resource. Sprinkle a few in for stations throughout the week or teach it over a few days. Your students will be fully engaged in these Earth Day activities and they will love the variety of tasks.
Earth Day word search
2 versions of draw & write prompts (one with writing lines and one without)
12 Earth Day vocabulary cards
3 Nonfiction passages, including Earth Day, Pollution, Recycling (2 versions each-with and without vocabulary words bolded)
3 QR Code Web quest resources on Earth Day: 2 articles and 1 video (full page & small versions included)
& MORE!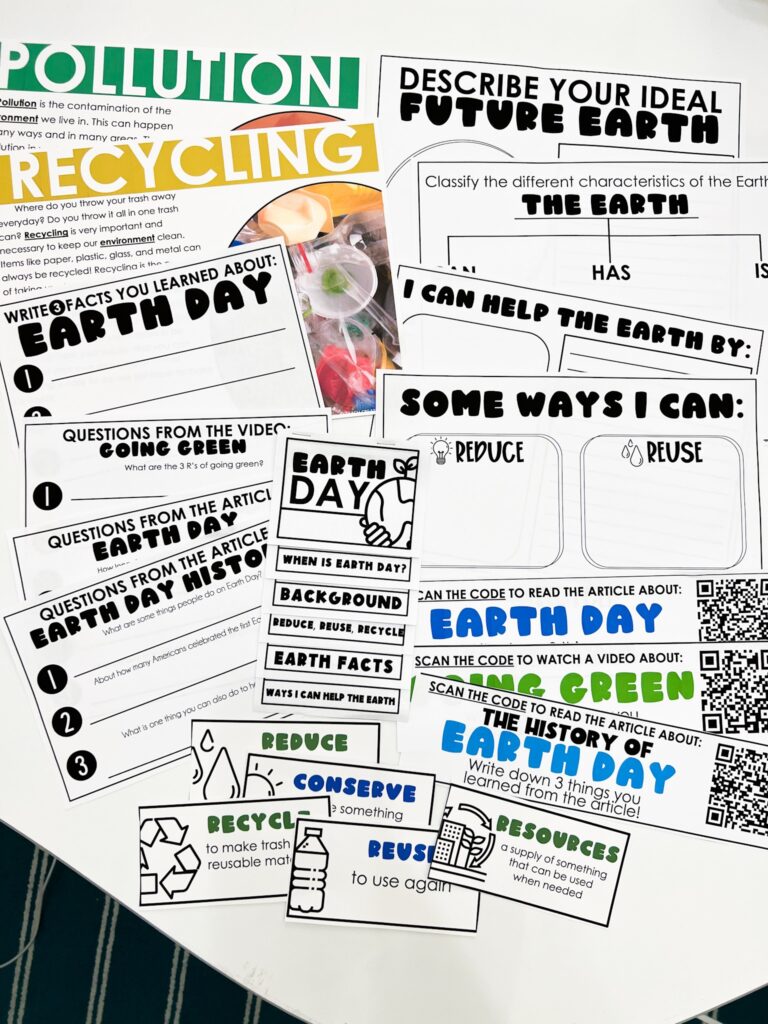 3. Digital Classroom Activities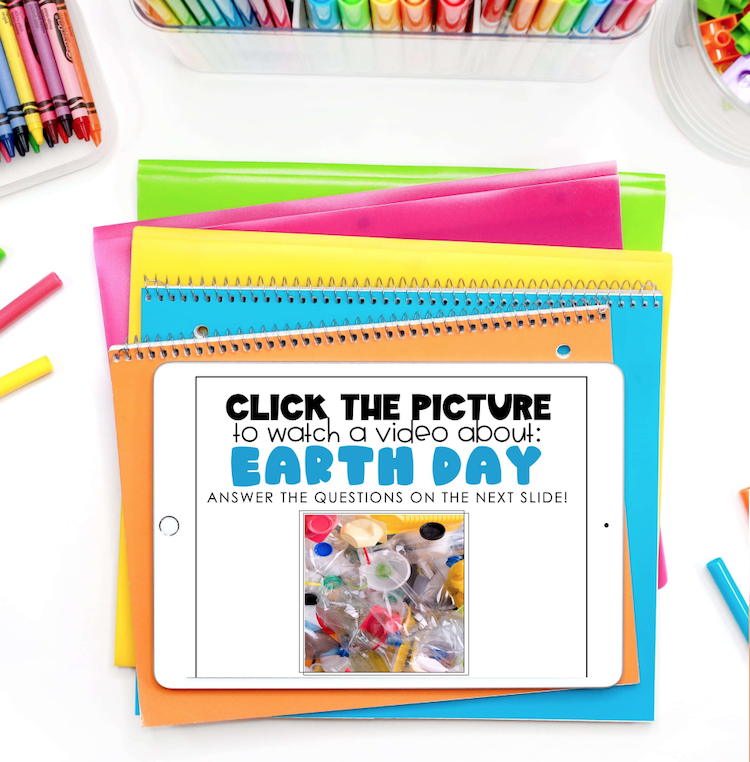 This paperless activity pack engages students and doesn't require any print copies! All of the articles and videos are linked and ready to go. Use these activities during whole group lessons or in stations! Your students will LOVE learning about earth day while also taking care of our Earth by reducing paper waste in the classroom.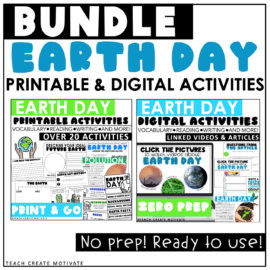 Earth Day Activity Bundle
Get digital resources as well as printable activities to teach about Earth Day! There are so many resources, your class can focus on Earth Day for one day, one week or even longer! Enjoy the flexibility to combine the digital and printable options to make lessons that fit your classroom needs.
This resource engages students and doesn't require a lot of prep work for you! Use these activities during whole group lessons or in stations! It is also perfect for cross curriculum units. Your students will LOVE learning about Earth Day!
This Bundle Includes:
⭐️Digital Earth Day Resources
⭐️ Printable Earth Day Activities
4. Get Outside
What better way to celebrate Earth Day than take care of the Earth? Choose a time separate from recess, take a nature walk, and have your class pick up litter around the school! Don't forget to bring trash bags and bags for recycling.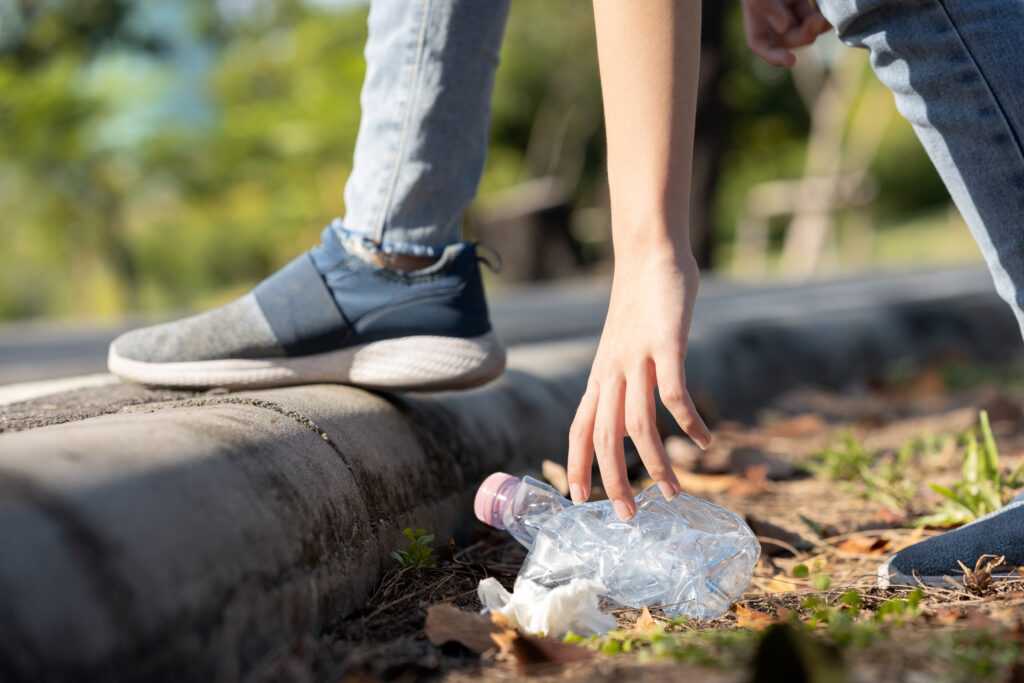 Your students will have so much fun taking care of the Earth, being productive community members of the school, and enjoying a little extra time outside. This may even become one of their favorite Earth Day activities.
5. Earth Day Reading Passages
Students will learn about Earth Day AND practice essential reading skills with these FREE reading comprehension passages.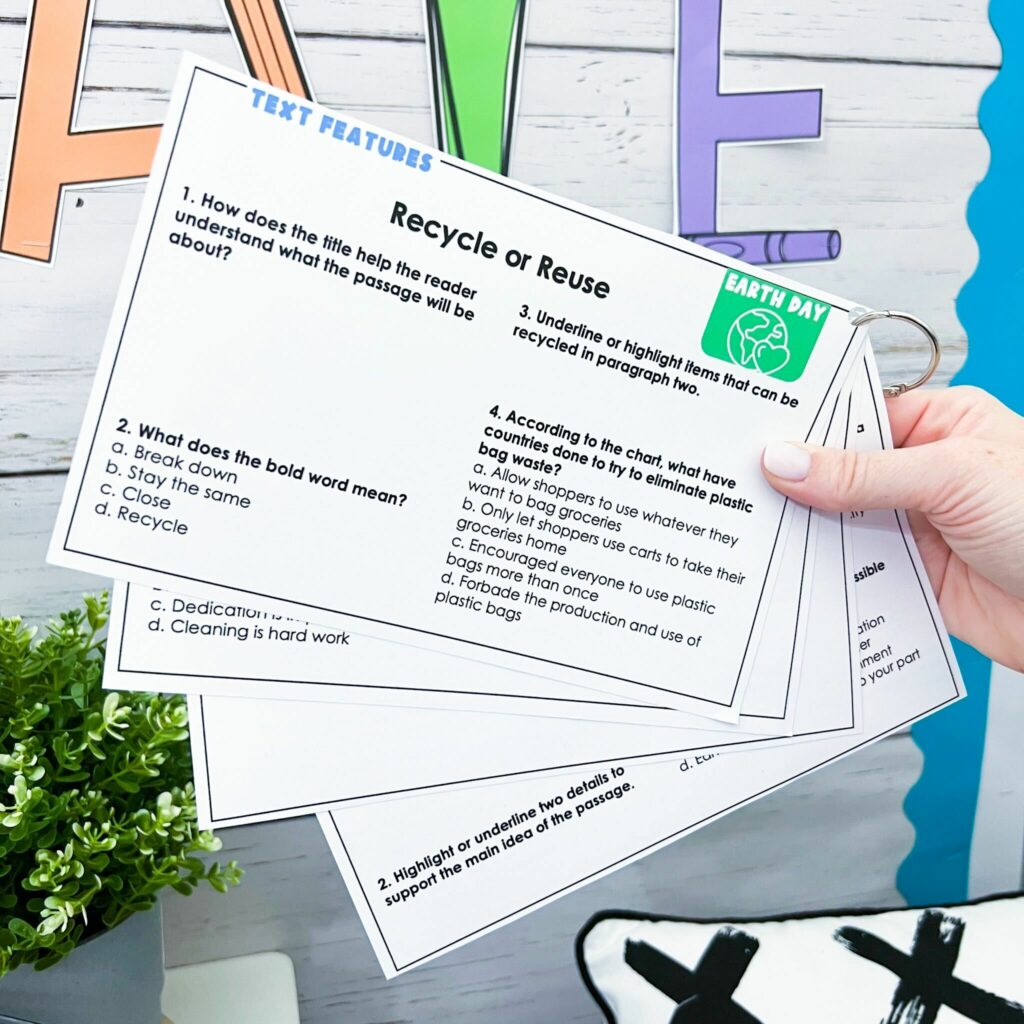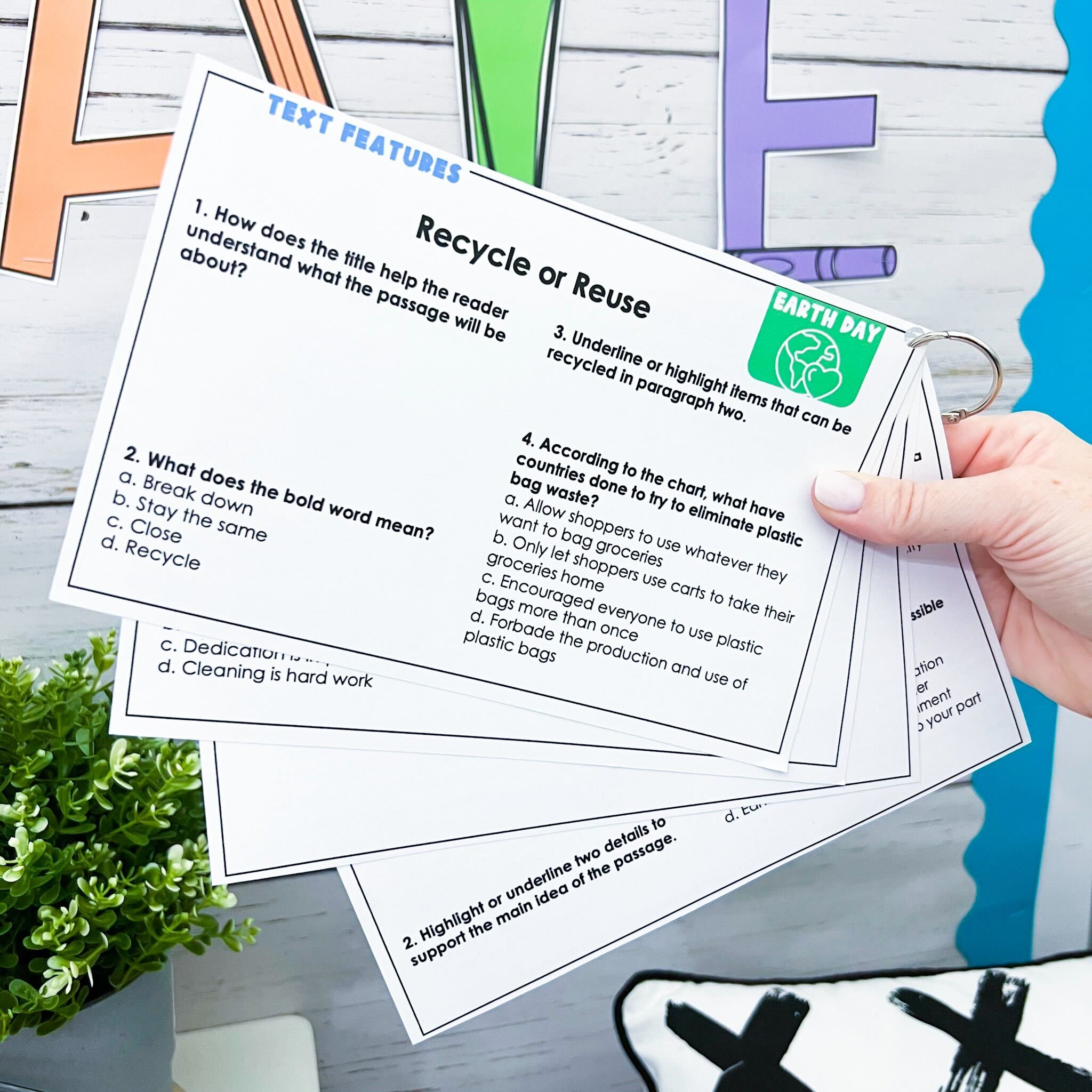 The passages cover main idea and details, text features, making inferences, and theme with skill-specific comprehension questions that go with the text. Perfect for small groups, intervention, morning work, stations, and more!
Printable Version: Full page in black and white 
Printable Version: Half page in color
Digital Version: Student-friendly with the reading passage and questions on one slide
6. Recycled Creations
This fun activity is not for the faint of heart, but kids of all ages think it is SO. MUCH. FUN! If you already have a recycle bin in your classroom, don't let your custodian (or whoever empties the bin) empty it until after April 22nd. SAVE THE MATERIALS! (You may want to rinse and dry out any plastic bottles beforehand.) Here's what you're going to do…
On Earth Day or whatever day you plan on celebrating, pull out the stockpiled recycle bin. You're going to make a little Earth Day craft.
Call on randomized students, groups, tables, etc., to pick out materials from the bin to create something new. (You may want to set a limit of 5 -10 materials to start)
Once everyone has recycled materials, instruct them to create something, anything, from their collection. They have to come up with creative ways to use recyclable materials. Supply scissors, glue, tape, and colors, but NO PAPER. They must use paper from the recycle bin!
Set a timer and give them 15-45 min. to create.
After their recycled creations are finished, have students write about their designs! This can be what it is, how they put it together, what they used, etc.
This is a great way to recycle materials in the classroom and a great opportunity to write! You can even take it up a notch and collect donations from family members like egg cartons, plastic water bottles, paper or plastic bags, milk cartons, aluminum foil, or bottle caps. This can be as little or big as you want it to be!
7. Earth Day Prompts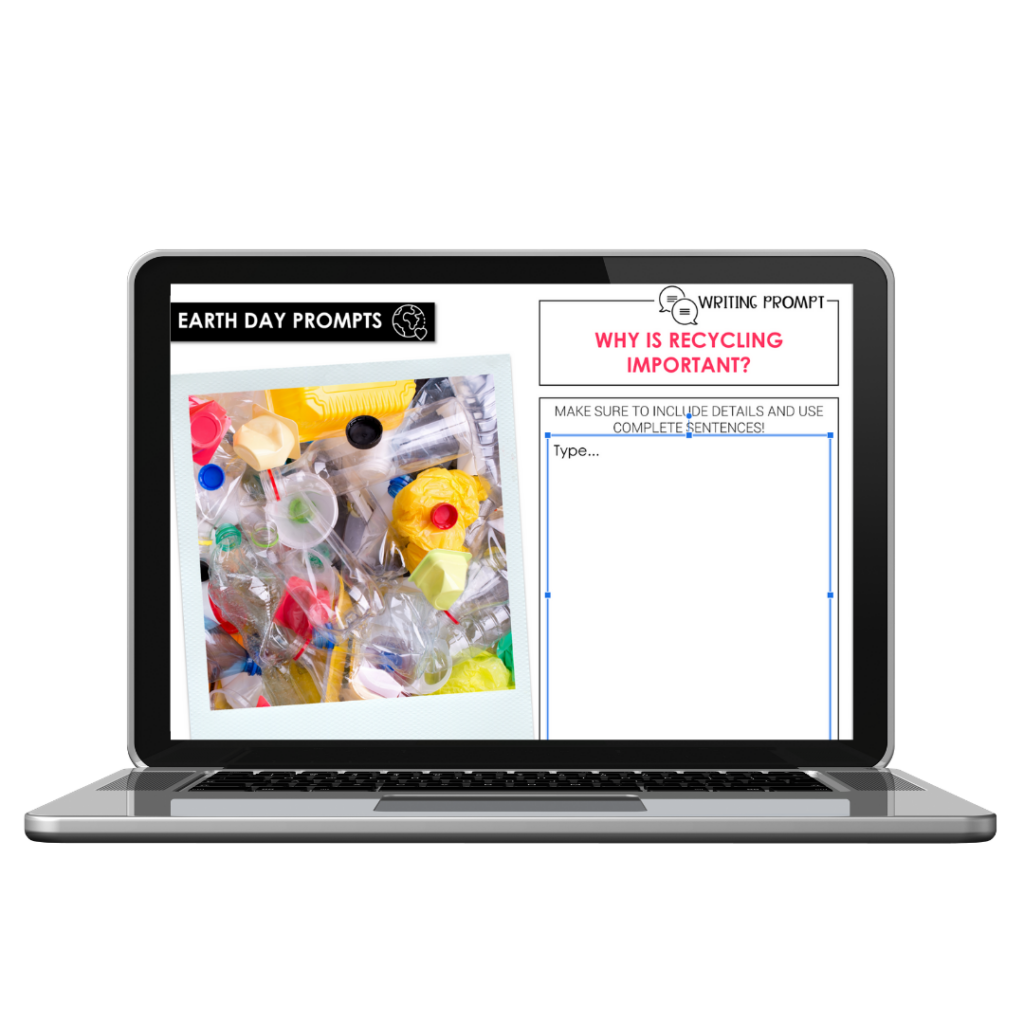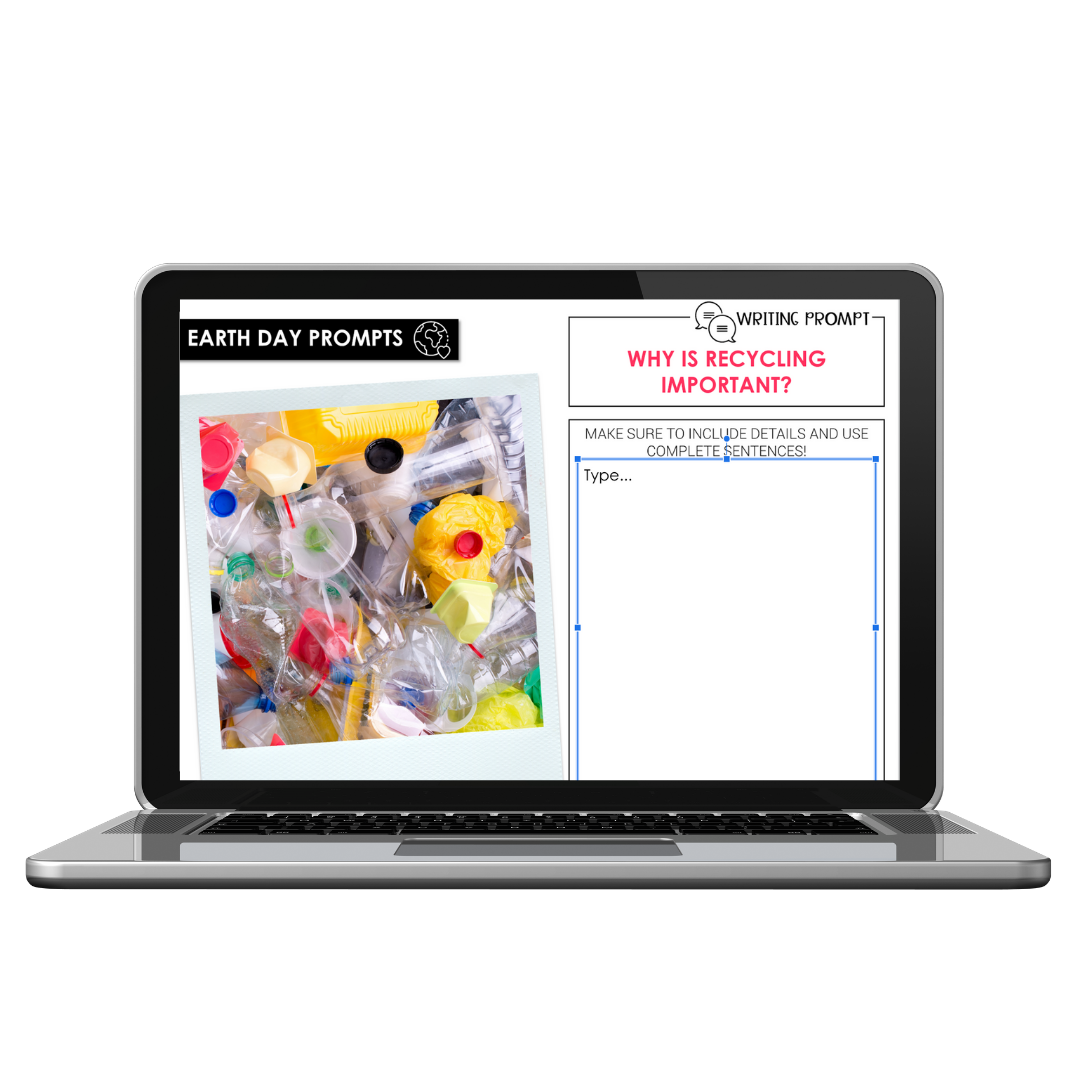 Themed writing prompts are my go-to activity when we are preparing for a holiday. They are easily incorporated into morning work, writing warm-ups, or stations. In these Google Classroom slides, there are 12 powerful prompts to get your kiddos thinking about our Earth. Each prompt has a related and thought-provoking image for your students to reflect upon while they write.
Here are just a few of the prompts!
Why is recycling important?
Why is the environment important to us?
What can you teach people about the environment?
What changes can you make at school to help our Earth?
Write a letter to your friend telling them why we need to save the environment.
All of these ideas are great Earth Day activities to do at school but don't forget to check for local events in your area. For example, look for a local environmental organization that gives free Earth Day projects to teachers and students. Some tree nurseries or plant stores will provide items like seed bombs or seedlings to plant. I hope you can use some of these meaningful Earth Day activities this year!
Pin the image below to revisit this post later!