Many students are learning online during this unique school year. Of course, it's no secret that teaching in an in-person classroom creates more natural opportunities to engage students than teaching online. Engaging students virtually, however, can happen with some easy to use lessons and strategies to implement in your own online classroom! Here are some tips and tools to get started engaging students virtually!
Make Your Classroom a Virtual Classroom
Even though you can't duplicate your in-person classroom exactly, you can engage students virtually by sharing slides that have the same things you would have in your physical classroom. To begin, your virtual classroom pack comes with 64 slide templates. In your physical classroom, you likely have signs up to remind students of the agenda and supplies needed for the day. The virtual classroom pack includes those elements, along with places to put assignments and links as well as embedded classroom timers. Overall, a virtual classroom can mimic some aspects of a physical classroom to engage students virtually.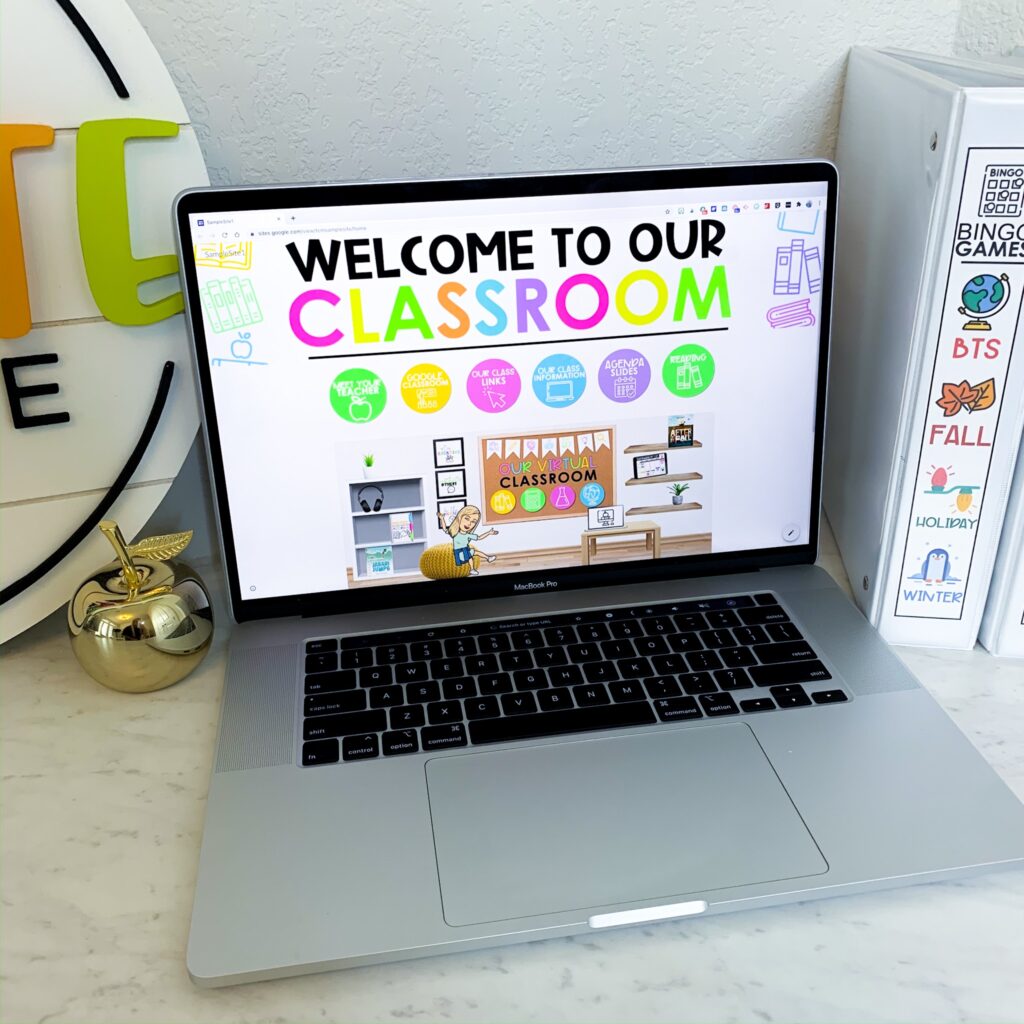 Emojis on Google Classroom (or Your Learning Platform)
Overall, your students are communicating more and more through social media and texting. First, utilize the power of emojis in their expressions and communication to engage students virtually. Next, ask questions in Google Classroom (in the Classwork tab) and have students respond with emojis. For example, "How are you feeling today?" can receive an emoji response (think happy face, sad face, angry face, or "meh" face). Emojis are another way to engage your students virtually.
Use Bitmojis
You may be familiar with the "Bitmoji" Classroom craze! Teachers are making their own Bitmoji avatar to bring in some personalization with Bitmoji! Engage students virtually with adorable
Bitmoji Stickers
In addition to Bitmojis on Google Slides, Bitmoji stickers are all the rage! Of course, Bitmoji stickers don't have to be traditional peel and stick decals. In fact, Bitmoji stickers are Bitmoji pictures with words of encouragement you can send from any device. One way I use Bitmoji stickers is on student work. For example, when students submit an assignment via Google Classroom, you as the teacher are now able to edit the assignment. Instead of just typing "Good job!" or some empty words and phrases your students might just gloss over, add a Bitmoji sticker with your own smiling face with an A+ or a "Go Team!" The possibilities are endless and are a great way to engage students virtually. Check out additional digital stickers you can use to engage students virtually!
Class Slides with Timers
Classroom management can be challenging when you're teaching online. It's hard to engage students virtually and keep them on task and on track. Using class slides with timers for a variety of different activities and stations in your virtual or physical classroom. Since the slides are editable, you can customize them to suit your needs. Some slides include one minute timers (when it makes sense). Most slides include 5,10,15,20, and 30 min options. In addition, 45 and 60 minute options were just recently added. Overall, the bundle includes reading/writing slides, writing slides, station slides, morning slides, and miscellaneous slides. Not only are you engaging students virtually and keeping them on track with these class slides with timers, you're also saving yourself a precious commodity. . .time! Everything is ready for you to use!
Agenda Slides
Of course, some of your remote learners may prefer to use a paper planner. However, many are ready to embrace everything online. These agenda slides will help your students get and stay organized during distance learning. Although this may not seem like an engagement strategy, students that are disorganized or confused about content and what they need to accomplish tend to disengage. Providing an agenda for your students via Google Slides will help them organize assignments and tasks. You can even include daily work and add digital stickers to engage your students virtually. Organized learners are engaged learners!
Agenda Slides
This mega file of editable agenda slides (with timers option!) are perfect to help your students get organized! Project them using the PowerPoint file or use with Google Slides™ for them to copy their homework, important events, and things to remember! MULTIPLE versions included as well as the ability to add your text!
Digital Spinners
Finally, one of my favorite engagement strategies is using digital spinners! You may have seen spinners with numbers or student names, but these spinners take engagement a step further. Overall, you'll receive more than 16 digital spinners to engage students virtually.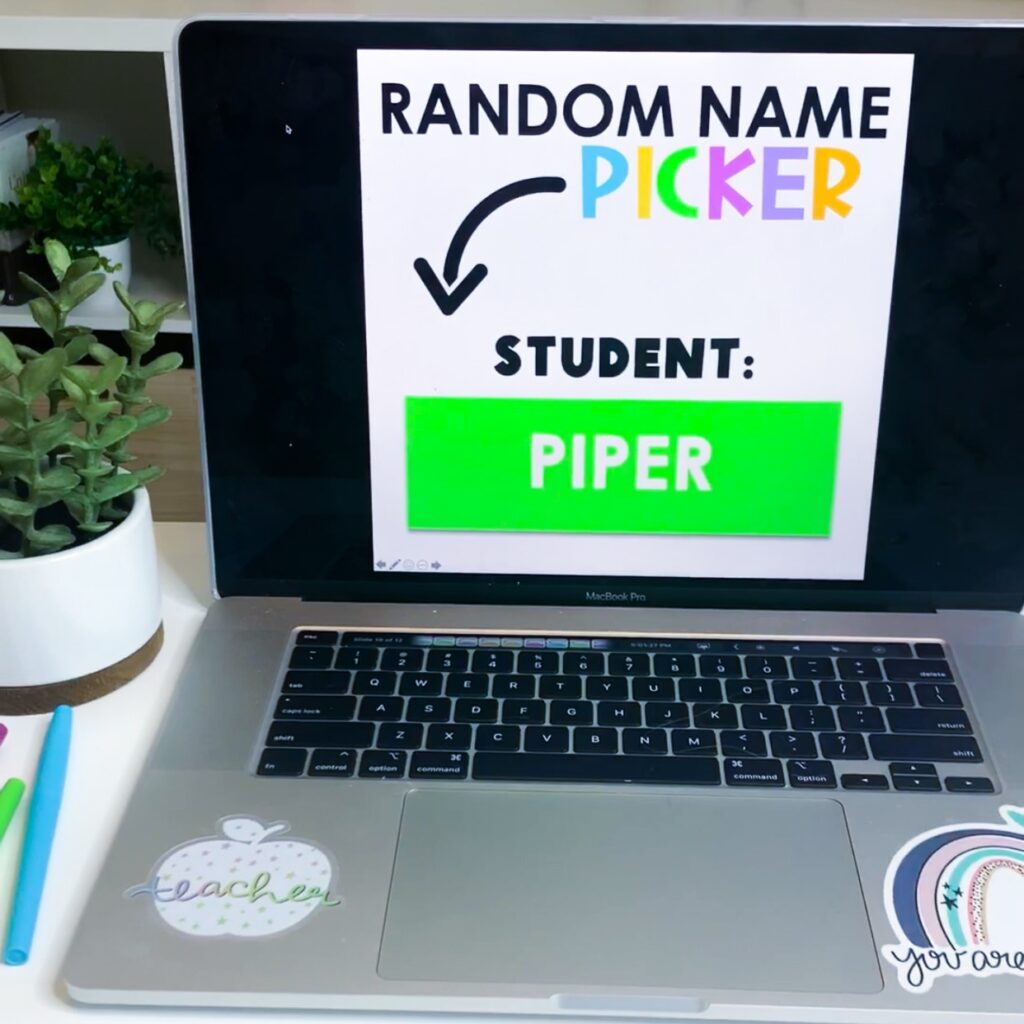 Classroom Prizes
Virtual Classroom Prizes
Reading Skills Discussion
Fiction Reading Discussion
Non-Fiction Reading Discussion
Would You Rather Set 1
Energizers
Student Names
Dice
One and two dice spinners
Numbers
Spin to engage your virtual learners and get every student participating in activities.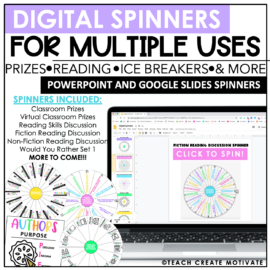 Digital Classroom Spinners
These classroom spinners are the perfect engagement tool for your students! Whether you are distance learning or face to face with students use these spinners to randomly pick classroom prizes, facilitate reading discussions, and in morning meetings. M
All in all, engaging students virtually takes different skills and strategies than engaging in-person learners. First, you are faced with digital distractions. Next, you no longer have proximity to help keep students on track. Finally, your students are dealing with online fatigue. However, these tools and strategies are also perfect ways to keep your students engaged and show that you care and want to make the online environment just as interactive and fun as their in-person classroom!
How will you engage students virtually in your online classroom this school year? You can pin this post below to refer back to later!