As a teacher, you know how important it is to check for understanding and gauge your students' learning. That's where assessment with exit tickets comes in!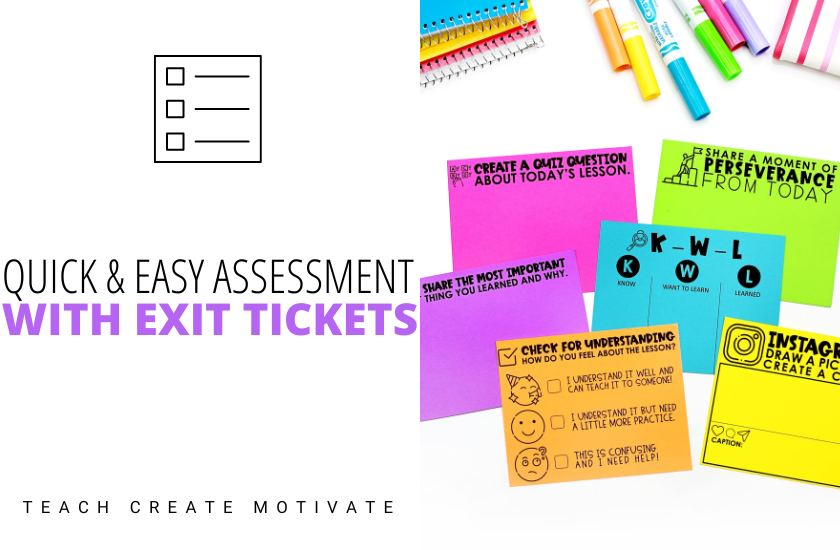 Exit tickets are a quick and easy way to assess what your students took away from a lesson, and they can provide valuable information that will help you adjust your lesson plans. In this blog post, I'll share how exit tickets work, why they are helpful, and how you can use them in your classroom.
WHAT ARE EXIT TICKETS?
An exit ticket is a quick check that students complete at the end of a lesson. Usually, exit tickets are just one or two simple questions that assess the students' understanding of the lesson. Give an open-ended or check box option depending on what you want to know.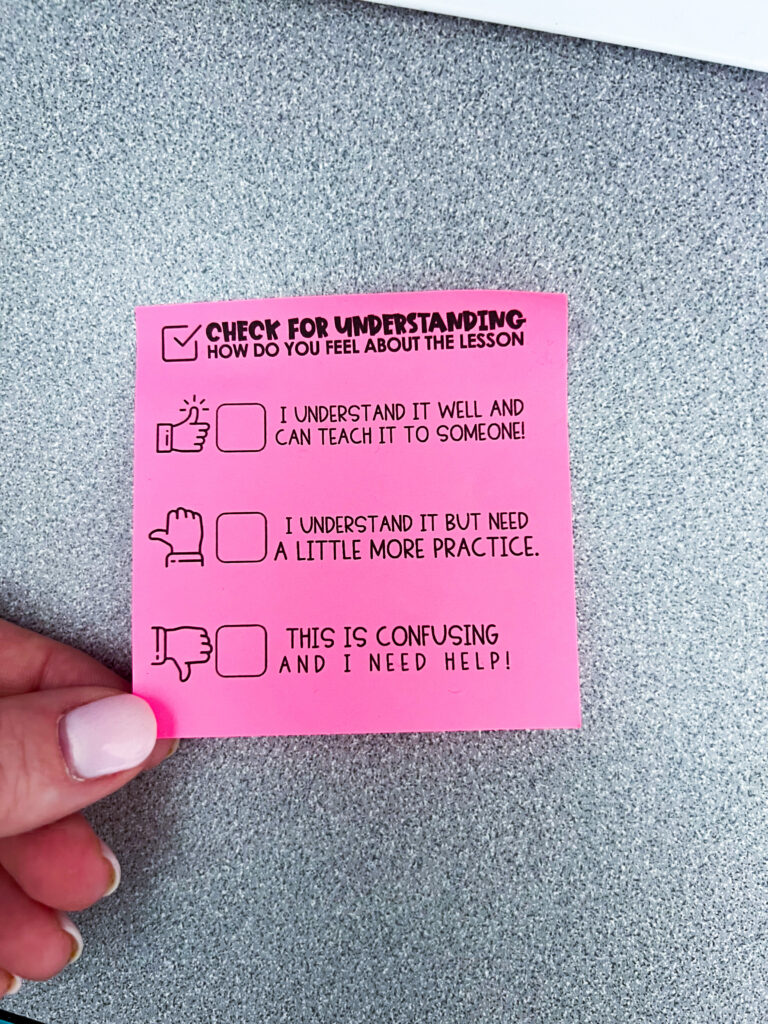 Exit tickets are great for all grade levels! They are one of the best ways to check student understanding quickly.
WHY USE EXIT TICKETS?
Exit tickets are a super helpful tool for many reasons. First, they allow students to reflect on what they have learned during the lesson. This reflection can help students connect to the lesson and reinforce key concepts.
Exit tickets provide valuable feedback on how well the students understand the material. This feedback can inform your instruction, reteach difficult concepts, or provide additional support to struggling students.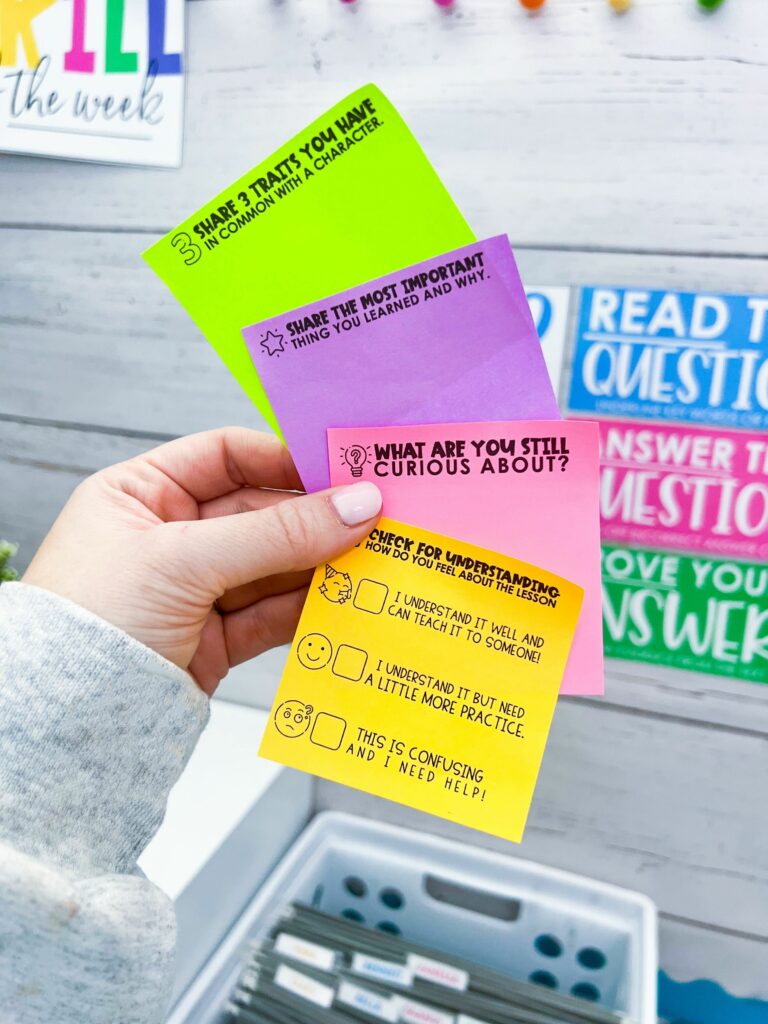 EASY WAYS TO USE EXIT TICKETS IN YOUR CLASSROOM
Using exit tickets in your classroom is easy! At the end of the lesson, pass out the exit tickets to your students and ask them to answer the questions.
Print them out, pass out sticky notes, or assign them digitally on a platform like Google Classroom.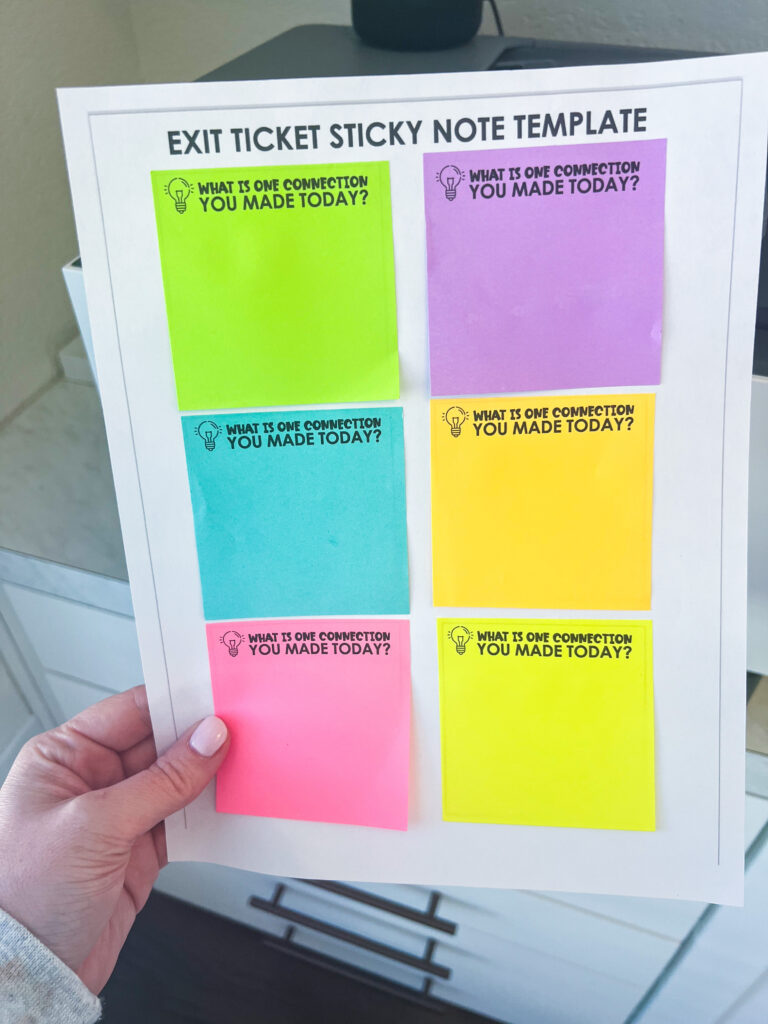 You can collect the exit tickets or have them turned into a bin. Once you have collected the exit slips, review the answers to understand how well your students understood the material.
Use the exit tickets at the end of class or even the beginning to see what information was retained from the previous lesson. These exit tickets are a great closure and wrap-up for just about any lesson!
MAKE THE MOST OUT OF YOUR EXIT TICKETS:
Be intentional about when you use exit tickets. Make sure that your exit ticket is aligned with your learning objectives and assesses what you taught during the lesson.
Keep it short and simple. Use one or two questions that are easy to understand and quick to answer.
Use the results to adjust your teaching. Take note of any patterns you see in the answers and reteach those parts in the next class.
Reading through student responses can really be eye-opening. It's a great way to gauge student comprehension of the topic you are teaching. You can use exit tickets in small groups, in different subject areas, or to provide direct instruction on a concept. The purpose of exit tickets in your classroom is really up to you!
Exit Tickets
Looking for a quick and easy way to check student understanding after a lesson? Exit tickets are the perfect way to gauge where students are at. The exit tickets offer three versions with a wide variety of types of questions to do a quick 'temperature check' with students.
Exit tickets are a quick and easy way to assess student progress and adjust your teaching strategies to fit your student's needs best. So give assessment with exit tickets a try in your next lesson and see how they work for you and your students!
Pin the image below to revisit the blog post!