Do you have a routine for students who finish their work early? "Fast finishers" can become bored and disengaged if they don't have something to do, leading to disruptive behavior and a lack of focus. Implement a fast finisher routine that works with these easy ideas!
SET EXPECTATIONS
Before starting any routine, it's important to set expectations with students. Morning meeting with an anchor chart is the perfect time to do this, but calling a class meeting works just as well too!
Discuss with students what it looks like if they finish work early. Do they have other catch-up work to do? Talk about the expectations with other unfinished work. Early finisher activities are right for them if they finish all their work!
Let students know that they are expected to choose a fast-finisher activity and work on it quietly and independently if they finish their work early. Make it clear that this is not a time for socializing or disrupting other students who are still working.
ENCOURAGE STUDENT CHOICE WITH ACTIVITIES
The next step in creating a routine for fast finishers is to provide activities that students can do when they finish their work. These activities should be engaging, fun, and educational. That's where fast finisher task cards come in!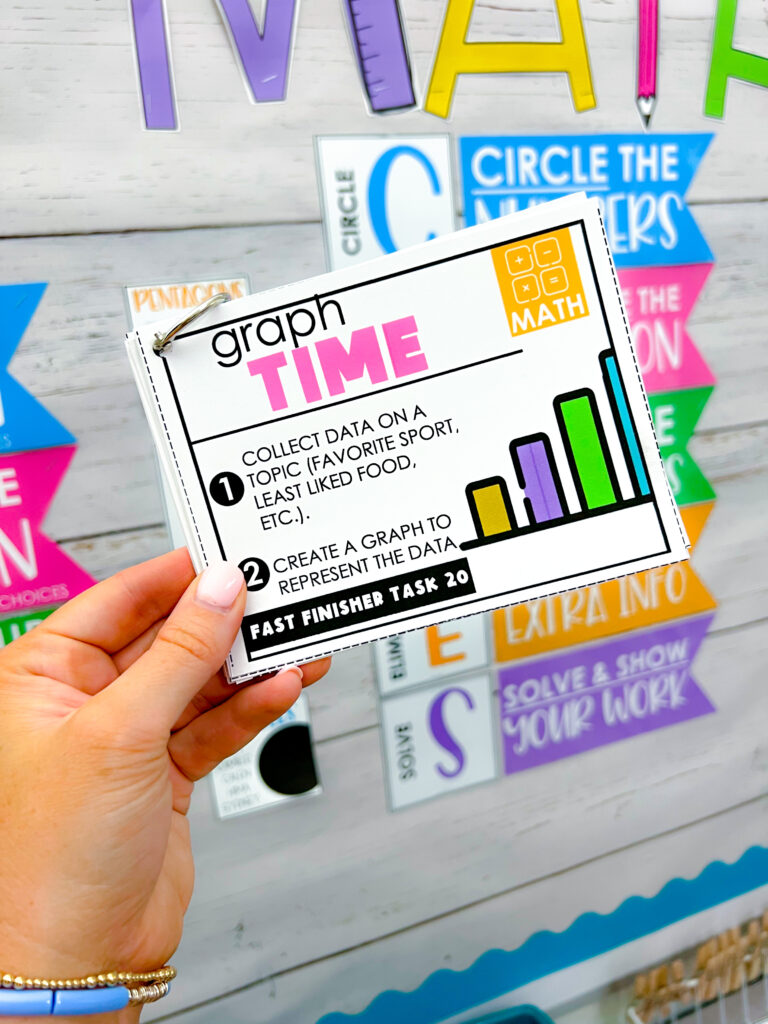 The task cards provide an opportunity to review skills, offer challenges or have students critically think about new skills. Fast finishers will look forward to working on these task cards, and they won't be disrupting the rest of the class still working.
Students practice creative thinking and critical thinking in ELA, math, science, and creative activities. Here's a short list of things included in the fast finisher activities.
Finishing a story starter
Thinking outside the box (word chains, step-by-step directions, clues, puzzles, etc.)
Show number understanding through patterns, clues, and showing multiple ways to make numbers
Writing math questions/equations/riddles
Error analysis for addition, subtraction, multiplication, and division
Everyday math skill practice (money, graphing, time, etc.)
Build sentences from a list of given words
Cards with a focus on word patterns (short vowels, long vowels, r-controlled, silent e)
CREATE A DESIGNATED AREA
Designate an area in the classroom where fast finishers can find the task cards and even work on their chosen fast finisher activity. This could be a table or desk in the corner of the room, a reading nook, or a designated area on the floor.
For easy prep, print out the task cards and put them on a binder ring! All of the hard work is already done for you. Leave the fast finishers activities on a hook in the designated fast finisher area for students to grab and go when they finish an assignment early. Then, students can sift through the different options and choose what interests them-hello student choice!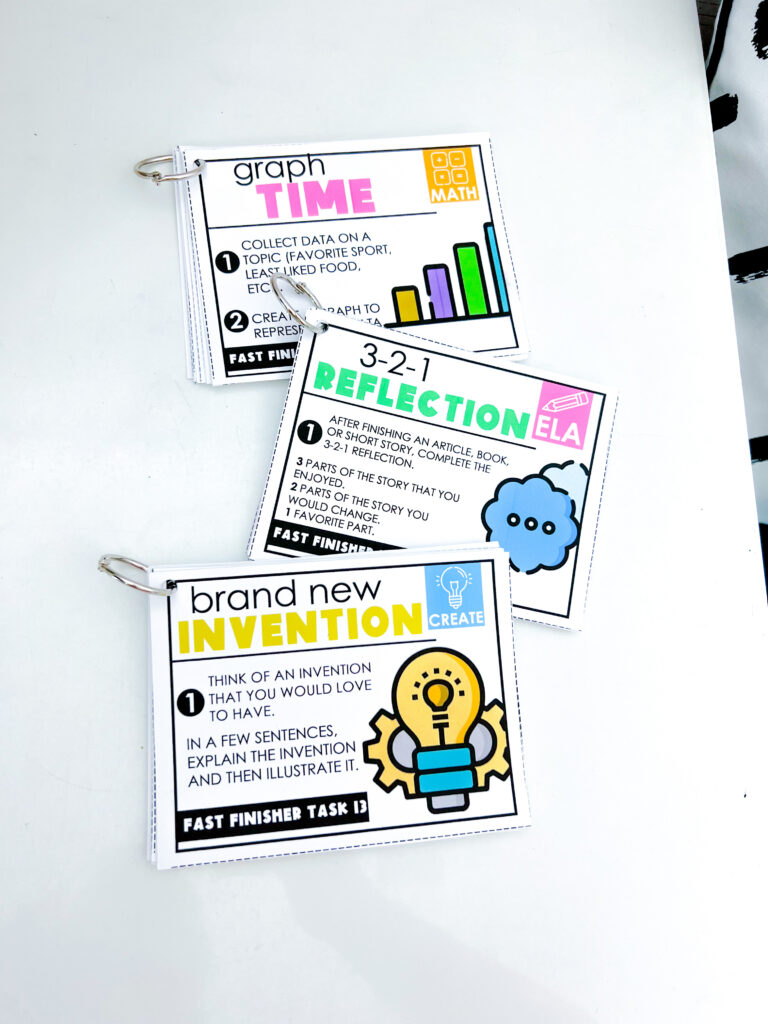 MONITOR AND ADJUST
As with any routine, flexibility is important! Monitor how it's working and make adjustments as needed. Keep an eye on how students use the designated area and whether they are engaging in the provided activities.
If you notice that students consistently choose the same activity or do not use the area appropriately, it may be time to add new activities or adjust the expectations.
Fast Finisher Freebie
Not sure if adding task cards into your routine is right for your fast finishers? Grab the FREE no-prep fast finisher task cards and see if they're a good fit! In the freebie, you'll find 2 of each fast finisher activity (ELA, creative, science, math).

Enter your info below to get the freebie sent to your inbox!
Use Outside of the Routine, Too!
The task cards are perfect for students to complete independently, in small groups, or even as a whole class when you have a few extra minutes. Use them at the end of the day while waiting for the bell, as a morning meeting exercise, or as a great activity for students looking for an extra challenge.
Use the task cards anywhere during your school day!
enrichment activity
fast finishers station
math centers
literacy centers
extra practice
free time
on choice boards
morning work
Encouraging our students to embrace challenges, think critically, and have autonomy in learning are essential skills.
Fast Finishers
Offer your students the opportunity to be in charge of their choices during fast finishers activities. You can let them choose what area interests them most. Students will love the challenges offered in the fast finisher task cards and you will too!
Implementing a routine for fast finishers can help keep students engaged and on-task, even when they have completed their work early. With the fast finisher task card activities, setting expectations, and creating a designated area, you can help ensure that all students use their time productively and stay focused on their learning. Busy work is a thing of the past with fast finisher task cards!
Pin the image below to revisit this blog post later!