Prepping for end-of-year assessments looks different for everyone. You may review key concepts in small groups, large groups, intervention time, whole groups, or even in centers. Whatever Reading test prep looks like for you, escape rooms are the perfect engagement tool!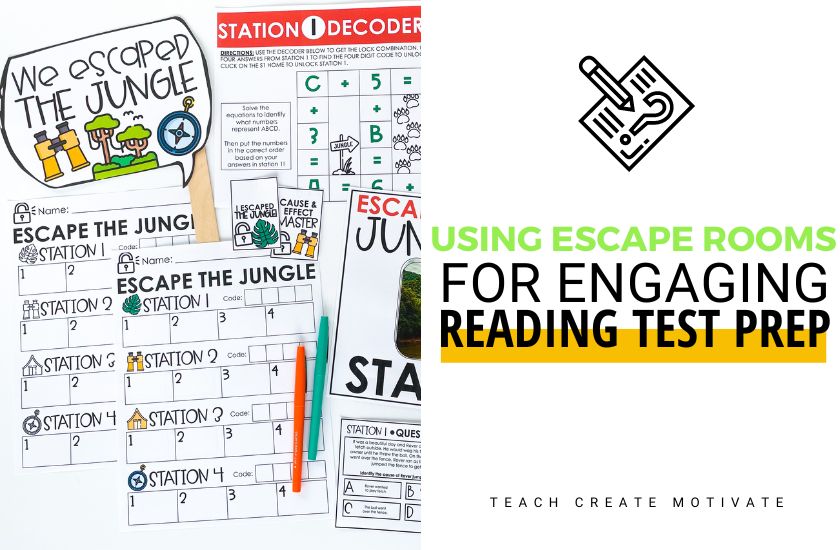 Escape rooms are an excellent way for students to have so much fun while using their critical thinking skills to prepare for district or state testing. Cover important standards without much work while maintaining students' engagement. Reviewing for the big reading test with an escape room works!
Easily Review Top Skills
Reviewing the top-tested skills is so crucial for big tests! Although you've covered them again and again throughout the year, review these skills in a new and exciting way with an escape room.
Main Idea/Key Idea & Details
Making Inferences
Identifying Theme
Cause & Effect
Problem & Solution
Each reading skill has its own theme to make things even more engaging! Each skill has its own scenario for the students to overcome by reading short passages, answering related questions, and unlocking each station with different decoders. No two themes are the same so students will have a new adventure every time!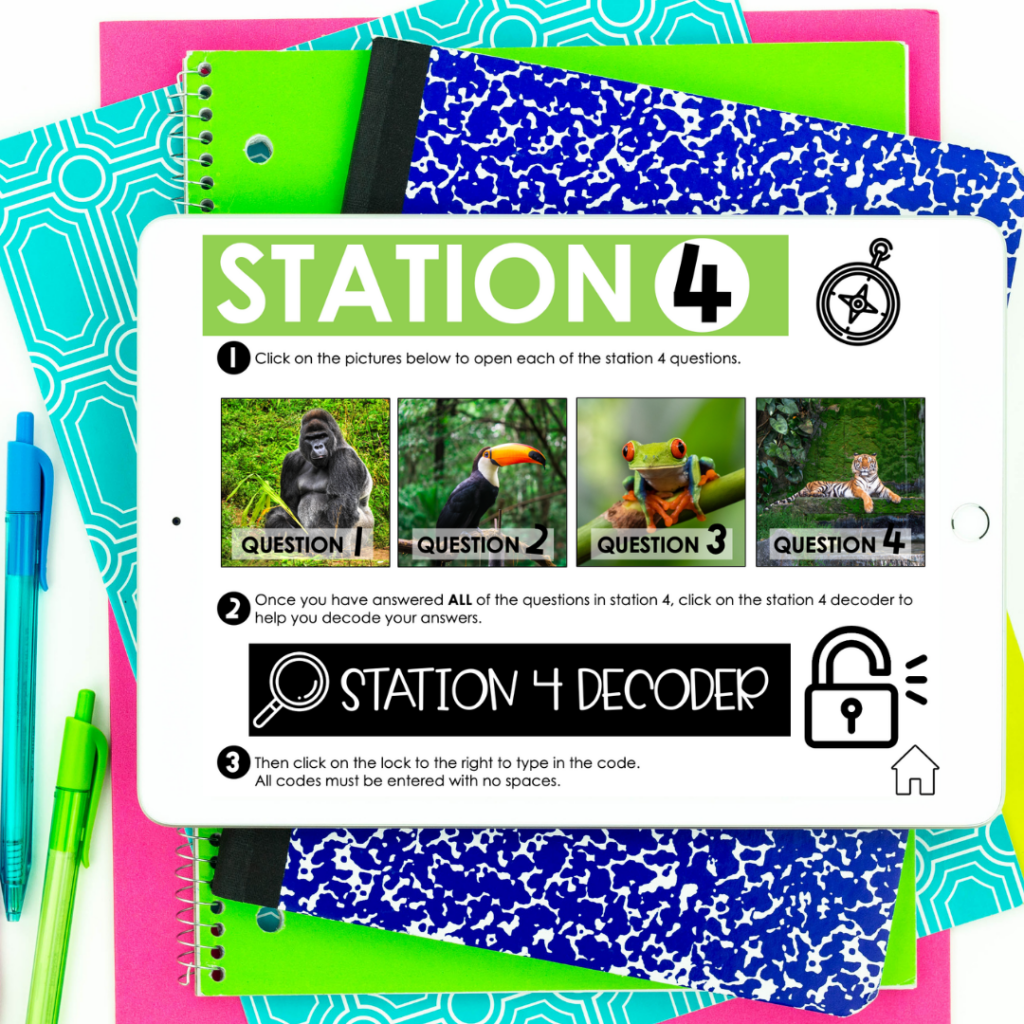 The best part is Reading Escape Rooms are completely ready-to-use! This time of year already has so much going on. All the passages, questions, directions, and scenarios are done for you, making reading test prep super easy! All you have to do is assign and go.
Printable or Digital
Each skill comes in a printable version. The printable version includes so much!
Black & White and Color versions of all printable files
4 question task cards (16 total questions)
Recording Sheet
Station Cover Pages
Decoders
Scenario
Swag Tags
Photo Booth Props
Answer key
Teacher directions
All of the skills have a digital version in addition to the printables. You can use parts of both or be completely digital!
Google Slides escape room (16 total questions) | Linked and ready to use!
Google Slides recording sheet
Linked google forms for students to check their codes for each station
Themed classroom slides for use in Google or PowerPoint (edit or just present)
The digital escape rooms are perfect if you want something very low-prep because everything is linked and ready to use! All you have to do is pick and choose a few slides at the beginning that work best for you.
Three quick tips:
Remind students to go through the escape room in present mode for everything to work correctly!
Print recording sheets for students so they can easily use the decoder at the end of each station.
Watch the fun scenario video at the beginning of the activity to really hook your readers!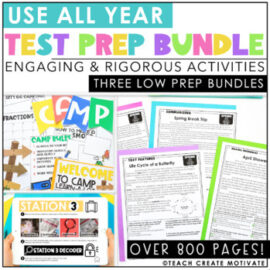 Reading Test Prep Bundle
Test prep doesn't have to be drab and boring. This bundle has three awesome resources that will make test prep fun and engaging! The escape room bundle and themed reading passages bundle will keep student attention while important reviewing reading skills. Incorporating room transformations into test prep makes it feel special and something students can look forward to.
Different Ways to Use Reading Escape Rooms
There are so many ways to use Reading Escape Rooms in your classroom beyond reading test prep!
Content Review
Enrichment
Morning Work
Fast Finishers
Spiral Review
Stations
Small Groups
One of my favorite ways to use escape rooms for reading test prep is in stations. Assign the escape room as a reading station for the week, and students can work their way through it during the week. This can be at the end of a unit for a grade or to prepare for an upcoming test.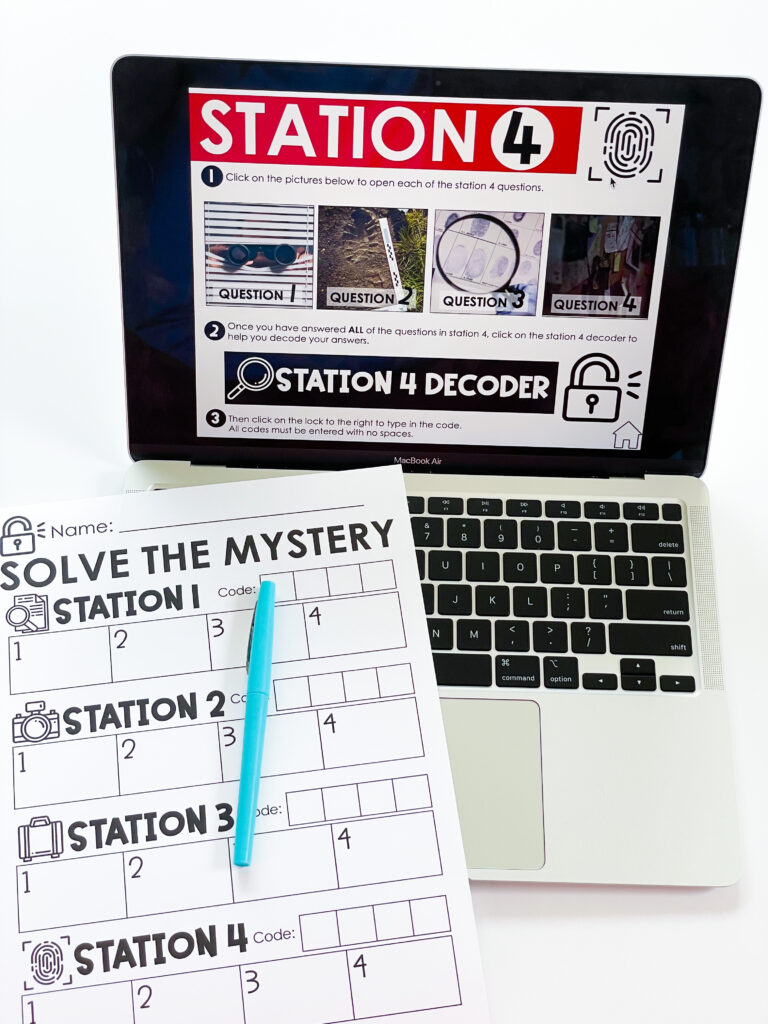 A student favorite is using escape rooms for Fun Friday! That's where the printable swag tags and photo booth props really come in handy. Assign the escape room with task cards around the room for some extra movement, or assign it digitally and let students sit wherever they want around the room.
Then, as students complete the escape room, award them a swag tag and photo booth moment! This would also be such a fun memory to post on the Classgram bulletin board or in the students' memory books!
Problem & Solution Escape Room Freebie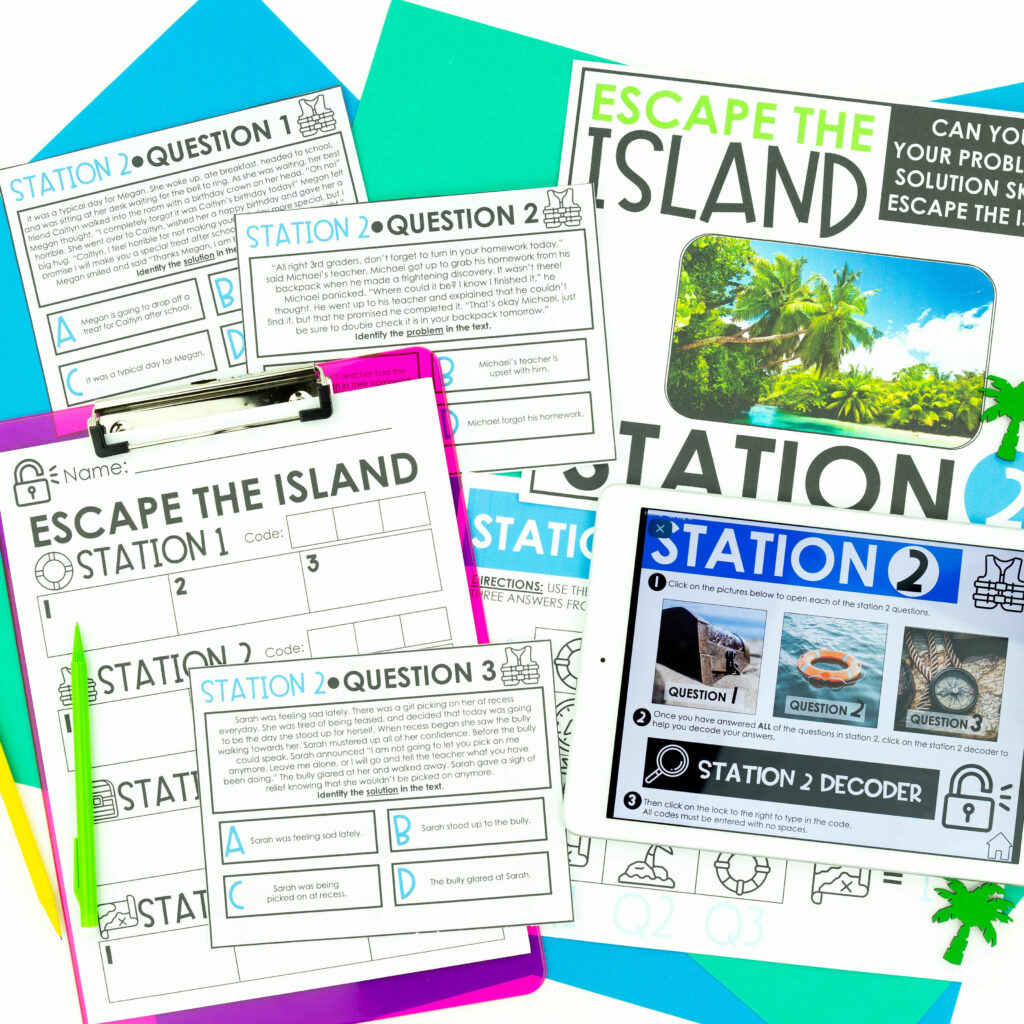 Ready to try a Reading Escape Room with your class? Grab the Escape the Island Problem and Solution Reading Escape Room below!
This fun island-themed escape room has 12 passages and questions to engage your students in a new and exciting way.
Make skill review a fun and memorable experience with reading escape rooms!
Interested in more ways to use escape rooms in your classroom? Check out this post about Engaging your Students with Escape Room Templates. Escape rooms that fit ANY content!
Pin the image below to revisit this blog post later!