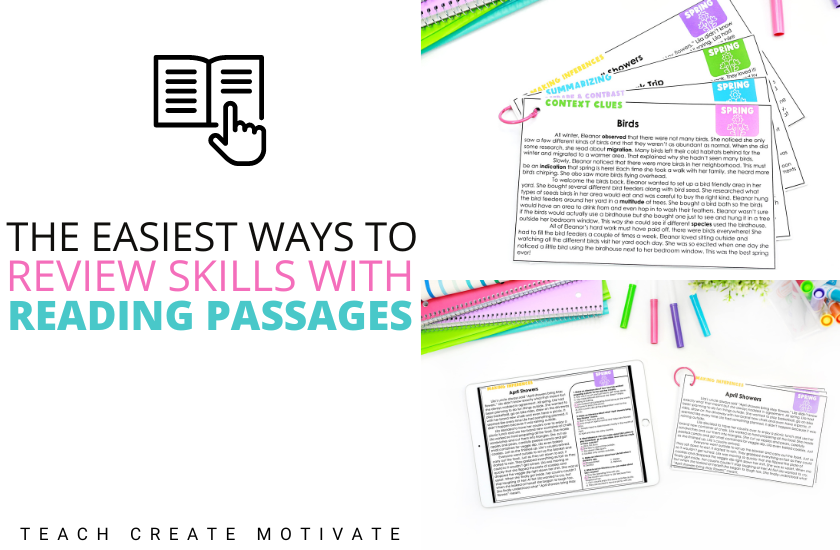 This time of year usually means review, review, review! You've probably already taught the reading strategies and skills necessary for your student's success this year. Now it's time for extra practice with comprehension exercises before the big test. I want to share 6 of the easiest ways to review skills with reading passages.
1. SMALL GROUP PRACTICE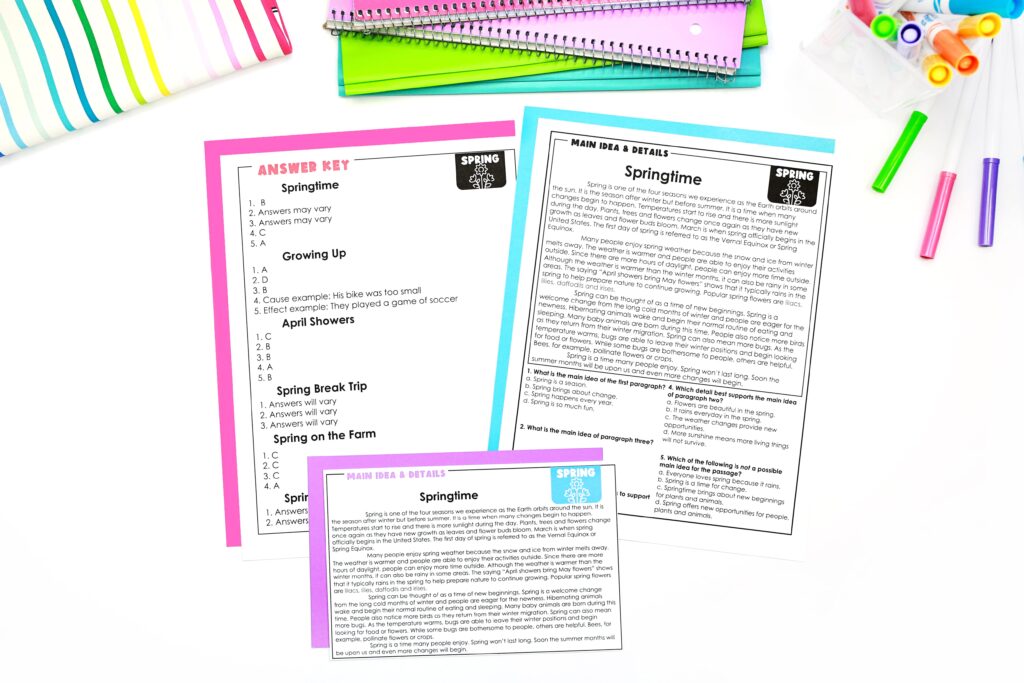 When it's review time, I like to take small groups up a notch. Practicing isolated skills with students during this time is key!
Reading passages are a great addition to small group time in your classroom's daily routines! In small groups, use reading passages with questions to practice reading to identify the answer to questions while revisiting the text.
This is a skill students tend to struggle with the most. Reading passages are perfect for this because they are just long enough for small group time. Practicing this skill could really benefit students struggling to answer questions about a text and give you data on how to support them best going forward.
You could also use printable reading activities as close reading practice to help students determine the main point of the passage.
2. INDEPENDENT PRACTICE
If you're looking for an easy assign-and-go activity for review, reading passages with questions is it! The reading passages will allow your students to focus on isolated reading comprehension skills as a check-in to gauge student's prior knowledge as a review for previously taught skills.
Main Idea and Details
Cause and Effect
Theme
Context Clues
Compare and Contrast
Text Features
Author's Point of View
Story Structure (character, setting, problem/solution)
Making Inferences / Drawing Conclusions
Summarizing
Author's Purpose
Point of View
Use the reading passages as a practice assessment to prepare students for the big test. Easily see where students are with each essential skill to inform your instruction moving forward.
3. READING CENTER Activity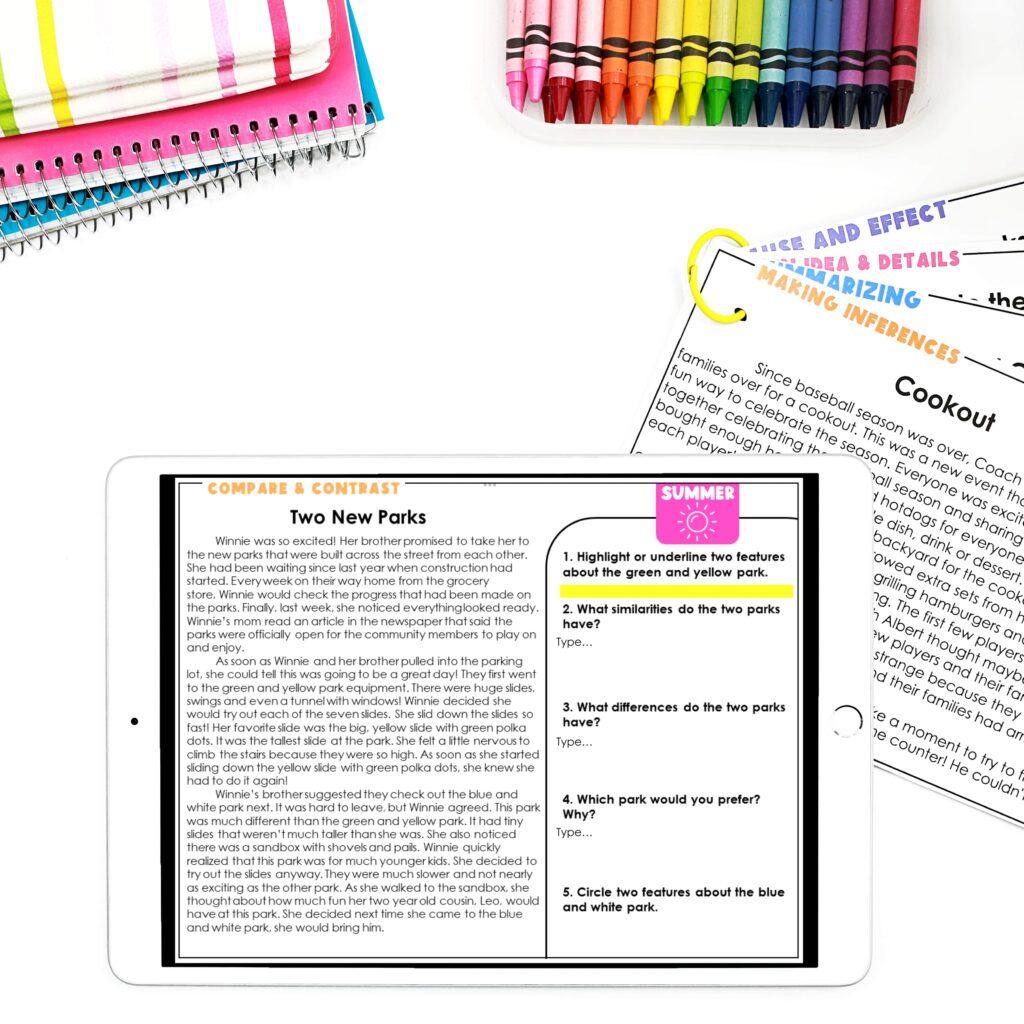 Use reading passages as part of a reading center. Reading comprehension passages are perfect for students to complete independently.
Easily assign the skill you want students to work on digitally through Google Slides on Google Classroom or another online learning platform. The students will either type in their correct answer choice digitally or select it on the slide.
4. QUICK CHECKS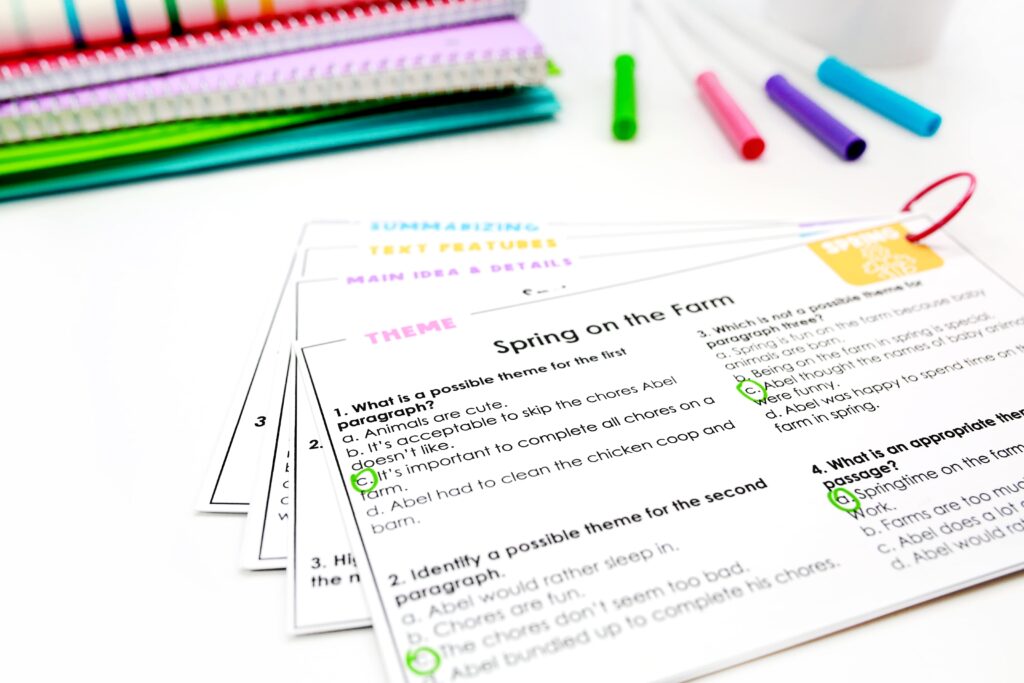 If you spend time out of the week on explicit instruction with the entire class to review specific strategies, use reading passages as a quick check! Print and pass out the short passage with the particular skill you want to cover to the students. Then, use their responses to evaluate who you could reteach the skill to in a small group the following week.
5. Pair with a GRAPHIC ORGANIZER
An easy way to get the most out of the reading comprehension passages is to pair them with graphic organizers! Students can use the graphic organizer to analyze the text thoroughly for important information before answering the questions. This is a great way to get students to analyze the text.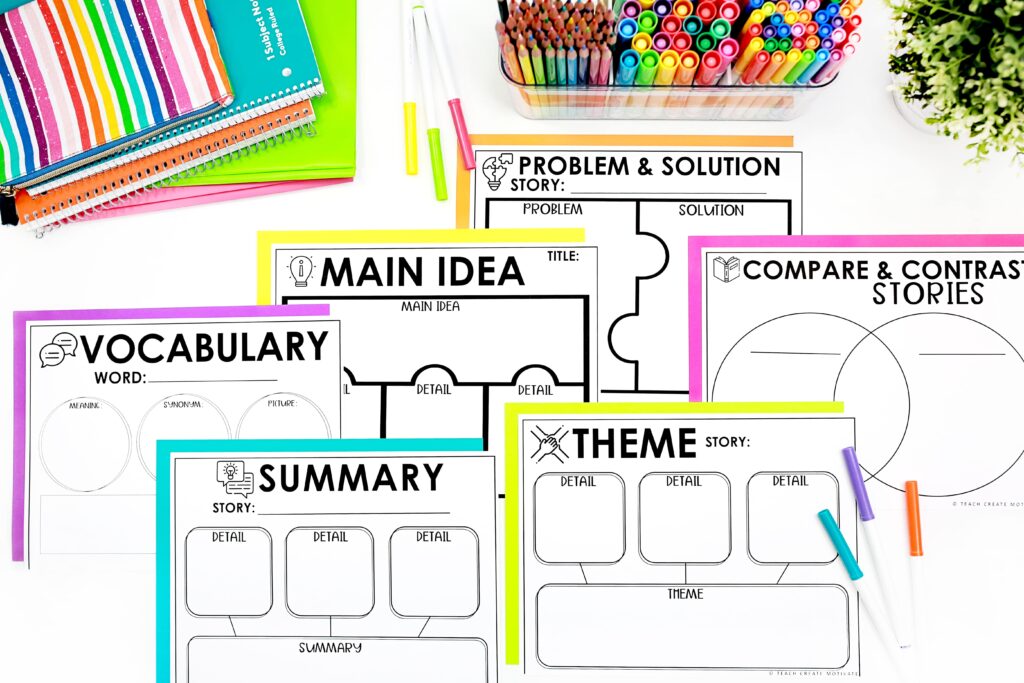 6. Spiral Review
Short passages are great for spiral review! You've taught all the different skills throughout the year and need to touch on them in new ways. Pulling out a reading passage with questions makes reviewing each skill easy.
The variety of texts makes it easy to expose students to the reading skill at different times of the year after you've already taught it.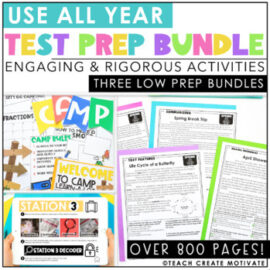 Reading Test Prep Bundle
Test prep doesn't have to be drab and boring. This bundle has three awesome resources that will make test prep fun and engaging! The escape room bundle and themed reading passages bundle will keep student attention while important reviewing reading skills. Incorporating room transformations into test prep makes it feel special and something students can look forward to.
EARTH DAY READING PASSAGE FREEBIE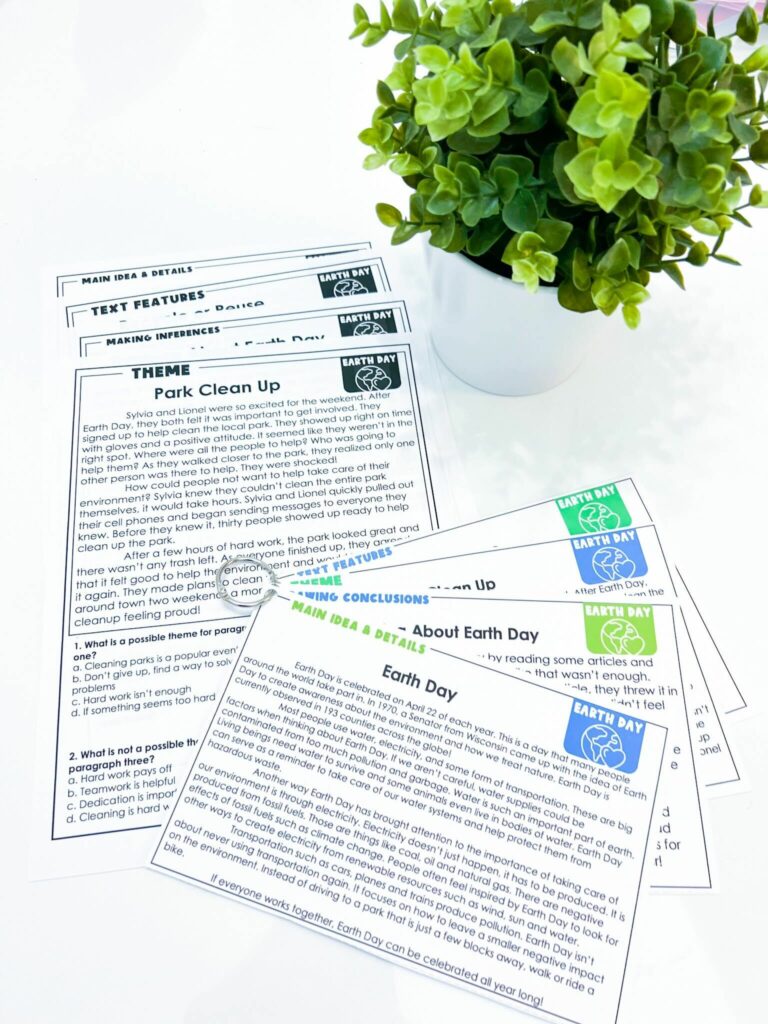 Practice 4 reading comprehension strategies with free Earth Day themed reading comprehension worksheets and slides!
Main Idea & Details
Text Features
Making Inferences/Drawing Conclusions
Theme
This jam-packed Earth Day-themed set of passages comes with printable and digital fictional or informational passage choices. The reading content is geared towards 3rd grade or 4th grade students but can definitely be used in the 2nd-5th grade range, depending on your students.
This freebie is a fun way to learn about earth day while practicing different reading skills. Enter your info below to get it in your inbox!
As with all things review, engagement is key! Themed reading comprehension passages help make reviewing these essential reading skills exciting and engaging. Your students have learned all they need to know for their grade level, and it's time to sharpen their skills with reading passages.
Pin the image below to revisit this blog post later!