The days leading up to a school break can feel never ending! Students are excited and teachers are ready for some time to unwind and recharge. Filling the days with fun fall activities not only keeps students engaged, but it mixes up the monotony of the day to day routine.
Try these 6 activities with your class to keep students engaged and focused while having a little fun!
Fall Themed Escape Room
Escape rooms are super fun and exciting, but they're a lot of work! With the fall-themed escape room template ALL of the hard work of creating an escape room is done for you.
All you have to do is add your own content, questions, and answers! This escape room is completely customizable to any subject area. You could even use it to review expectations if needed!
This Fall-Themed Escape Room Template is an excellent way to review upcoming tests or review content from earlier in the year. You can use it for social studies, math skills, literacy activities, language activities, a science center, and more!
The pack includes digital and printable versions so you can quickly assign and go online or print task cards and have a fun movement activity around the room. Don't forget to print the fun extras like swag tags and photo booth props to capture the excitement of completing the escape room!
Use it before the break to keep students engaged, the first day back as a quick review, or both!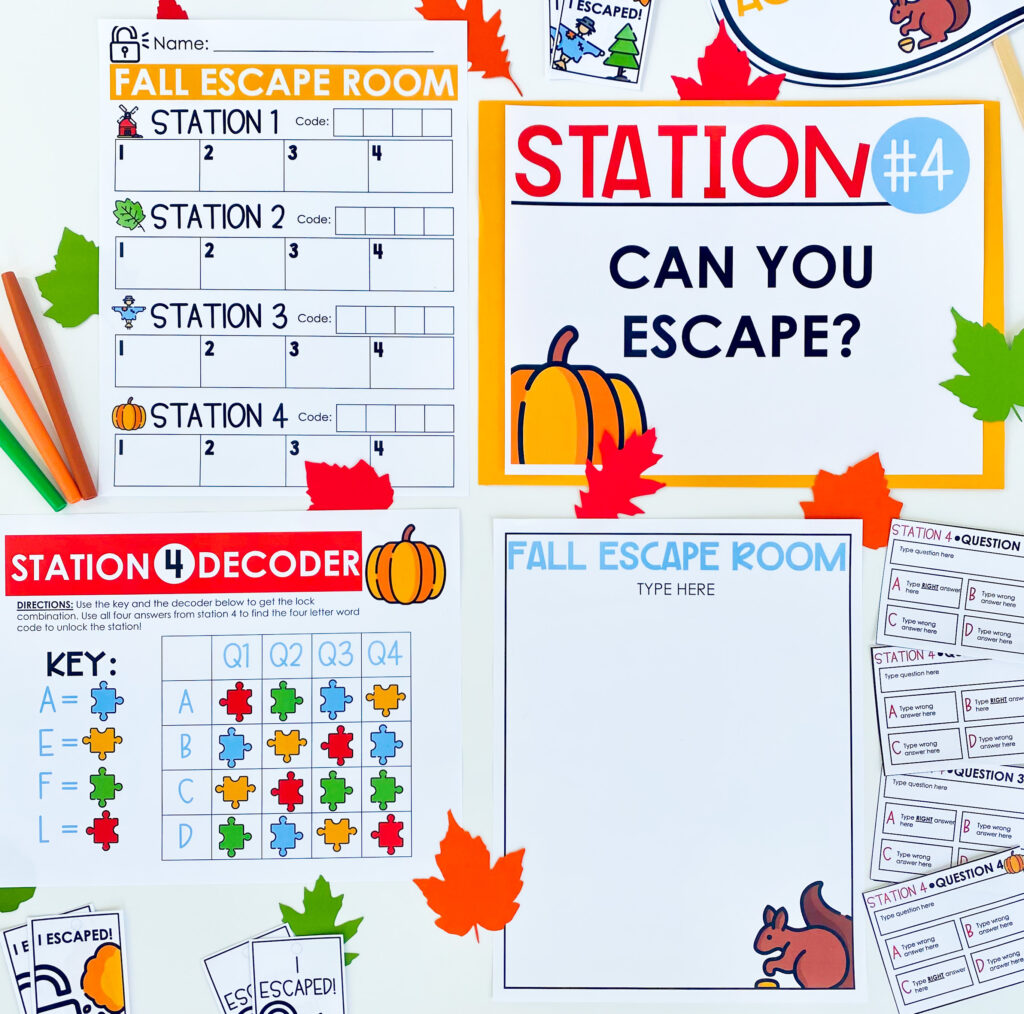 Fall Reading Passages
Need something easy to assign and go right before the break? These fall-themed reading passages are perfect to review all the reading skills you've taught so far to your young learners!
Pick passages to assign based on topic or reading skill! Topics include…
Thanksgiving
Conferences
Pumpkins
Autumn
Veterans Day
Bonfires
& more!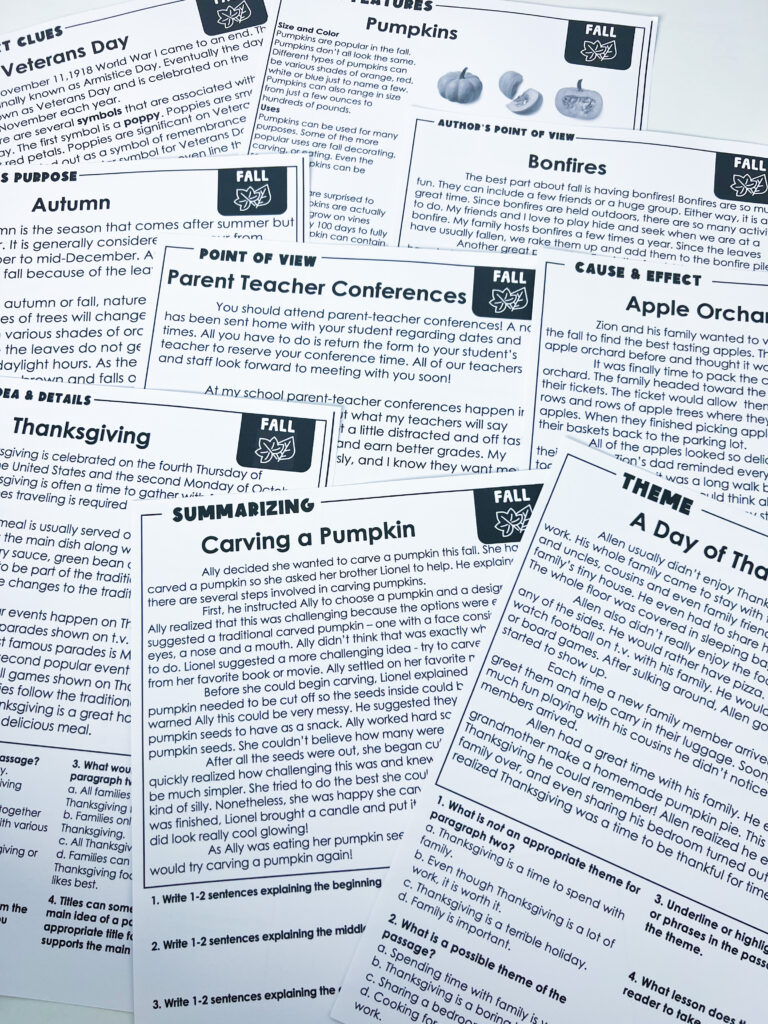 There are so many different ways to use these passages! Pair students up with a partner and have them mark up the text together and highlight text evidence for the questions. Use as a quick small group lesson. Make it even easier on yourself and assign the passages digitally! The options are endless.
"I am thankful for:" Freebie
Who doesn't love a good photo op?! This "I am thankful for:" sign is an oldie, but a goodie! It makes the perfect little gift for students' families.
Print one out for each student to write what they are thankful for or use this quick hack to save time and paper!
Print out just one "I am thankful for:" sign in color.
Grab a 8.5'x11′ photo frame from the dollar tree.
Frame the printed sign.
Call over each student to write on the frame with dry erase marker, hold it up, and snap a quick pic!
Erase and repeat for each student!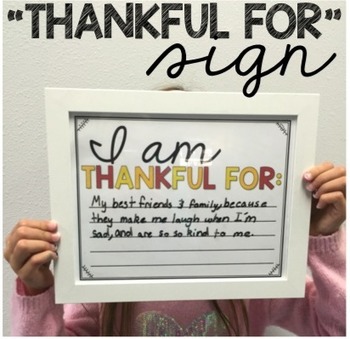 This hack is great if you don't have the resources to print 20+ signs in color, but still want to get that sweet pic to send to families or make class bulletin board with!
Gratitude Flipbook Freebie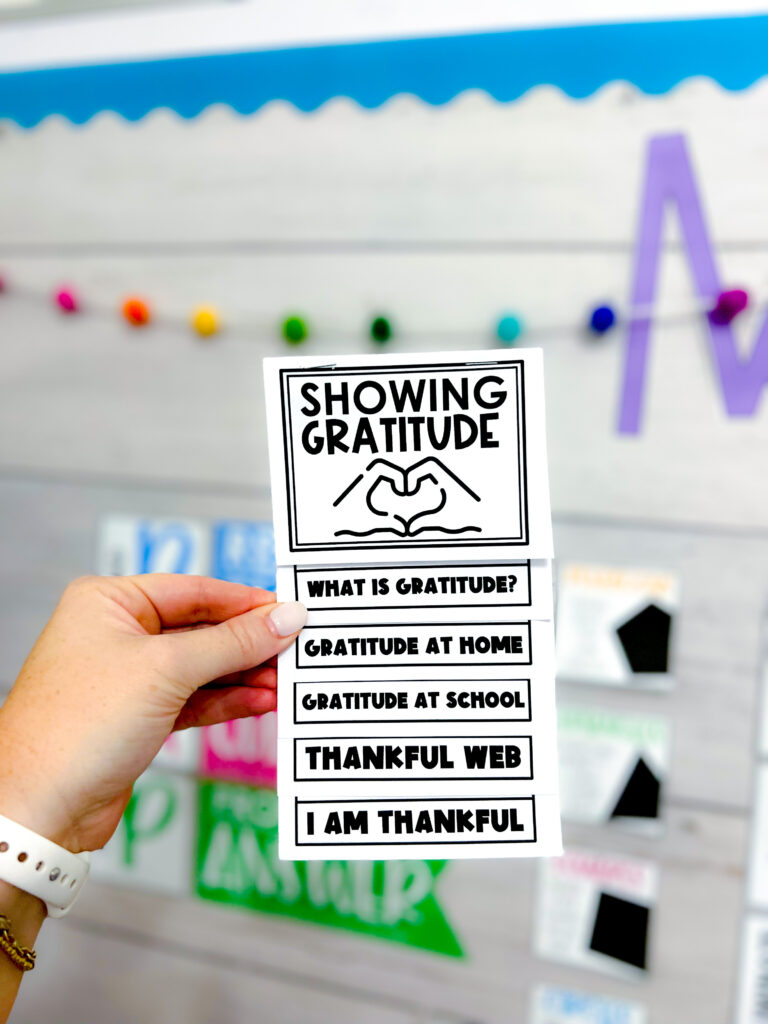 Practice gratitude with your students with this Showing Gratitude flipbook. Students will learn and write all about what gratitude is, what they are grateful for, and how to show it in their everyday life. This is such an easy SEL lesson for morning work or morning meeting!
Grab it by entering your info below!
Selfie Writing
If your stations are getting too repetitive or you're just looking for a fun way to get your students writing, Selfie Writing is just what you're looking for!
Students take a selfie on their device and insert it onto the slide. Then they can move the prop included on the slide to dress up their photo. Finally, students respond to the prompt on the same slide.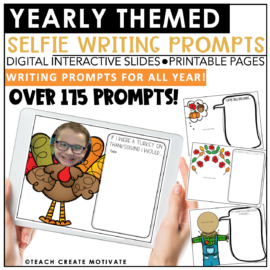 Themed Seflie Writing
You will love these themed and holiday writing pages. These selfie writing prompts pages can be used in print or for digital writing. Have your students "take a selfie" with over 100 writing prompts.
A perfect way to use this is to assign it as a station and give students the choice of which writing they will complete. In addition, each slide includes a prompt, a place for the student's selfie, and themed props.
Fall themes include:
Football
Turkey
Scarecrow
Pumpkin Patch
Apple Orchard
& more!
Pumpkin Science & Reading Activities
Seasonal activities are so fun to include in your lesson plans! It's such an easy way to engage students.
​
Pumpkins Reading and Science Activities is an easy way to hit both reading and science with a high interest topic.
Integrating subjects has never been easier. In this resource you get…
Vocabulary slides
Pumpkin Jack graphic organizers
How Many Seeds in a Pumpkin? graphic organizers
Pumpkin videos with comprehension questions
Pumpkin article/passages with comprehension questions
Pumpkin writing prompts
& so much more!
This resource is a great way to fill your time with activities that meet grade level standards, but also is different from your day to day content.
This time of year can get busy with conferences, meetings, and sporting events, so anything to save time is a must! All of these activities are super easy to assign and go. There are both printable and digital activities so you can do what works best for you right before the break!