Class slides benefit you and your students and can be used for SO many things throughout the day!
Help create that calm and inviting classroom environment by posting constant reminders and visuals for your students to reference when needed. Using class slides with timers is one of the best ways to manage classroom time, create student engagement, and foster independence. Let me share just how to do that in your classroom!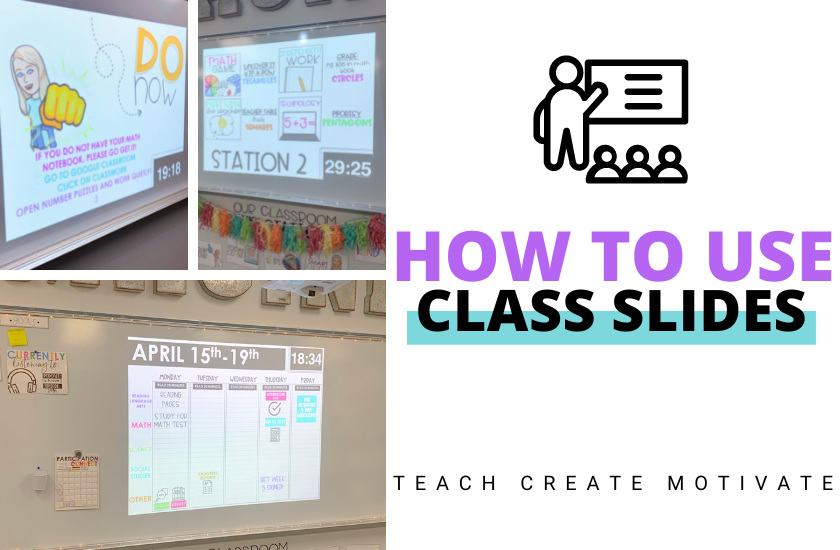 Class Slides with Timers
Slides give you an organized way of sharing what must get done during the day with students! Not only do they help keep you on track, but they are also great visuals for students.
Slides allow you to manage your day by pacing your lessons for good time management. They also help keep instructions or reminders on the board so that students aren't constantly asking you the same questions repeatedly.
How To Use the Timer
Slides with timers are one of the best classroom management strategies because they can be used for different subject areas, special class activities, the entire class, or group work.
A timer supports students' time management, so they know how long they have to complete an assignment or task. Class slides with timers set up students for success by giving them a clear expectation of how much time they have to complete a task.
Using the timer is easy! Select the time from the menu at the beginning of the resource, copy the icon, and paste it into the corner of the slide you plan to use. Your timer will start when you press "present" on the slide.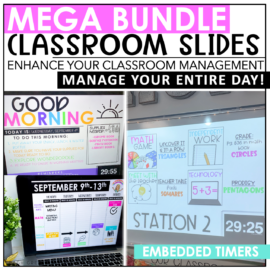 Classroom Slides Mega Bundle
This bundle of daily classroom slides with timers includes all the slides you need to help you manage your day and routine. You will love that all slides are editable and all have the options of embedded timers. These daily classroom slides can be used for any grade level!
Establishing Clear Expectations with Slides
Students will meet the bar you set in your classroom. Establishing high expectations for your students is so important! Students thrive in a structured environment where they can learn successfully.
There are three areas to really focus on setting high expectations for students.
Independent Work
Partner Work
Stations/Centers
Systemizing these important aspects of your day can have a HUGE impact on student behavior. It minimizes questions and student chatter while waiting for instructions and gives ownership to complete classwork!
One thing that sets students up for success and holds them accountable is putting expectations and directions on a slide. Students always have something to refer to, which helps so much when they get instructions verbally AND visually. Here are some ideas on what to include:
Voice level
Simple step-by-step instructions
Participation expectations
Time (class slides with timers already has this built-in)
What to do when they finish
Where to turn things in
Each of these expectations may look different for each area. For example, independent work may always have an expectation of a voice level zero. An expectation for partner work could be each team member is equally participating. In stations, students may choose to sit on the floor, in flexible seating, or at their desks. All of these expectations are clearly on the slide. All you have to do is point to the slide if they need a reminder!
Transitions
We all know transitions can be challenging for our students, but they don't have to be!
The goal is to have quick, quiet, and efficient transitions, but this takes some consistent time and effort on your part. Not only do quick transitions save learning time, but it also helps foster a calming classroom environment.
A slide with a timer is the key to transition success! First, put your expectations on the slide. This should include what the transition should LOOK like and what it should SOUND like. Simple step directions and expectations are a must! Model it for your students first, then see if they can beat the timer.
Stations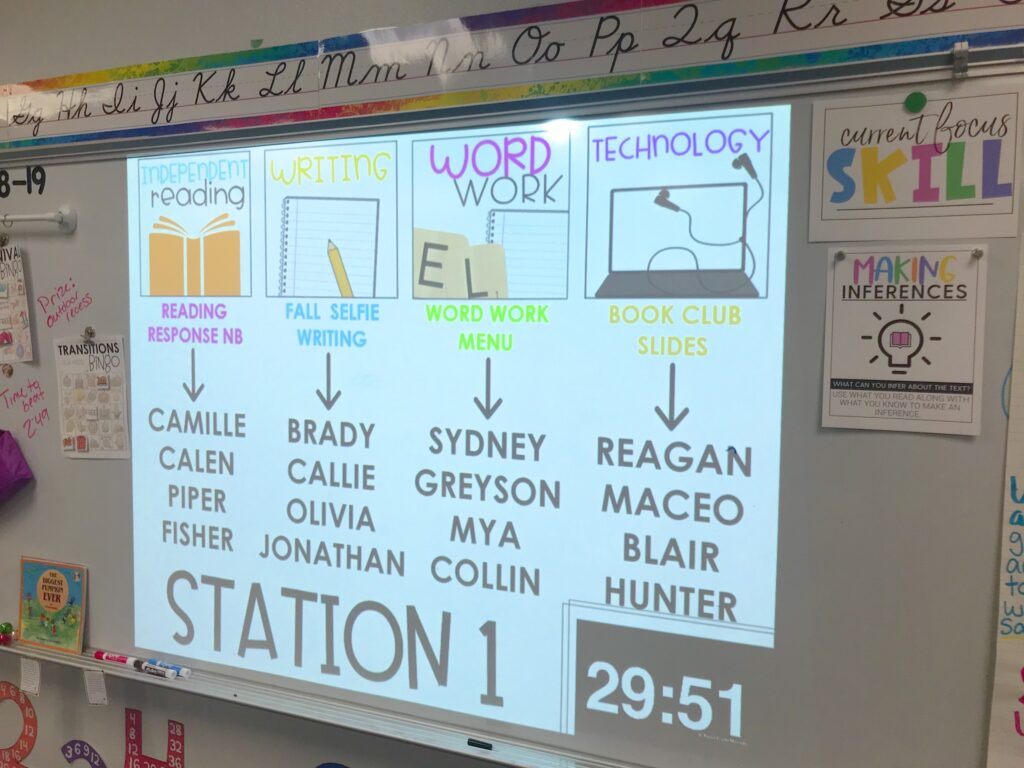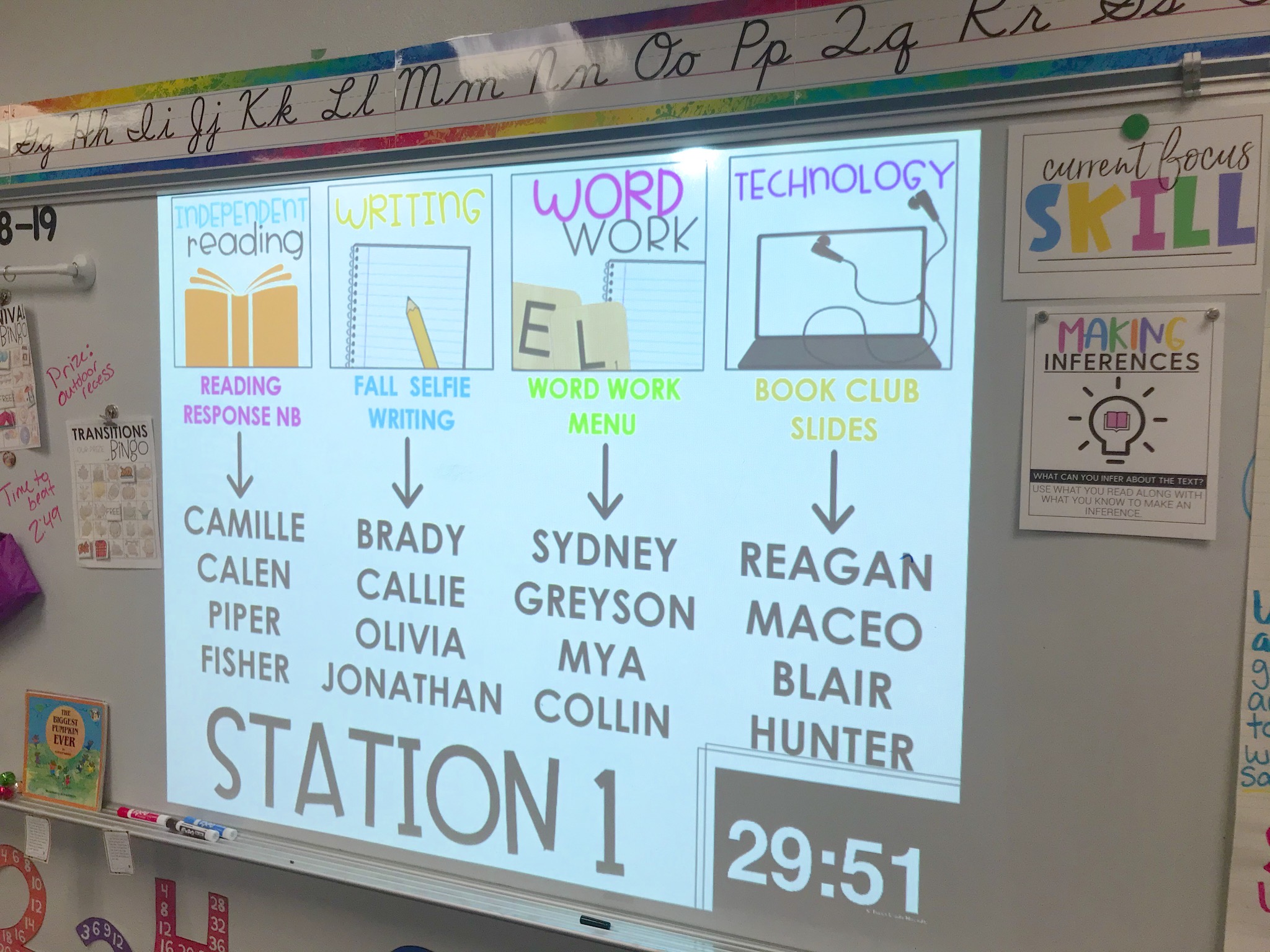 Implement seamless stations with class slides! You can do this in so many different ways. No matter how you organize stations in your classroom, class slides are there to display clear expectations, the task to complete, and how long students have to work in each station.
Subject Areas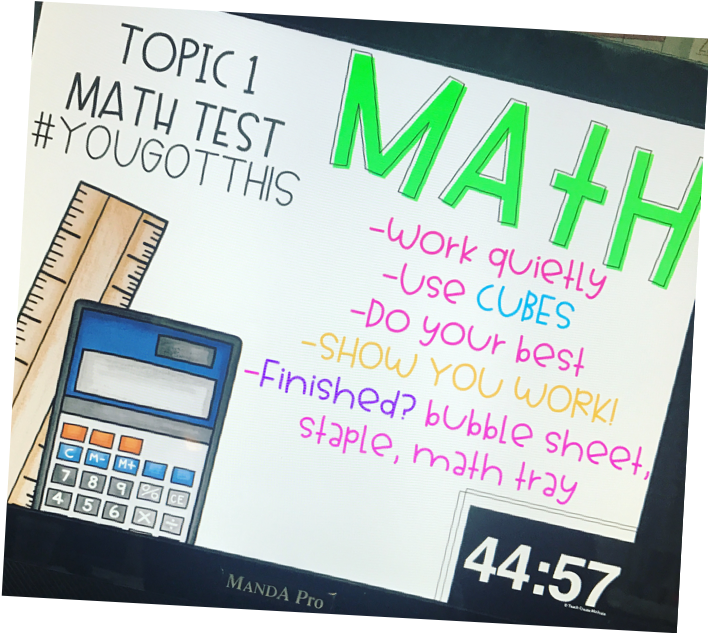 Having directions for an assignment and supplies students need written out and ready to go can save so you much valuable class time repeating yourself.
You can easily organize class slides to follow your daily schedule so EVERYTHING is ready to go and your day goes off without a hitch!
Independent Work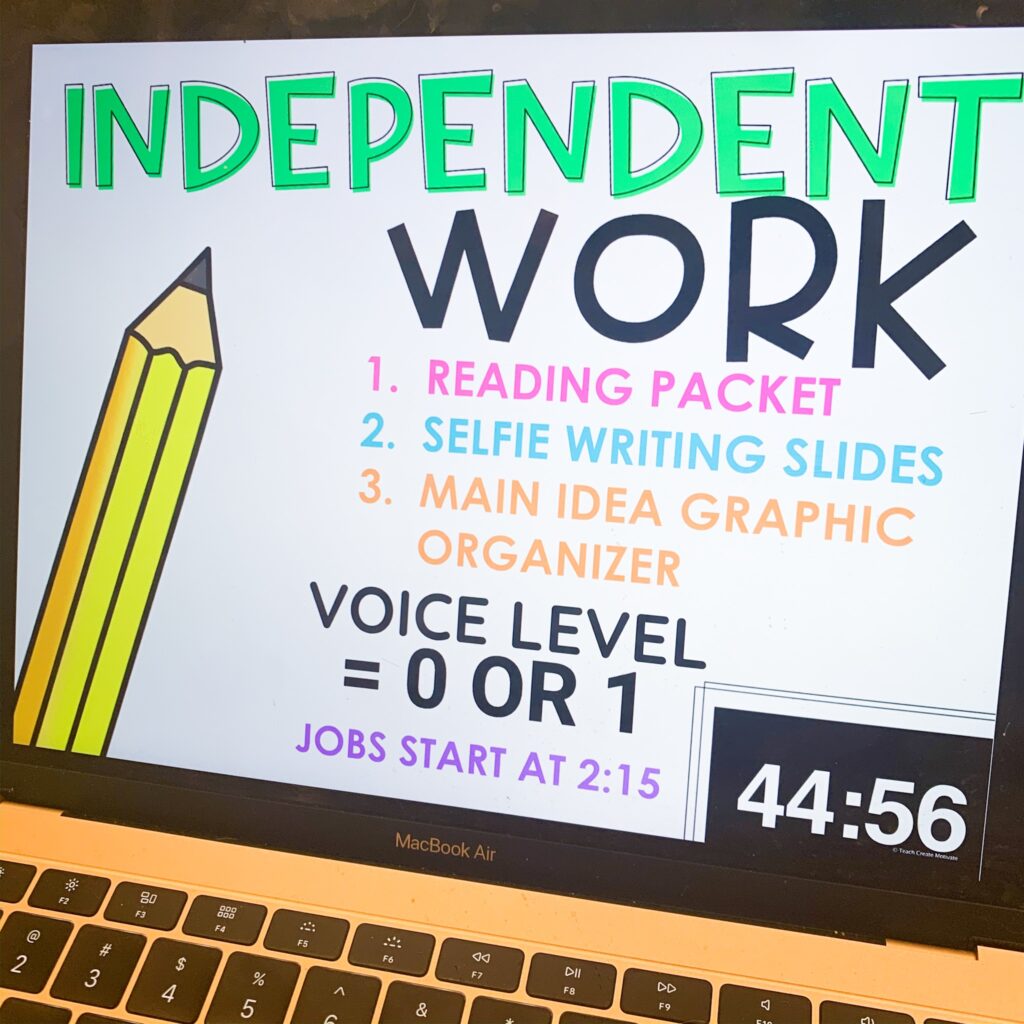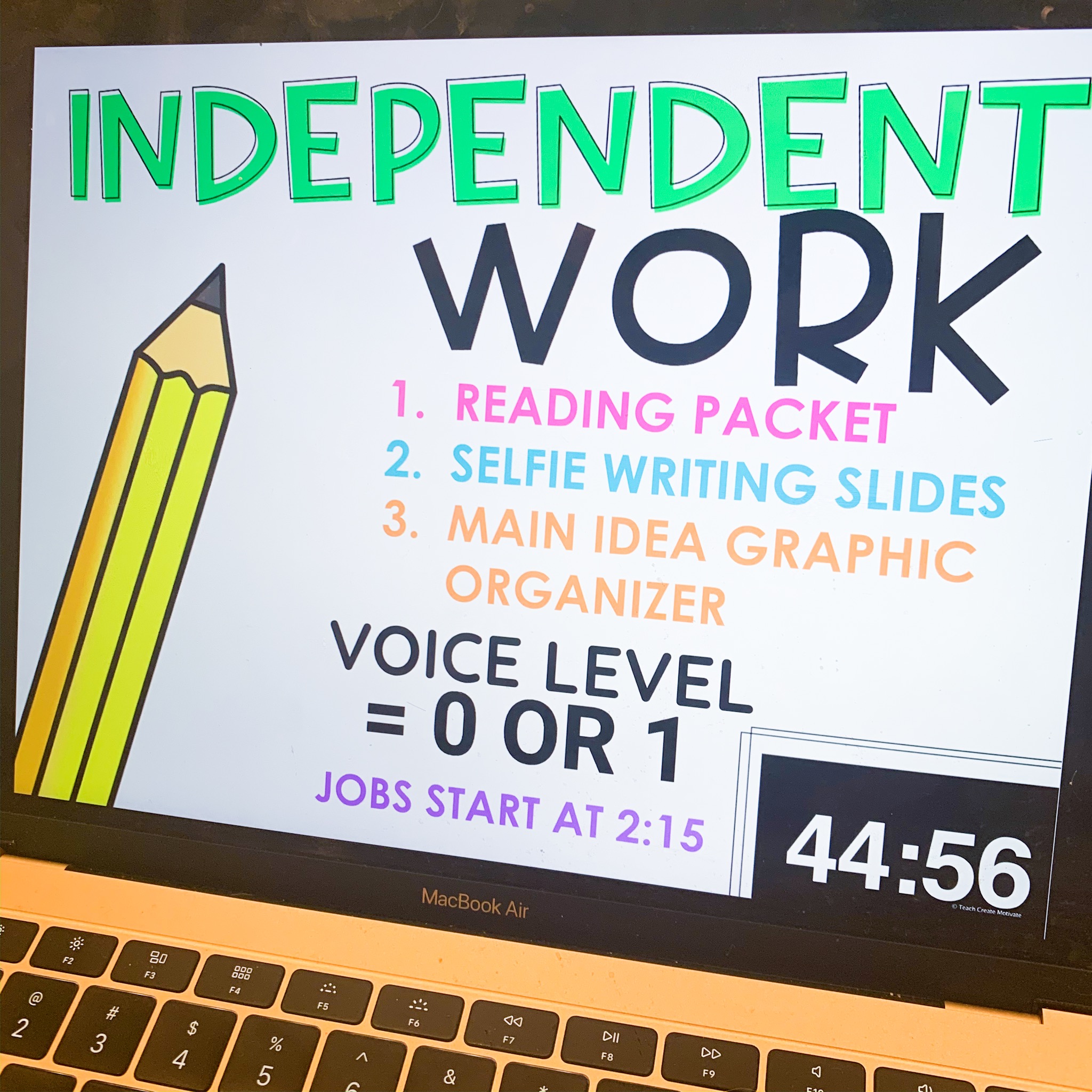 Do you have students who struggle to stay on task during independent work time? This is a common problem with an easy solution… slides with timers!
Projecting classroom expectations on a slide in front of the class during independent work time can make a huge difference for many students! Having directions, supplies to use, and what they can do when they're finished can help students stay engaged and focused. Add a timer to all of that, and big things happen!
Slides Hack
Gone are the days of running over to your computer to switch slides! One of my all-time favorite Amazon tools is a wireless presenter.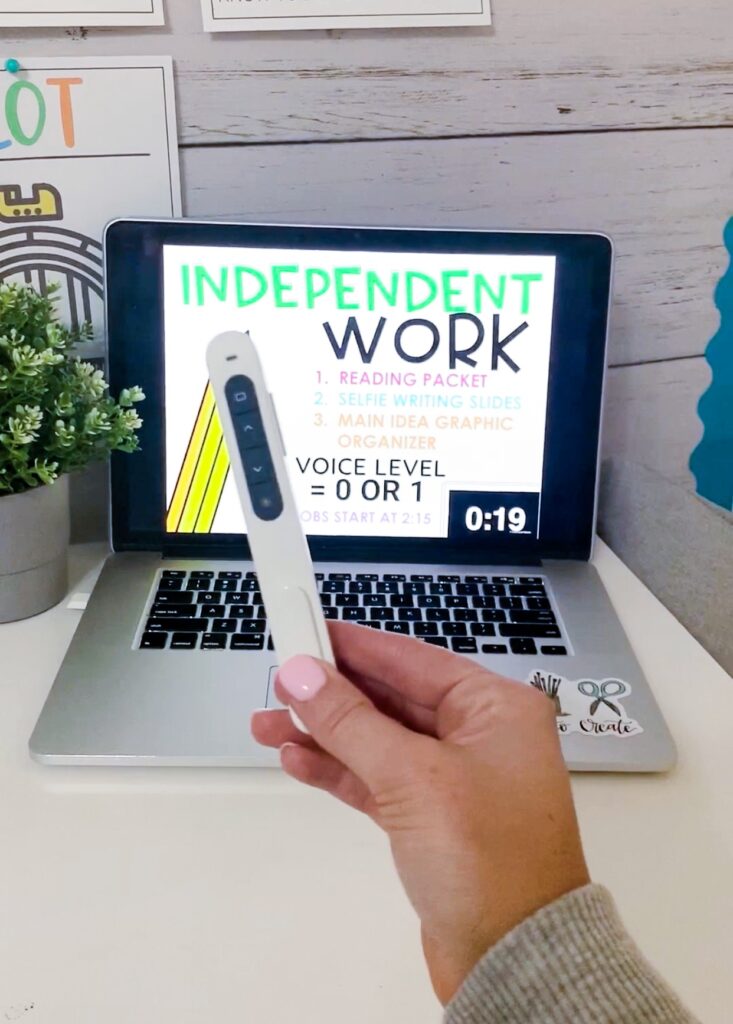 You can start, pause, and transition your class slides from anywhere in the room. It works seamlessly with Class Slides with Timers!
Agenda Slides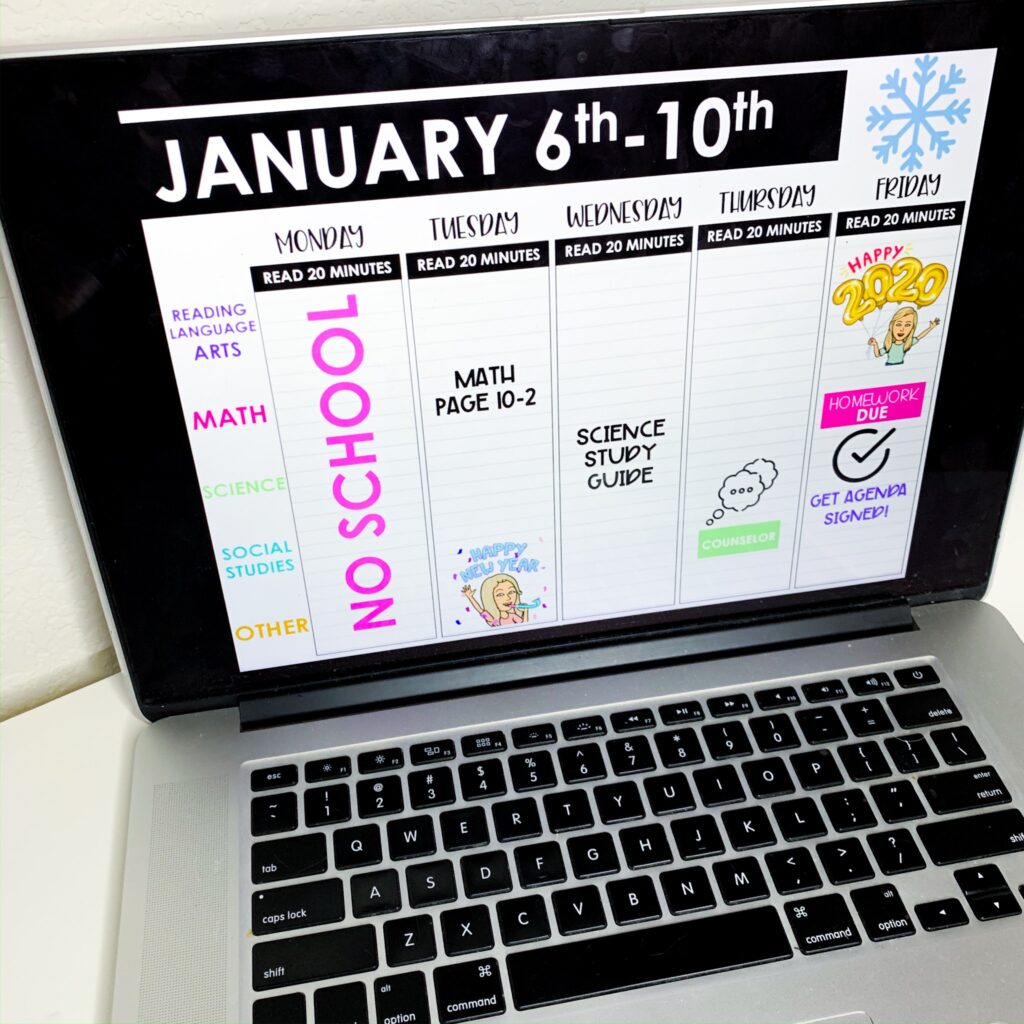 Agendas are a great way to keep students organized and an easy way to keep families "in the know" of all that's happening inside the classroom! It shows their homework, tests, upcoming school events, etc.!
Keeping up with the agenda always falls lower and lower and lower on the priority list as the year progresses. Am I right?! Copying the week's agenda under the document camera is hard to keep up with!
Digital slides make this whole process easier for you AND your students!
Agenda slides are great because you can put everything students need to know for the week in one place and project it on the board. Then on Mondays or Fridays, whatever works best in your schedule, students copy what's on the slide into their personal agendas.
Easily share the agenda slide on your online learning platform so students can look at it throughout the week and families can stay updated on what's happening in the classroom.
Morning Slides
Establishing a morning routine is key to a smooth day! The morning runs much smoother when your students know exactly what to expect and what to do. In addition, a morning routine creates a student-led environment where your students will thrive.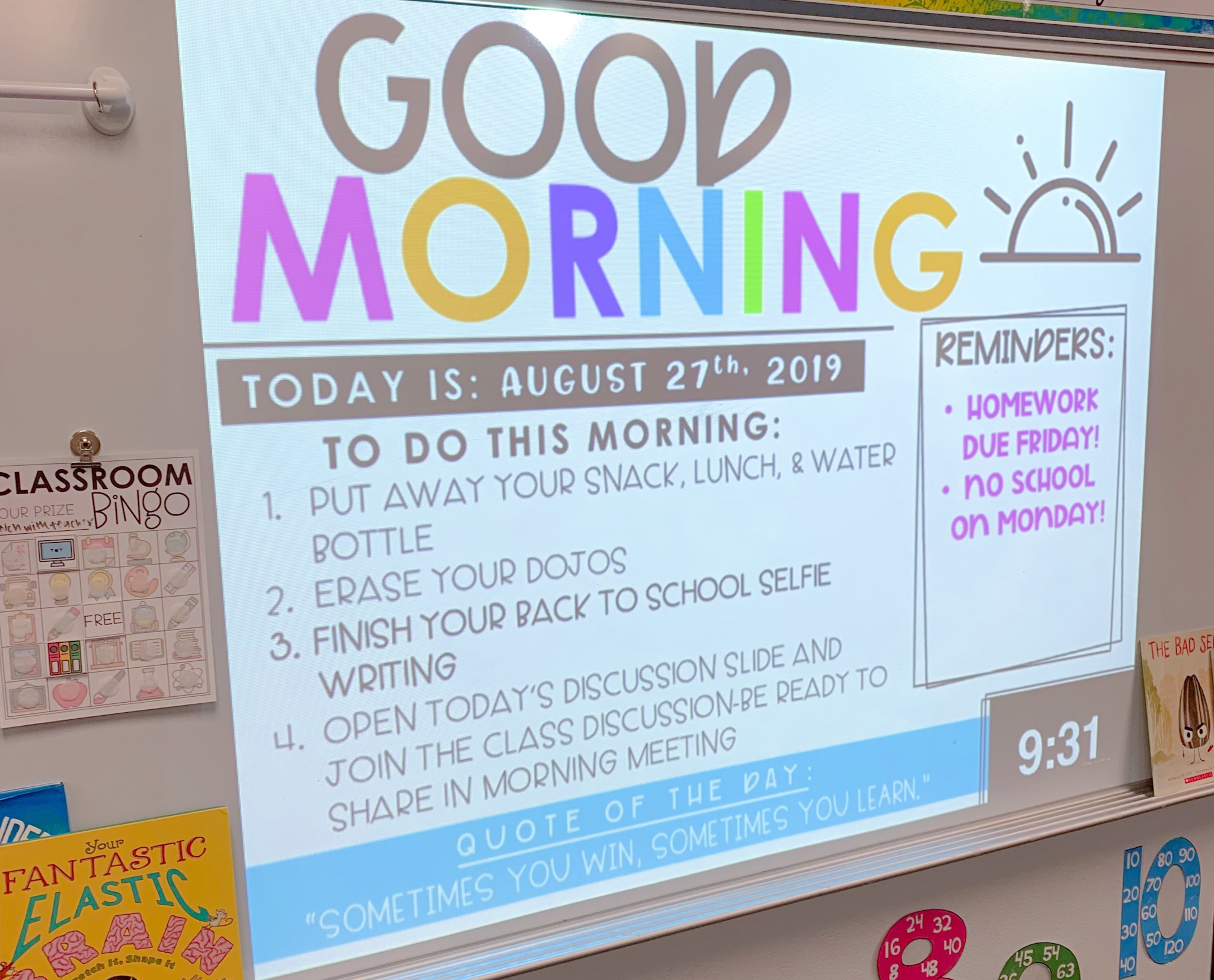 Displaying a morning slide with a timer on the board with expectations and instructions to start the day is a good routine to put in place. Keeping the content of the slides as consistent as possible sets students up for success because they know exactly what to expect as soon as they walk through the door.
Be sure to include things like where to put their:
lunch/snack
homework
important papers (notes from home, permission slips, etc.)
Backpack/supplies
Anything students need to do should be part of the morning slide. This will save you time answering questions and allow you to greet your students and prepare for the day!
The thing that changes on the slide from day to day is the morning work. Everythi g else stays the same! Having a theme for each day of the week is a way to establish consistency with morning work. Students know what to do when they come in and what to start working on right away. Here is an example of a morning work schedule:
Monday: Agenda Slides-Weekly agenda is projected, and students copy it down
Tuesday: Math Facts/Read a book or on Epic
Writing Wednesday: Writing Prompts
Thursday: Discussion Slides-Students add to the discussion on slides or Jamboard & discuss in morning meeting
Fun Friday: Student's Choice
Seasonal Slides
I don't know about you, but I LOVE using seasonal resources in the classroom! Themed class slides are the perfect way to start your class time.
All you have to do is pick the theme that matches the season for a festive flair! Put up a morning/afternoon message with instructions and expectations for students to follow to start the class.
What makes these slides unique is that they come with digital buttons with graphics, so you can have visual reminders for students right on the slide!
To use the buttons, simply copy the icon you wish to use from the menu at the beginning of the slides resource and paste it onto the themed slide you are using. Visual reminders help students know what exactly the expectations are.
what supplies students need
what students need to do
reminders
Just like the other slides resources, copy the timer you wish to use and paste it in the corner. When you press "slideshow" the timer will start!
Seasonal Slides Freebie
Try out the seasonal slides with a winter-themed slide freebie! Enter your info below to get it straight to your inbox.
Class slides with timers is the ultimate classroom management tool! You can use it to manage your day, foster student independence, and provide clear expectations. I hope you found some helpful tips in this post!
Pin the image below to revisit this post later!