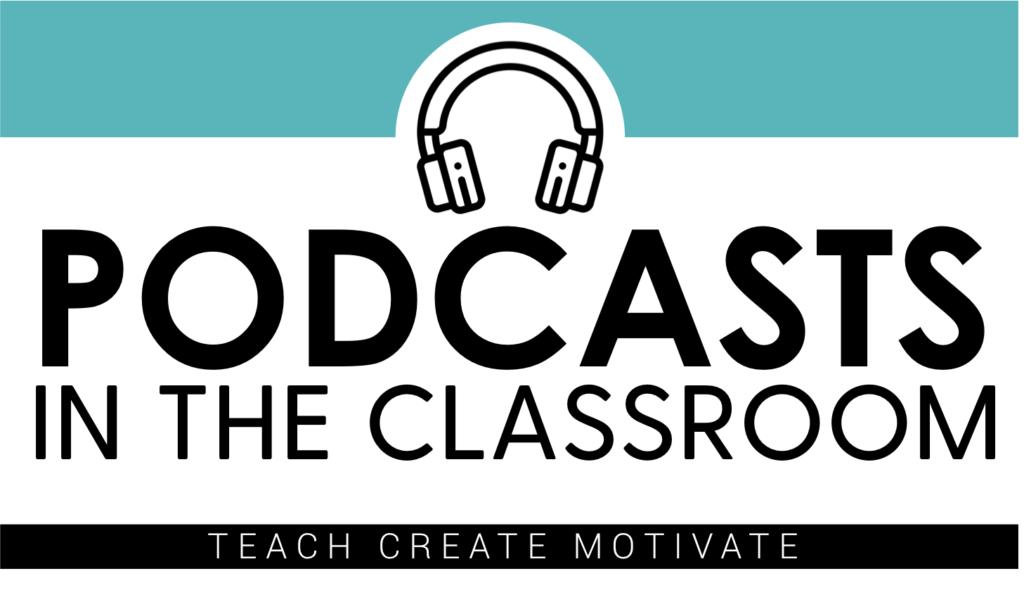 Podcasts in the classroom are so fun and engaging! Have you jumped on the podcast train yet?! Whether you're listening to your own podcasts on the way to work or finding ways to get your students listening-they're blowing up! I had seen many teachers talk about using podcasts in the classroom a few times on Instagram and read a few articles about it online.
Still, I wasn't quite sure how I wanted to incorporate them into our day in the classroom. I think I have found a great system that works for us, so I wanted to share!
Benefits of Podcasts in the Classroom
There are LOTS of benefits of using podcasts in your classroom with your elementary students. Here are just a few:
Student Engagement – this is HUGE! When students love what they're doing in your classroom, they are instantly engaged. Plus, the topics they get to choose from to listen to are so interesting!
Listening Skills – this might be my favorite benefit yet. Listening skills are SO important, and it can be hard to find ways to foster those with our students. Podcasts are a perfect solution to this!
Student Independence -You knew I was going to incorporate that somehow right?! I mean.. letting them choose what to listen to is GOLD!
Reflective Thinking – Not only are they listening out of interest and engagement, but then we take it a step further and reflect on what we listened to. This involves critical thinking, writing, and even using our reading skills like summarizing, comparing and contrasting, and more!
Ways to Use
As I mentioned before, I really wasn't sure how to get started with podcasts in a way that was best for my students. I wound up starting with the whole class listening to the same podcast episode and then transitioned into the independent choice format of podcast listening. Here is how that looks:
Whole Class
Whole Class Listening – Find a podcast your students will enjoy, and every day (maybe during snack time, after packing up, etc.) play 1 (or 2!) episodes while everyone is listening at the same time. This was PERFECT because not ONE student of mine even knew what a podcast was when we started this! Now, they beg me to turn on an episode..and are super quick to remind me when I forget!
Beginning this way really created the buy-in from them. It also led to great class discussions and still allowed my students the chance to reflect on what they were listening to. Plus, you can listen to a handful of podcasts, and individual students can get a feel for what they're interested in.
Independent Choice
Independent Choice Listening – This is another way we use podcasts in the classroom now. Once I introduced what podcasts were, and my students were excited from our whole class listening (1-2 weeks later), I explained that they would now be able to listen 1-2 times a week independently. They were SO excited!
We do this during our station time. I have talked about stations a few times, but in a nutshell, we do Reading/LA stations every day. My students have a menu of stations I set for them for the week, starting on Monday and finishing on Friday. I always make some stations "must-dos" and some that they can do if they choose.

My third graders get to choose what station they work on and when. As long as they are finished by Friday, I give them that freedom. So adding podcasts to our weekly station lesson plans was VERY easy. I just simply made it a station choice on their menu for the week after explaining where to go to listen! We also talked about choosing which podcasts to listen to and how to make sure they were appropriate for us.
This is also a great way to use podcasts in your classroom, even if every student doesn't have a digital device! Making it a station that gets done once in the week means you can rotate your students through the one or more devices you do have! That could be a Chromebook, an iPad, or a tablet. Podcasts have been such a great addition to our elementary classroom.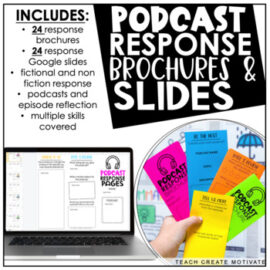 Podcast Response Brochures
Podcasts in the classroom are so fun and engaging! Have you jumped on the podcast train yet?! There are LOTS of benefits of using podcasts in your classroom with your students. Here are just a few:
-Student Engagement
-Listening Skills
-Student Independence
-Reflective Thinking
These print and go brochures make it so easy to add some reflective thinking, reading skills, and writing to your students listening!
How to Listen
The best website I can recommend for the whole class and independent listening is Kids Listen. It is SO user-friendly, has a wide variety of topics, and breaks down podcasts by age level. There are options for younger students and older students. It is easy enough to navigate, and I love how it hosts them all in one spot! If you click "Find Podcasts," it will categorize them into the age level that fits your grade level.
You can also sort by podcasts and find different types of podcasts on a particular topic, current events, subject matter, short stories, and more! There are so many great educational podcasts to choose from.
You can also listen online through Sticher, iTunes, or Google Play if you need different options. You will just have to search that podcast specifically!
Kid-Friendly Podcasts
Here is a list of our favorite podcasts so far!
Six Minutes
But Why
Tumble Science Podcast for Kids
Brains On! Science Podcast for Kids
Stories Podcast
Podcast Resources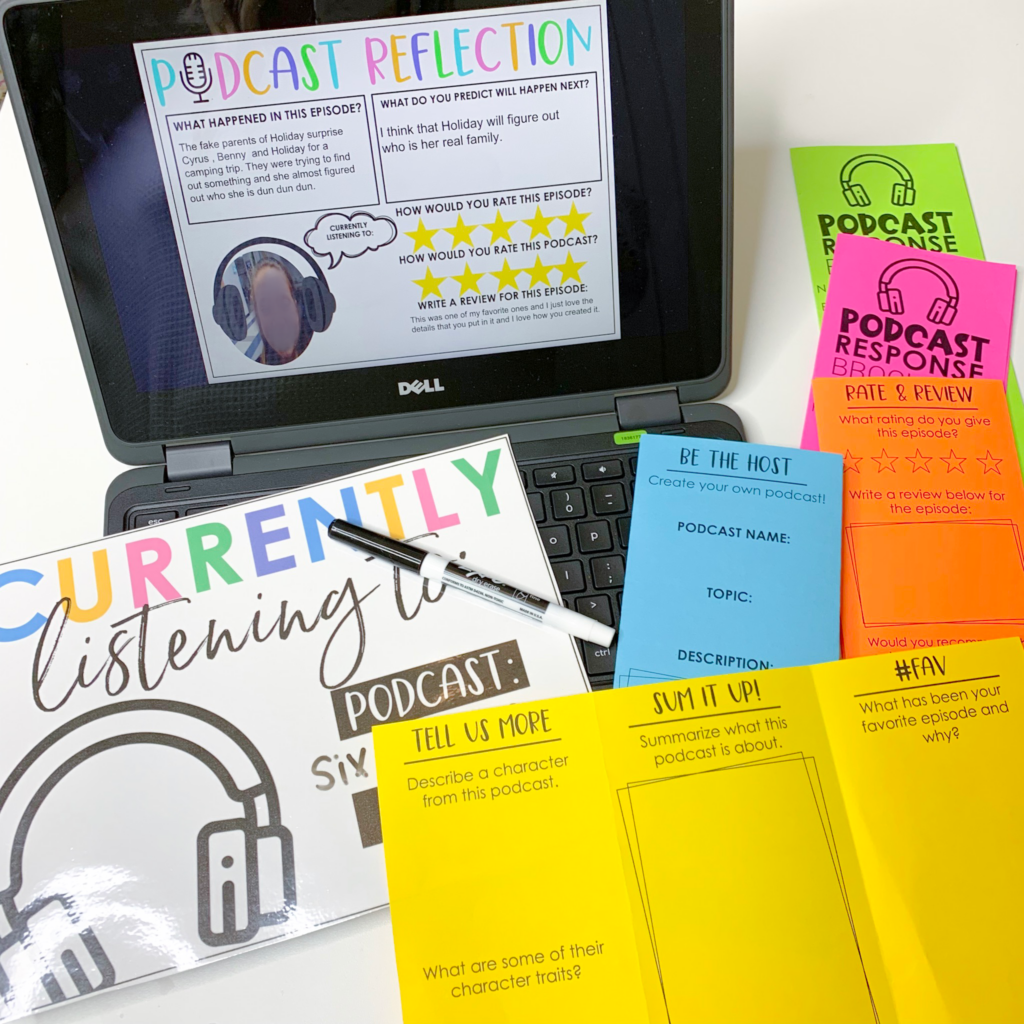 I created some reflection slides for my students to use when we listen as a whole class. I have them respond digitally, but there are printable pages as well. Once I decided to incorporate them into their stations, I wanted a deeper way for them to reflect on episodes or multiple episodes of entire podcasts. I created response brochures for this purpose. They are beneficial because they cover different reading and writing skills and can be used repeatedly and in different ways. There are 24 different brochures that you just print and immediately use!
Podcasts Reflection FREEBIE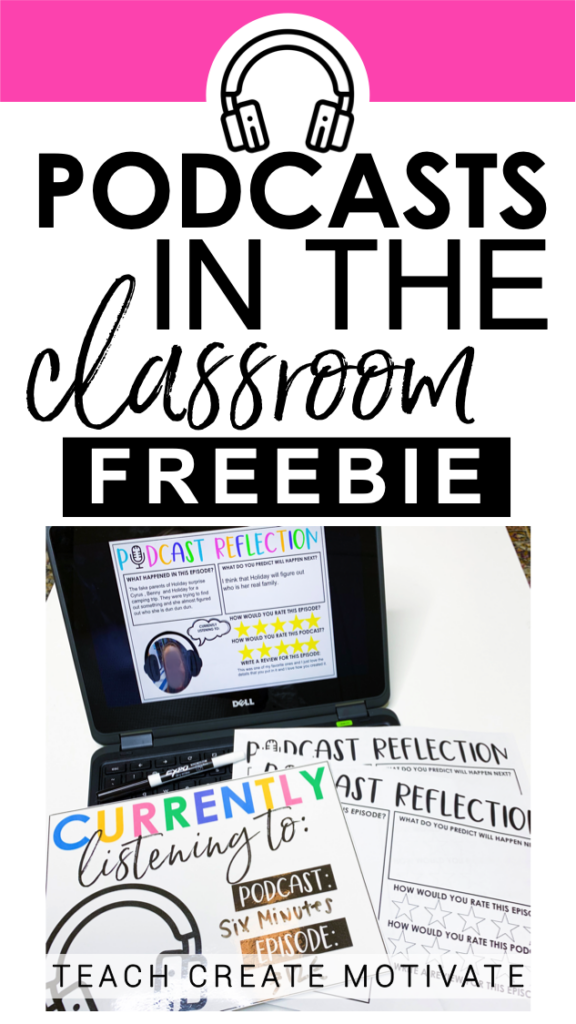 If you want to try podcasts and reflect on listening with your own students, I made the reflection slides/pages available to you for free below! Use them digitally (some even have a selfie option!) or print them out! There's even an option for students to create their own original podcasts.
Podcast Response Brochures
You can grab the Podcast Response Brochures to use all year with your students HERE! These print-and-go brochures make it easy to add reflective thinking through comprehension questions, reading skills, and writing to your students' listening! They make the perfect companion to your students listening station and even work for a quick grade! My students love them.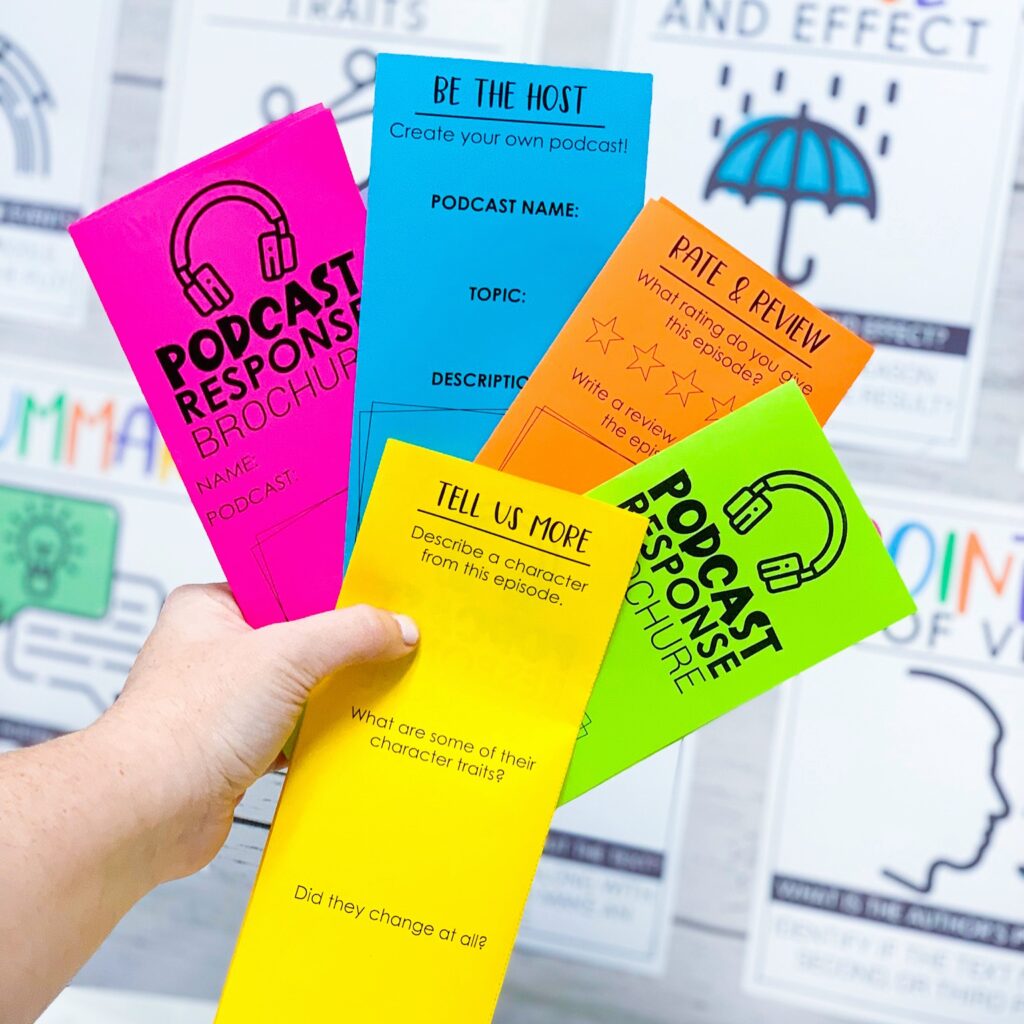 What are some of your favorite podcasts to use in your elementary classroom? Do you use them as a whole class activity or independent work? Let me know in the comments!
Pin the image below to revisit this post later!