August is here, and that means it is officially back to school! There really is nothing like the feeling of excitement and anticipation that each new school year brings.
As a kid, back-to-school season is so exciting and filled with anticipation for the new year to come. Teachers are some of the only people who get to continue that into adulthood. We are so lucky to get to feel that excitement going into every school year, just like our students.
I want to share some resources with you that will help you set up your classroom, establish routines, build community and engage your students this back to school season.
Set Up Your Classroom
Setting up your classroom can be exciting and overwhelming all at once! If you get your keys a few days or a week before, there is so much to do in so little time. Consider yourself lucky if you have access all summer!
The top three things to think about when choosing items to set up your classroom are:
Does it have a purpose?
Can it be used all year?
Is it functional?
Items that come to mind that answer "yes!" to these three questions are labels, a birthday board, and a calendar. All three of these things are purposeful, functional, and are used all year long! The Set Up Your Classroom Bundle has all of these items and more. Perfect if you are just getting started or even looking for a classroom refresh!
Establishing Routines
One thing students thrive off is routine! Having routines in place and practicing them from day one is crucial to classroom management success.
Here are two back to school resources that help establish a routine and can be used all year long:
Class Slides with Timers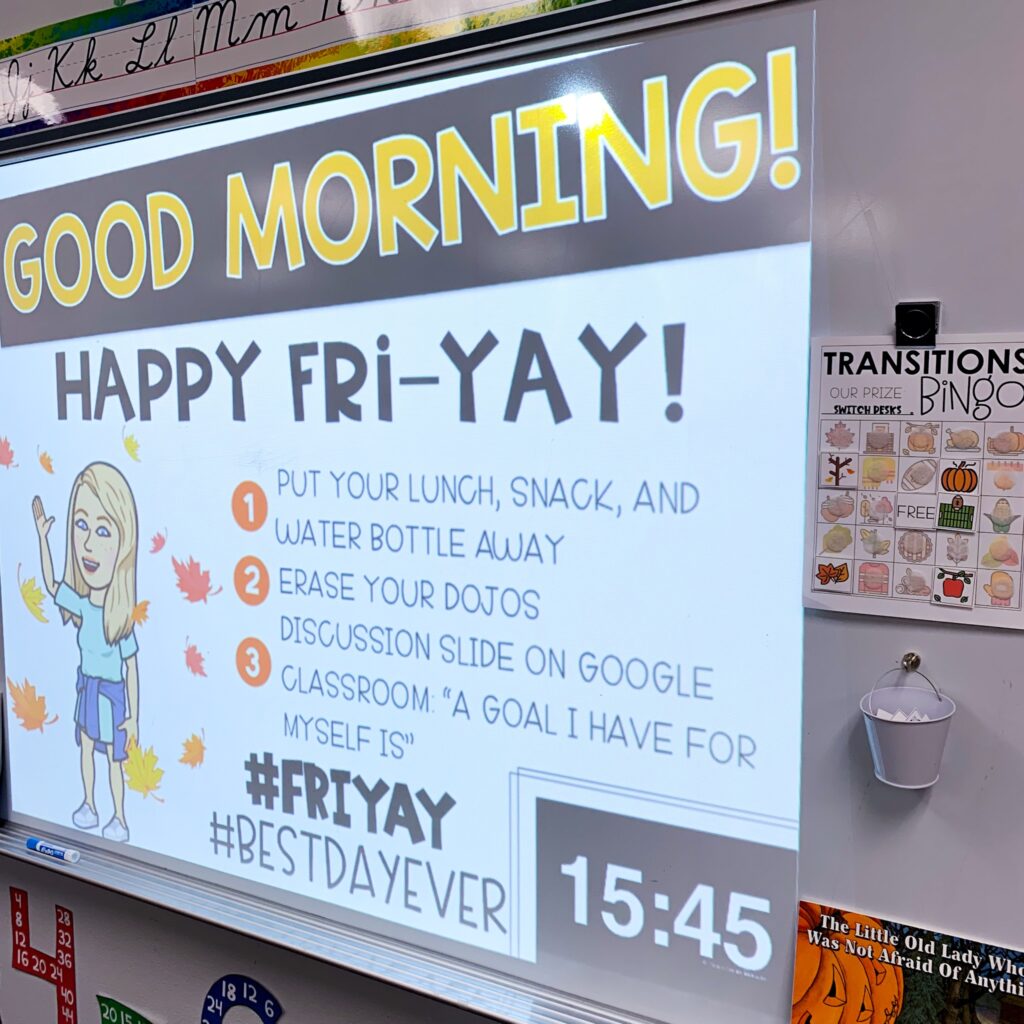 Managing class time can be tricky for teachers AND students! Using timers in the classroom has been one of my favorite ways to manage class time and keep students engaged.
Not to mention, timers are great for keeping track of teaching time, too. At the beginning of the year, time always feels like it is flying by!
That's why Class Slides with Timers are a must-have for back to school! This resource has slides with built-in timers that fit every classroom scenario, so expectations are clearly stated on the board.
Agenda Slides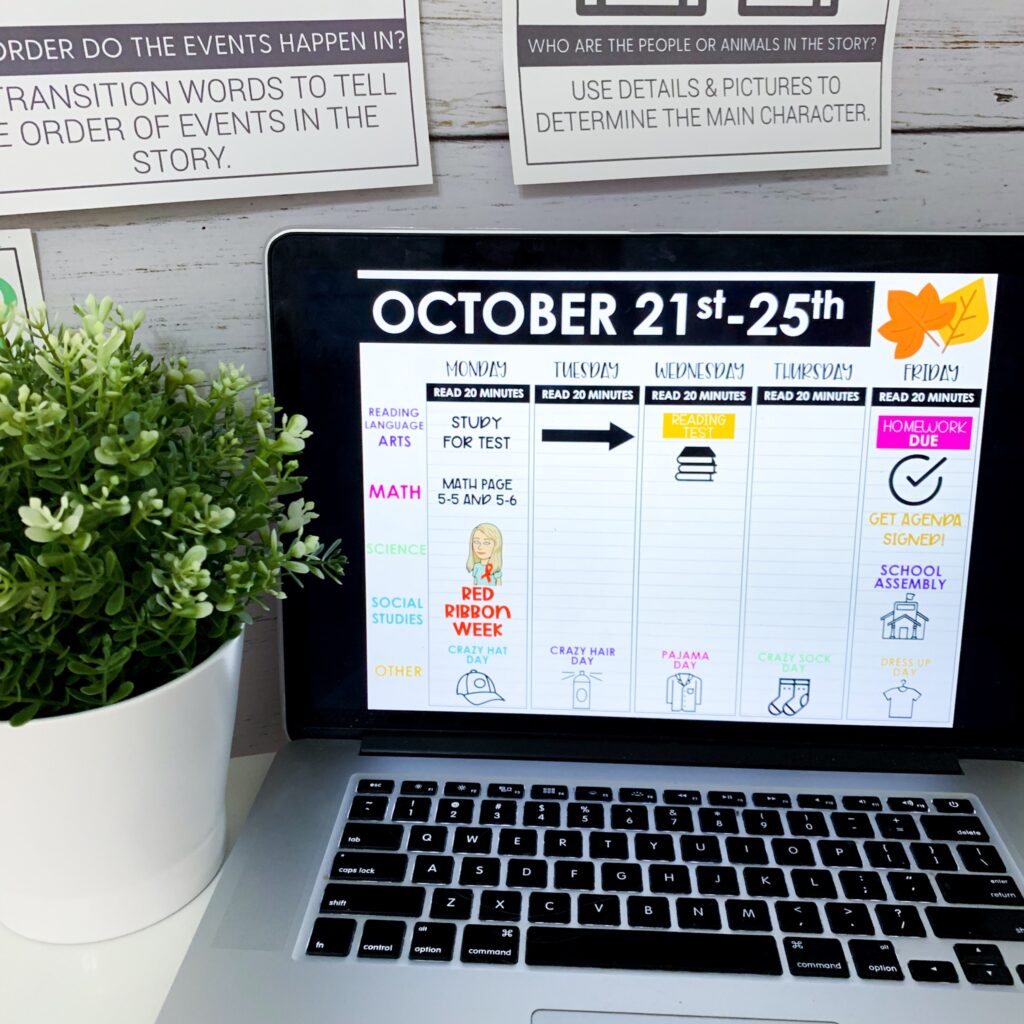 A lot of schools supply students with agendas for the school year. Keeping up with them gets lower on the list of priorities as the year goes on. Why not make writing in the agenda part of your routine from day one?
Agenda slides are great because you can put everything students need to know for the week in one place and project it on the board. Then on Mondays or Fridays, whatever works best into the schedule, students copy what's on the slide into their personal agendas.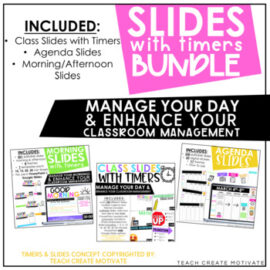 Class Slides with Timers Bundle
Includes Morning Slides, Class Slides, and Agenda Slides so that ALL of your classroom needs are covered!
Building Community
Creating a safe and welcoming environment is more important at the beginning of the year than ever! I like to build community by including character education and talking about growth mindset in morning meetings at the beginning of the year.
These two topics are great for starting discussions about what kind of behaviors should be present in the classroom, having perseverance when something is hard, and attitude. Those talks will really build the foundation of your classroom community.
Start with these back to school resources:
Student Engagement
Getting students to buy in from the start will pay off all year long. Classroom Bingo is a management tool that you can use to practice routines, transitions, participation, voice level, etc. You name it!
Students LOVE Bingo because there's a prize, they get to draw the piece and stick it on the board, and it is themed. Classroom Management Games are just the best because they keep students engaged and focused from the start!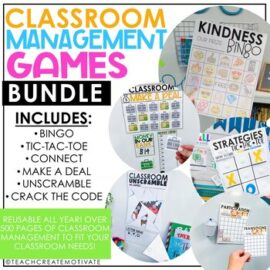 Classroom Management Games Bundle
Resources included in the bundle:
Bingo
Connect
Tic-Tac-Toe
Money Deal
Unscramble
Crack the Code
Building a classroom community, establishing routines, and setting up for a great year is important for returning to school. But nothing is more important than the fact that your students have YOU as a teacher! Wishing you the very best year this new school year! 💛
Pin the image below to revisit this post later!