Teaching face to face in our normal classroom settings looks so different right now! Everywhere you turn there are new safety guidelines that must be followed. Cleaning classroom supplies and materials can quickly become very overwhelming. All of those fun, fluffy pillows in your reading corner are probably now stuffed in the closet somewhere just waiting to be used again. Unfortunately, flexible seating probably looks completely different than it ever has in your room or is a complete no-go depending on your school district.
As any teacher would tell you, hands-on learning is the best type of learning! Of course we want our students to still be able to enjoy manipulatives and other classroom materials, but the safety of everyone involved is of the utmost importance.
Below are some individualized ideas for using classroom supplies safely throughout this school year! These ideas are all easy to clean or provide a way for students to have individual supply hubs when before they may have been shared. Don't let the fear of cleaning classroom materials stop you from your best teaching!
Photo Cases
Although they may look small on the outside, these bad boys can hold a lot! I'm going to share with you two examples of how these easy to clean cases can be used for individual student supply hubs! These can easily be personalized with a quick, laminated name tag so that everyone knows who it belongs to!
Example 1: Individual student supplies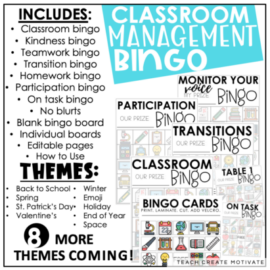 Distance Learning | Classroom Management Bingo | Plan | Game | Digital
Classroom management can be a doozy! I wanted something fun and engaging to help my students stay engaged and focused. I love changing up what I use in my classroom to help my students manage behaviors. These classroom bingo boards are perfect!
Example 2: Individual student math manipulatives
Easily holds dice, ones cubes and tens rods, fraction tiles, counters, snap cubes, and more!
Can change these out with different math skills being taught based on what is needed
Zipper Pouches
My favorite way to use zipper pouches is to use them as a work in progress holder that students can keep in their desk. These are SO much easier than the 3-prong folders because things can't get lost as easily. They are amazing because you can simply wipe them down and go! Here are some ideas of materials that these zipper pouches can hold:
Notebooks
Folders
Work in progress (free download)
Any papers
Any ongoing work for easy student access
What I also love about these zipper pouches is that they are perfect for activities for stations or centers. Simply laminate the center work so that you can wipe it down more often!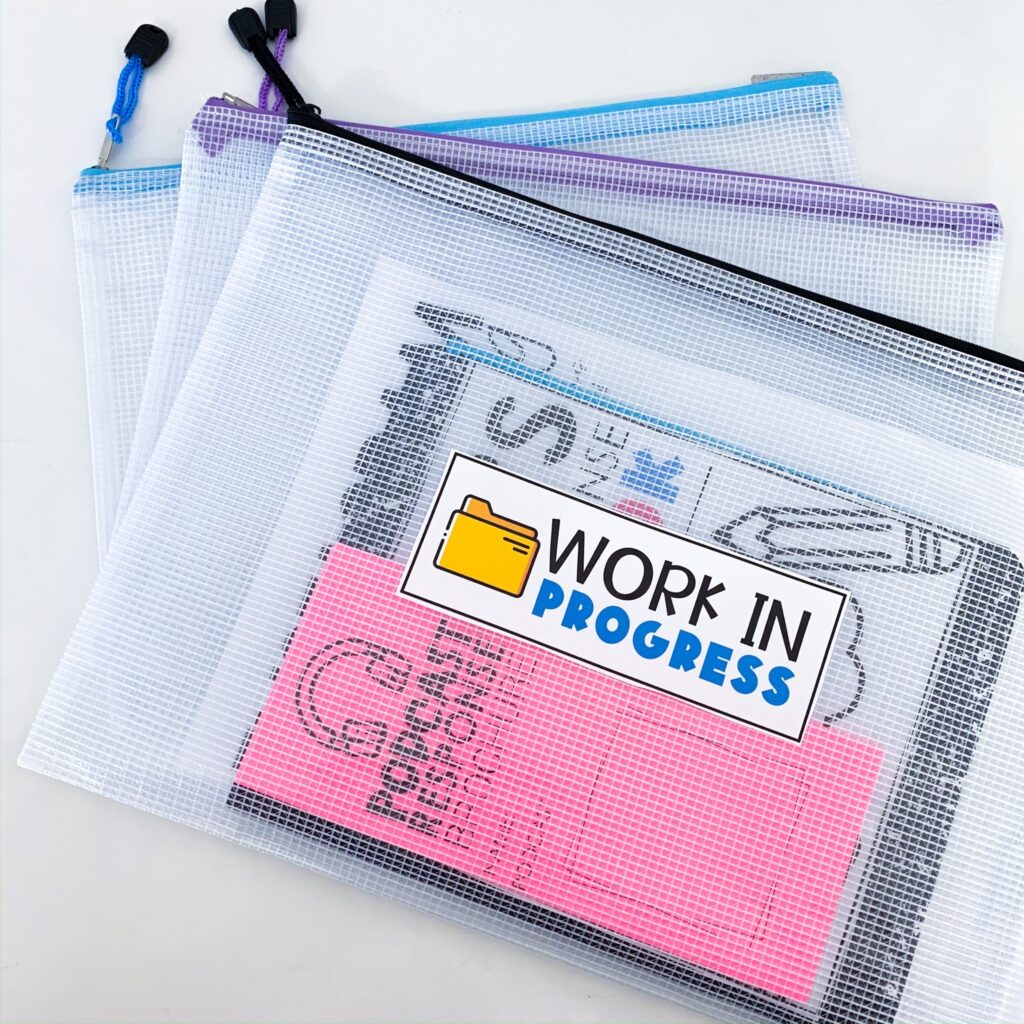 Velcro Plastic Pouches
Go ahead and do yourself a HUGE favor and get you a pack of these velcro plastic pouches ASAP! I used to use sleeve protectors all the time, but I would get annoyed because papers would often times fall out. That's when I discovered these amazing storage pouches and have never looked back. Although this is one of my favorite Amazon finds for teacher use, they work great for students too!
Because they are hole punched, simply place inside a binder and use it to store work to and from home. The envelopes can easily be wiped down and because of the velcro, you won't have to worry about papers continuously falling out!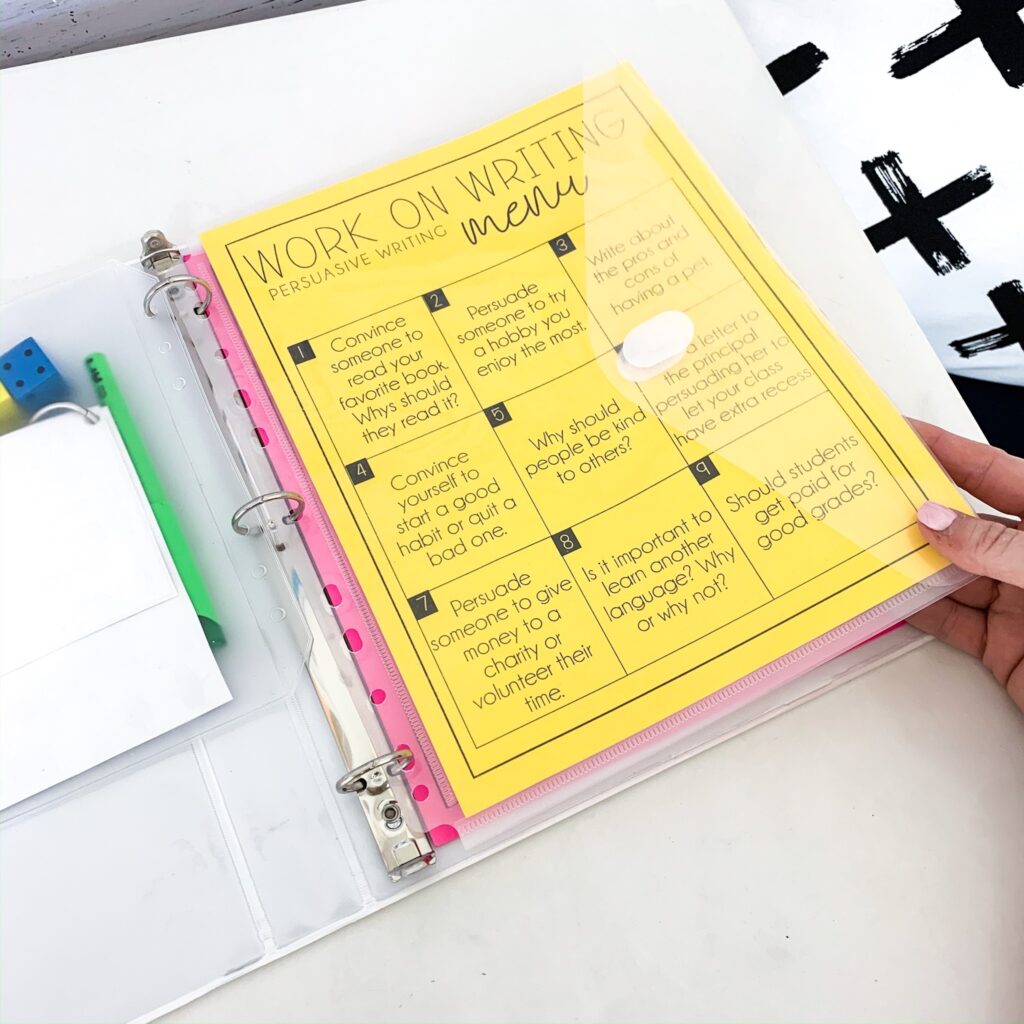 Velcro plastic pouches can also be used for stations or centers! Grab a binder, label it, and place any laminated station activities inside! You could also create one for each student with certain printables if needed.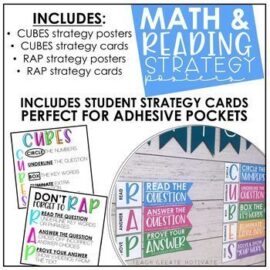 Math & Reading Strategy Posters
This resource includes posters and strategy cards for math and reading. Math strategy posters use the acronym CUBES and reading strategy posters use the acronym RAP.
Plastic Pouches
Think of these plastic pouches as Ziploc bags 2.0! Although gallon sized Ziploc bags worked well for awhile, I would often times find myself getting frustrated because my papers would still stick out at the top.
The best part about these pouches is that a normal 8.5 x 11 piece of paper fits entirely inside! No more having to worry about the top of the paper getting bent or torn!
These are great for holding all of the materials needed for stations or centers! They can be wiped down easily and depending on what you have inside can lay flat when stacking multiple ones for better storage!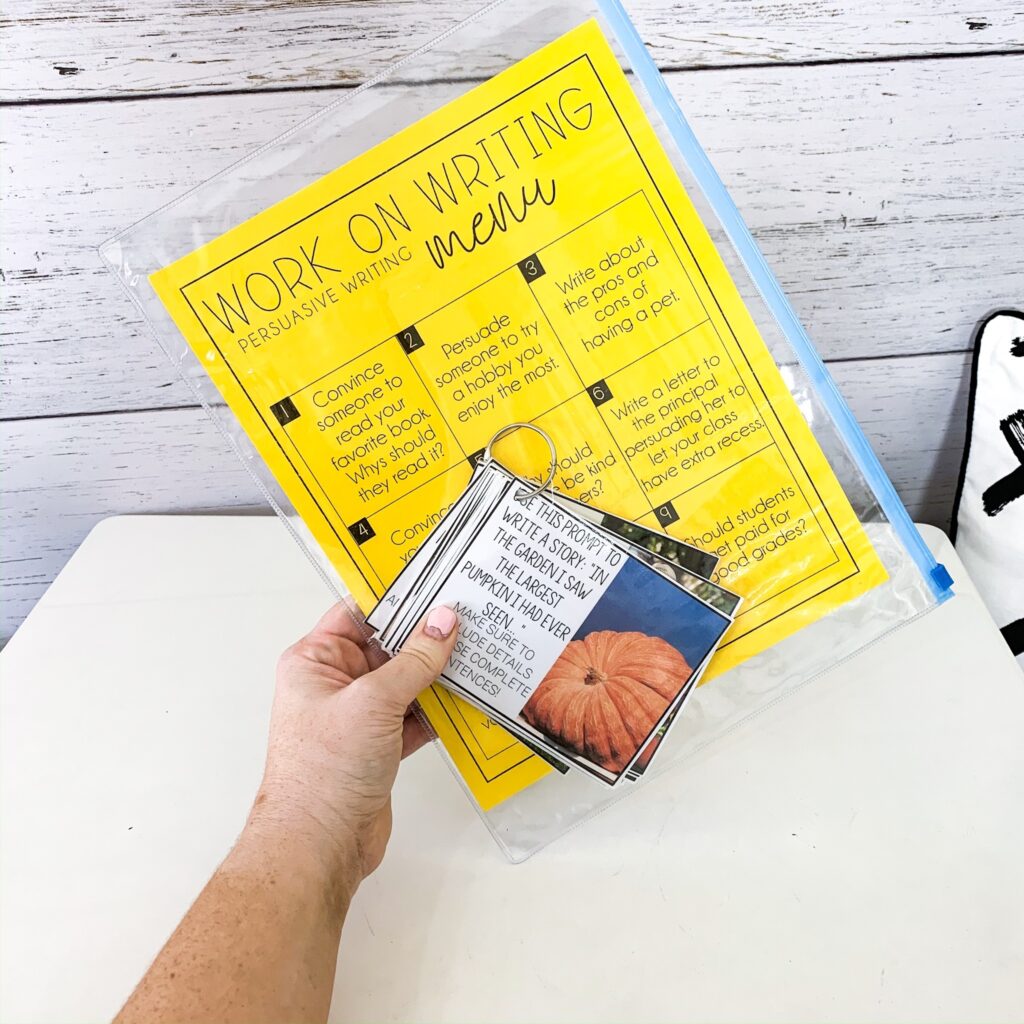 Small Plastic Zipper Pouches
These small plastic zipper pouches are a bit different than the plastic pouches mentioned above. These are much smaller and tend to be used more so in binders for on-the-go storage. I love that everything can be found in one place when utilizing these easy to clean zipper pouches. Here are some ideas of individual materials each student can put inside of their pouch:
Individual math manipulatives for hybrid students or if you're fully virtually and need your students to have some dice or other math tools
Target erasers for activities
Dice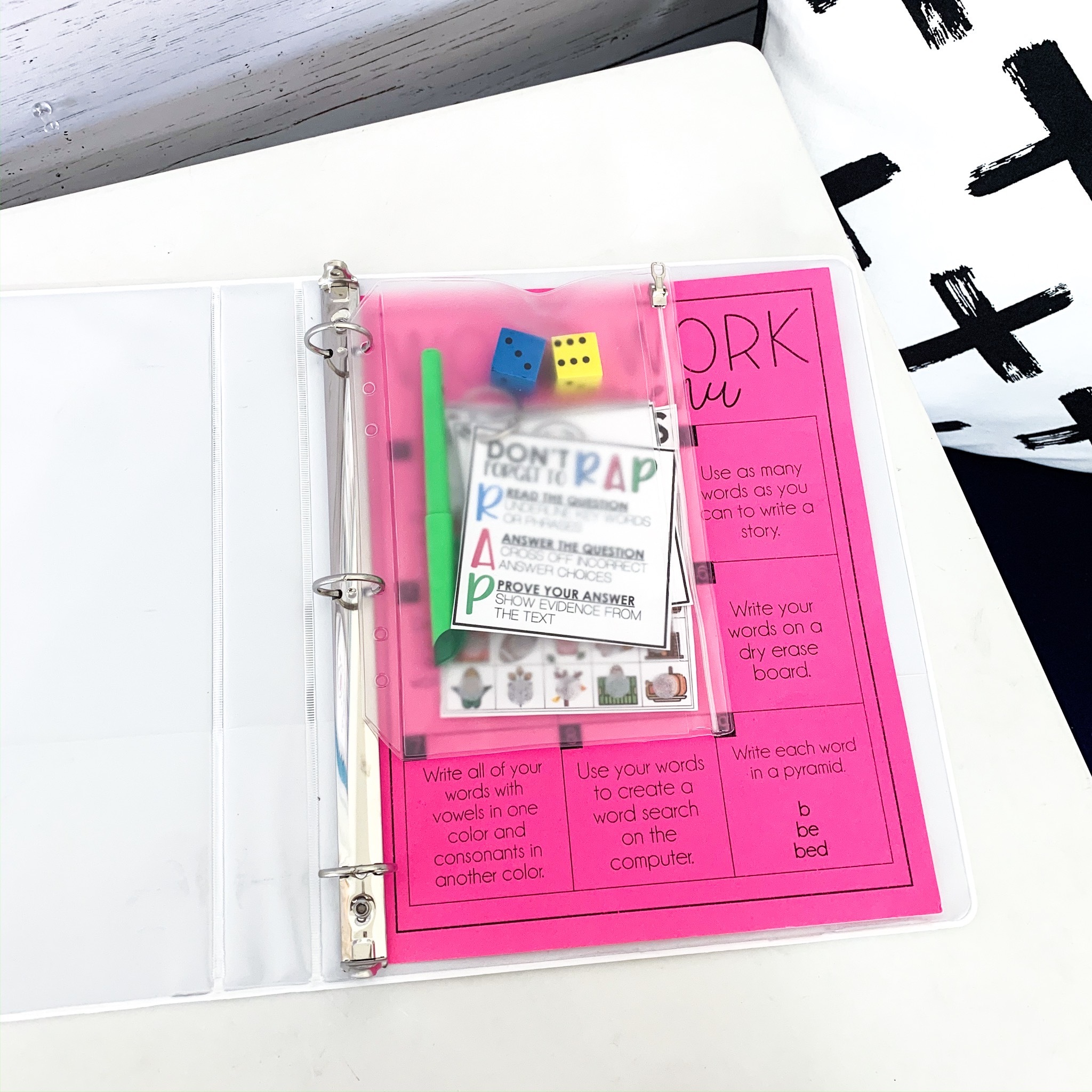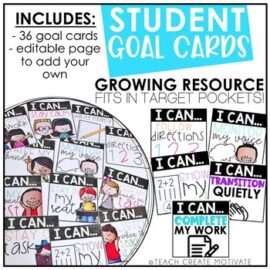 Student Goal Setting Cards | I Can Statements | Editable
Encourage student goal setting with 30 different student desk reminders in the form of "I can" statements. This resource is editable so you can make your own desk reminder cards for students. These student reminders go great on the corner of a student's desk-they even fit PERFECTLY in the target adhesive pockets!
Dry Erase Plastic Sleeves
I may be a bit biased, but the main reason I love these so much is because of the variety of bright colors! Not only are they cute, but if you color code your student levels or different centers then these could be very helpful. Of course they are perfect for any type of dry erase activities, but can be used for just about anything!
A few ideas to utilize these safely is to keep them on a hook on your whiteboard or in a basket near your stations. Use one per table group so that fewer people are touching them and clean in between each use. Simply wipe them off!
Inside of them you can place different articles or scholastic news. They are also great for word work activities or writing menus!
Iris Plastic Containers
I've saved the best for last! These have been and always will be a favorite of mine! I like to call these iris plastic containers my OG (AKA original) storage options. Once I discovered these my first year of teaching, there was no stopping this teacher on a mission!
My favorite way to use these plastic containers is to store laminated classroom games inside of them! But, honestly, you can use them for just about anything! There are SO many reasons why I love these containers. They are easy to clean & label, you are able to see what's inside, and best of all, they are stackable!
These iris plastic containers are great to hold any larger types of activities or materials. I've often times used these to keep units organized with the lesson materials all in one place! Once they are labeled, they are easy to find & grab and can be cleaned with a quick wipe down.
No matter whether you are teaching fully in-person, hybrid, or even digitally I hope that you can find some of these ideas helpful to you! Cleaning your classroom materials probably looks much different than any other year, but I believe in you!
Just as a reminder: laminated activities can always easily be sanitized! Not only that, but your materials will also last longer if they are laminated. I know it can be pain at times, but your future self will thank you later! 😉
Click here to see all of these materials on my amazon favorites for the classroom!
Pin the image below to save this post for later!