Hey y'all!!
I am stopping by very quickly to explain an amazing classroom management technique I use in my classroom from time to time! I have no idea where I found this years ago, so if you know the original source PLEASE let me know!!
Introducing… Secret Student.
WOW! I love bringing this into my classroom around this time of year. Today I told my class all about it and they ate it up. Basically here is the low down…
Each morning before the kids come in I pick a *random* student. I write their name on the board then stick my handy dandy laminated sign on top! I LOVE
magnetic tape
to stick on the back so that it stays up on the white board!
My students know whenever the see the sign on the board… I have a secret student that day. I watch the secret student all day long.
Are they on task?
Ready to learn?
Are they being kind?
I even give reminders.."Oh I hope my secret student is following along…" It totally works like a charm. 😉
At the end of the day IF my secret student has had a good day, and in my eyes has earned their reward, I *reveal* the name behind the sign. If not I just say, "Sadly, my secret student didn't have the best day. We will try again tomorrow." They don't know who it was if the reward was not earned.
I am letting my students pick between 15 "patriot points" (school-wide point system to spend in the classroom store each week) or to use our exercise ball as a seat for the entire day the next day. You can do whatever works for you! Pen all day, switch seats, etc…
You can try with your students and I hope this works for you in your classroom! Grab my sign for free in my store HERE!! 🙂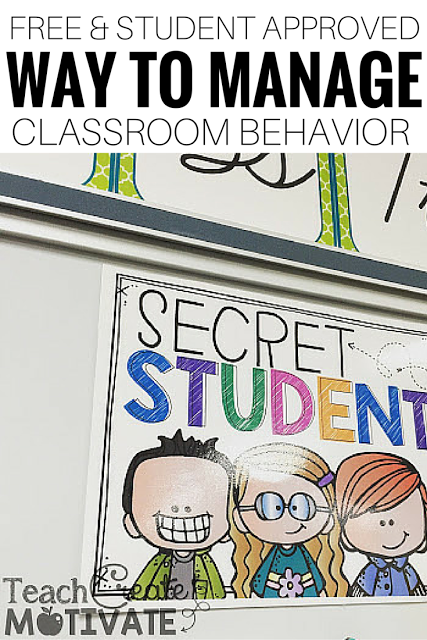 For more classroom management resources follow me on Pinterest!!