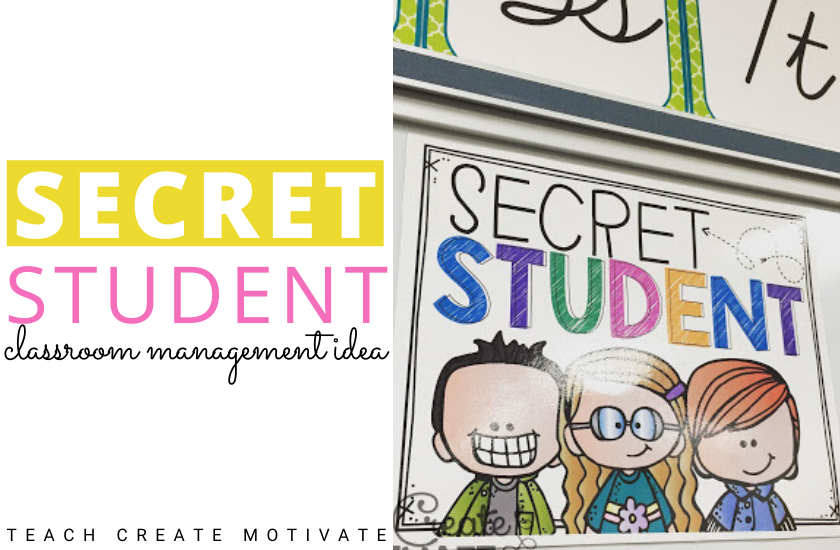 Have you heard of secret student? I want to share this amazing classroom management technique I use in my classroom from time to time! Unfortunately, I have no idea where I found this years ago, so please let me know if you know the original source!
INTRODUCING SECRET STUDENT
WOW! I love bringing this into my classroom in the fall after settling into our routine. Unwanted student behavior can really creep up this time of year. When I told my class all about it the first time, they ate it up! Here's how it goes…
Each morning before the kids come in, I pick a random student. I write the student's name on the board, then stick my handy dandy laminated sign on top of their name! I LOVE magnetic tape to stick on the back so that it stays up on the white board!
The students know whenever they see the sign on the board… I have a secret student that day!
I watch the secret student all day long. You can really look for anything you wish to see more of in your classroom.
Are they on task?
Ready to learn?
Is the student being kind?
Are they participating in class discussions?
Are they following school rules in and out of the classroom?
Giving reminders throughout the day works wonders. For example, saying, "Oh, I hope my secret student is following along…" totally works like a charm.
At the end of the day, IF my secret student has had a good day and, in my eyes, has earned their reward, I *reveal* the name behind the sign. If not, I just say, "Sadly, my secret student didn't have the best day. We will try again tomorrow." The class does not know who it was if the reward was not earned.
SECRET STUDENT REWARDS
I let my students pick between 15 "patriot points" (a school-wide point system to spend in the classroom store each week) or to use our exercise ball as a seat for the entire day the next day as their secret student award. You can do whatever works for you!
Pen all day
Switch seats
lunch bunch
game time
show and tell
What's great about this classroom management strategy is that you don't have to remember to do it every day. In fact, using it when students are showing not so great behavior during the week or month could be just what you need to get everyone back on track.
Secret Student Tips and Tricks
When randomly choosing students' names to be the mystery student, you could take the students' names out each time, so everyone gets a chance to be the secret student, OR put the name back in, so the students are always left guessing! I would just write down the names if you did it the second way to track someone who is constantly being chosen.
The secret student strategy really encourages students to take charge of their own learning and behavior. In addition, it's a great way to manage students without any extra work from you.
You can try it with your students, and see if this works for you in your classroom! Grab the sign for free in my store HERE!
Pin the image below, to revisit this post later!