Social media, as I am sure you know, is a VERY powerful tool. You can even use it in your classrooms!! I wanted to do a quick post on the ideas and share them with all of you fabulous teachers!! Social media in the classroom is a great way to connect with parents and students. p.s. I have some freebies for you at the end! 🙂
As much as we all want our students to go home and tell their parents all the wonderful, engaging, activities that we spent hours to create, plan, and teach……..is that usually the case. NO 🙁 Kids are kids and they go home and mumble about their day or just plain say nothing exciting happened. HA!!! Social media is the perfect way to allow your parents to step into your
home away from home
 classroom and really feel a part of your everyday activities and special events. Plus, lets face it. Your parents are already ON social media!! Let's meet them where they are. It is just the reality so why not use it connect with families?
First up: Instagram! ohhhh insta.. I LOVE Instagram!!! Instagram is a fast, easy way to share pictures of what is going on in your classroom! This past year I had a classroom Instagram (completely private) and my parents really really loved it. I approved the parents who followed it and then deleted everything and everyone at the end of the year. It wasn't something that took me long at all to do throughout the day/week & my parents loved getting to see engaging science activities, us taking Go Noodle brain breaks, snow day fun, and school assemblies! I had my VIP students sometimes be our classroom paparazzi and take some photos for us and upload them to Google Drive for me to post. I HIGHLY recommend trying this social media platform in your classrooms! You can make it private, or just not take pictures of your students faces: whatever your district prefers.
Next: TWITTER! Oh boy is Twitter FANTASTIC! Twitter can do everything Instagram does but 33094348 times MORE! You can post links, documents, pictures, videos…and if your school or district has a twitter you can retweet their messages that you want or need your parents to see! EASY PEASY! The content on your Twitter stays up for as long as you want it to and it is simple for parents to save it. I plan on having a *public* classroom twitter this year. I will use it to communication with parents as well as connect with other classrooms around the world! I will not show student faces in my photos..but again this is something to talk to your principal/district about. What if parents don't have or want to get a twitter? GUESS WHAT! They can follow by text messages! They can receive every tweet you push out to their phones without even having a twitter account. Amazing! They would just text "FOLLOW (your twitter handle)" to 40404. DONE!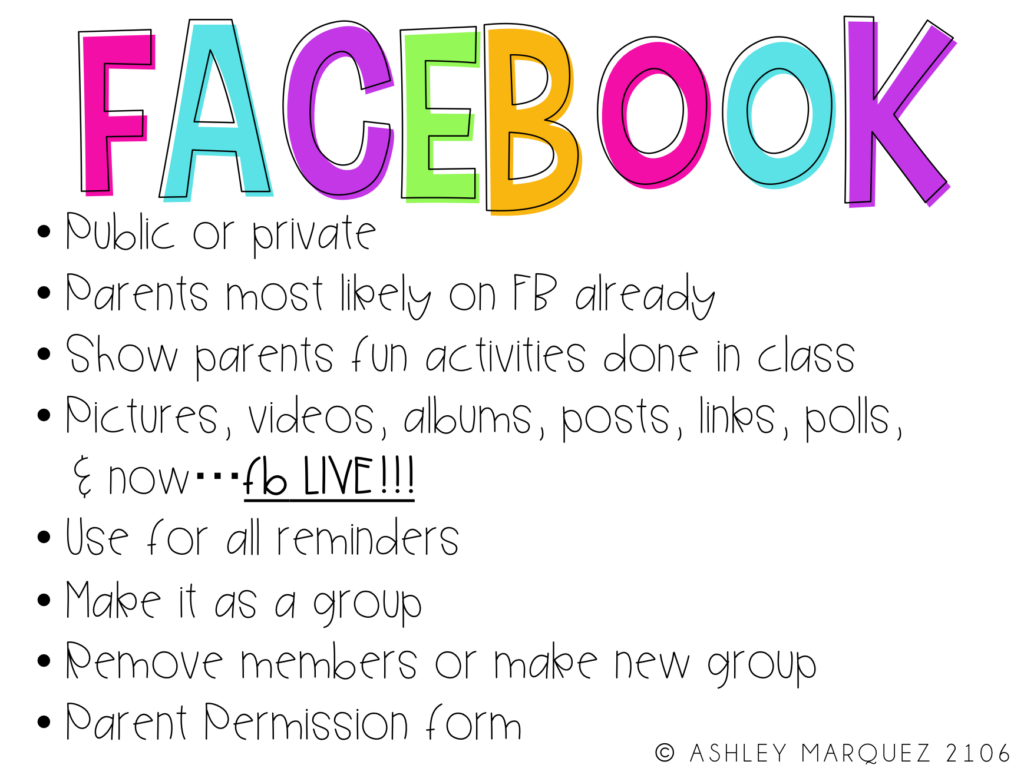 3- Facebook! Facebook is super easy to use for all of us and you KNOW your parents already have one!! If you unsure about Twitter I would recommend a Facebook GROUP! I wouldn't do a page if you want it to only be parents for that school year. If you are a music teacher for example, a page might be better. This year I will have a Facebook group for my parents. You can post pictures, videos, documents, and even have events for field trips and other things! I am SO excited to use the FB LIVE feature to show my parents exactly what we are doing at that moment in my classroom! I recommend making the settings where only YOU can post and add people! You should also tell your parents to turn their notifications for the group ON!
Lastly…Some of us are on SnapChat, a social media platform that has really taken off! It is a fun way to post pictures and videos to your followers for just 24 hours. I don't plan on using this in my classroom just yet, but I know some teachers who are!
I have created some parent permission forms for each social media platform that I would love to share with you! NOTE: these are in no way LEGAL binding forms. I just use them as a personal reference tool to keep track of who can be in pictures and videos. I would still check with your admin about your rules in your district. Click on the picture below to get these forms for FREE!
I hope you learned some tips for using social media in your classroom! I would love to hear other ways you use or plan to use these platforms!! 🙂 Leave your ideas in the comments below!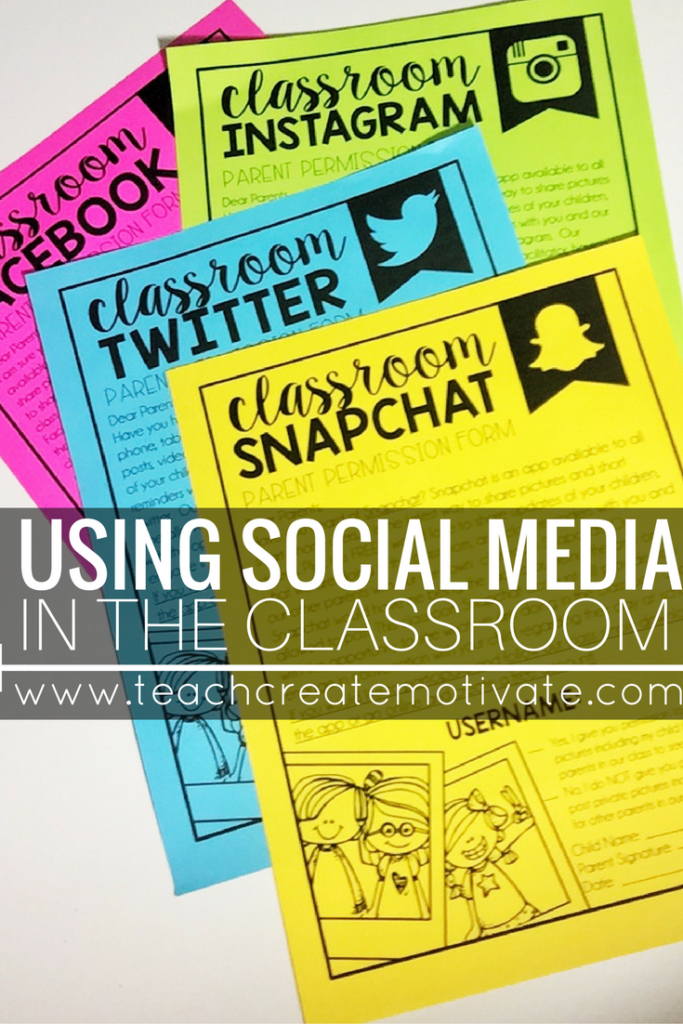 Pin this image to save this post for later!