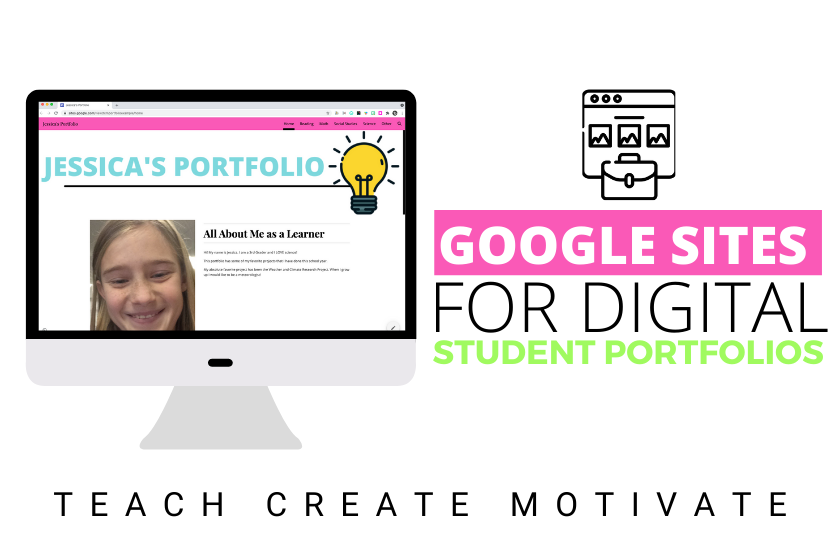 Imagine a student portfolio that can update in real-time and can be shared with family and friends around the globe! Look no further than Google Sites.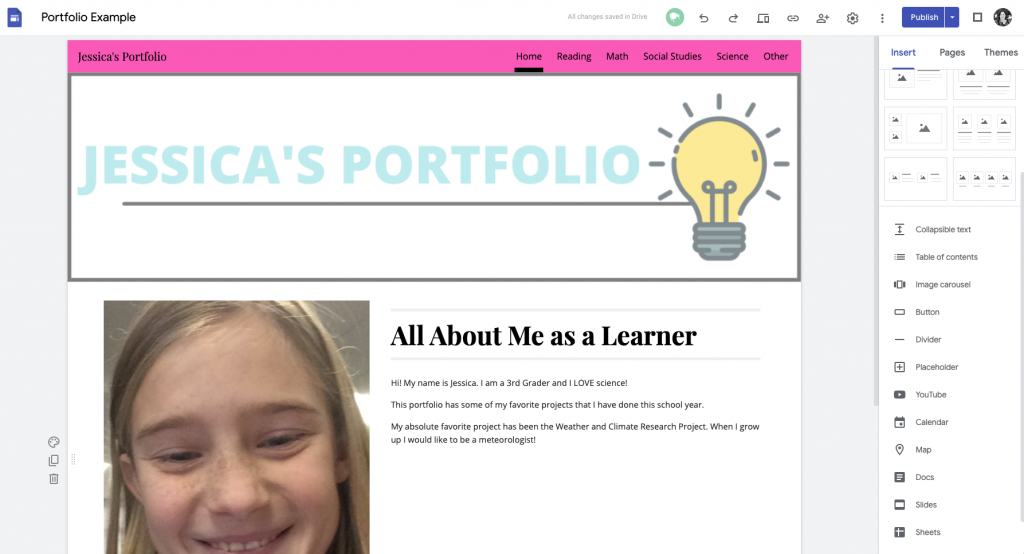 Google Sites is very user-friendly, and with their drag and drop features, even our youngest students can create their own e-portfolio. Since Google Sites is one of the core G-Suite for Education tools, it integrates with Google Slides and Google Docs. That means that students can link their projects in Google Slides and/or Google Docs, and it will update in real-time as the student updates their project! What a great way to showcase ongoing work.
Here are 4 suggestions for a successful Google Sites Student Portfolio:
Have One Page for Each Subject
Rather than combining all of the student's artifacts in one place, have a page for each subject. The pages will show in the top menu bar for easy navigation. 
In the top right-hand corner, click Pages, and at the bottom of the sidebar, click the + sign. This will add a new page to the site! You can also reorder the pages by clicking on the page and dragging it to the spot where you would like it to be.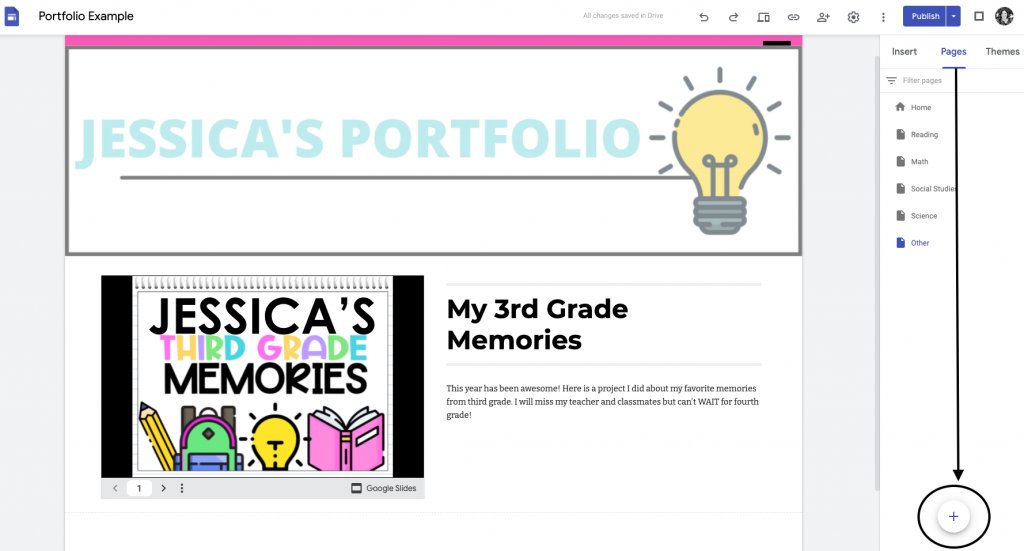 Want to rename your page? No problem! Click on the three dots next to the page name and then click on Properties to rename the page.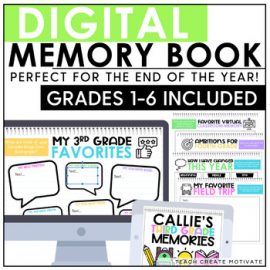 End of the Year Memory Book
It is almost summer! Yahoo!!! Here are 13 digital pages to get your kids reflecting on the year and EVEN more excited about going to the next grade! Use as morning work, fast finishers, digital memory book, or just fun activities for the end of the school year!
Import Files Directly From Drive
Do your students frequently use Google Slides or Google Docs? Google Sites lets students import their work directly from their Google Drive! Even better… the slide deck or document will be seen as a preview, so the viewer of the portfolio will not be able to get in and edit the student's work!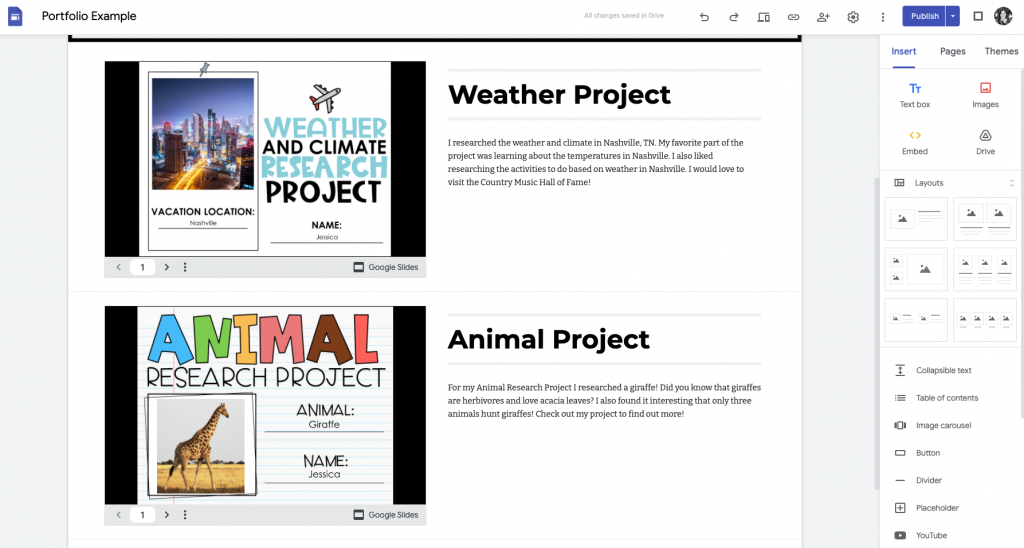 Add Photos, Videos, and More
The opportunities of what to include on a digital portfolio are nearly endless. Does your student have a recording of a presentation they made to the class? They can add it to their portfolio. Are there physical copies of work that they want to showcase? They can take a photo of the item and add it to their portfolio. Are there other examples of work that they want to highlight from other sites, such as Flipgrid or Scratch? They can embed a link to their work directly into their portfolio.
Weather and Climate Research Project
This weather and climate research project is perfect for your students to complete at the end of a Weather or Meteorology Unit! Students will research the weather and climate of a vacation location! Students can work individually or in groups.
It Can Grow With The Student
Just like physical portfolios, digital portfolios can follow the student to their next grade level. Pages can be nested, so as the student progresses to the next grade, the pages from their past grade level can be nested under a page titled "Previous Grades" or even the name of the grade they just graduated from!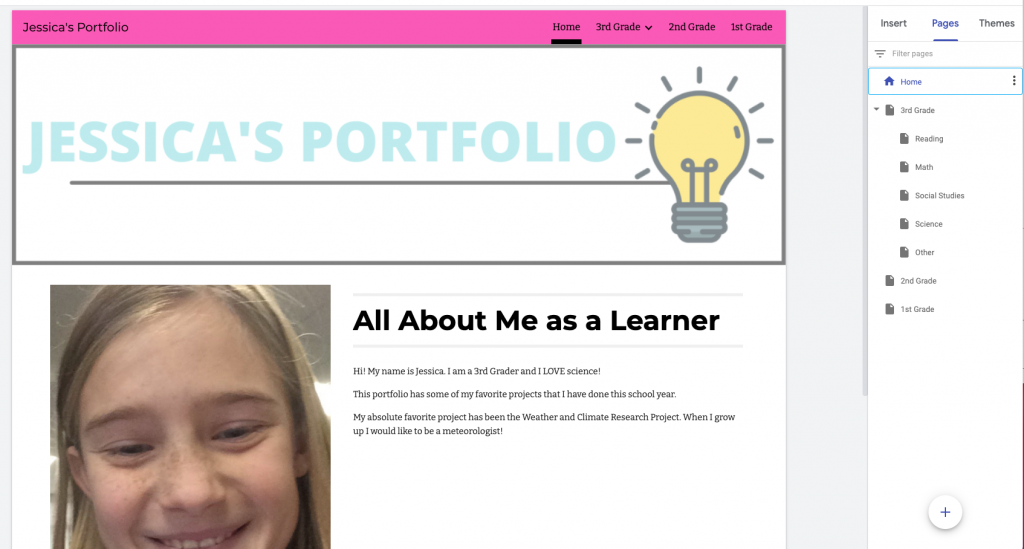 Google Sites Student Portfolios are SO versatile. They are easy to update, share, and can grow with the student. Try it out! Your students (and their families) will love this keepsake.
Pin the image below to revisit this post!