Google Chrome Extensions have been a lifesaver for so many teachers this past school year. If you haven't already checked out the first post of this series, you can find it here: 10 Google Chrome Extensions to Use for Distance Learning! Because virtual or hybrid learning is still popular with so many of you, I wanted to share some new extensions I've recently discovered!
1. Mote
This extension is wonderful to use for instant student feedback on any Google platform! It can be integrated into Google Docs, Slides, Sheets, and even Google Classroom. You can create voice notes to leave comments for students.
2. Fullscreen Interactive Google Slides
With Fullscreen Interactive Google Slides it does just what the title says! You are able to show your full screen while also editing your slides at the same time. You can navigate through your lesson by using the arrow keys on your keyboard or your mouse.
This extension is perfect when needing to display your class slide agendas to your entire class! You can make notes or annotate directly on the slide with this extension.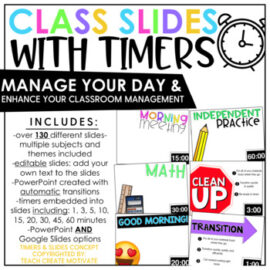 Distance Learning Class Slides with Timers | Classroom Management
Easily use these slides for distance learning by sending the slides as instructions for your students home learning! Use with or without the timers. Please let me know if you have any questions!
3. Dualless
For those of you who don't have an external monitor, this extension is a LIFESAVER! It allows you to split your window in just 2 clicks! You are also able to adjust the browsers to whatever size you may need.
Use this extension when needing to reference your Google Classroom, as well as, assigning Distance Learning Reading Response Slides to your in-person and online learners at the same time!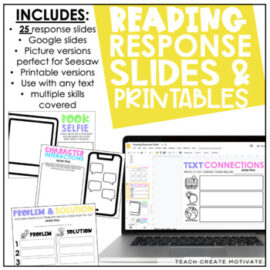 Distance Learning Reading Response Slides | Printables
These reading response slides are perfect for any text. Use them in google classroom/google slides, use the picture versions in Seesaw, or use the printable pages!
4. Web Paint
By using Web Paint, you are able to draw shapes, lines, and even add text to anything on your screen. This is an amazing tool if you are looking to annotate text or color in an activity with your students.
5. Sir Links-a-Lot
If you ever get tired of hearing "How do I make a copy of this assignment?", this extension is for you! There is a quick link/conversion to a PDF and you can also share file quickly with students or parents that may not necessarily use Google.
6. Pear Deck
This extension turns any lesson into an interactive activity! You can import Power Points, PDFs, or Google Slides into this extension. There are also multiple student response options such as drawing, typing, or dragging to answer questions!
7. Google Meet Grid View
Grid View adds a button to your screen that allows you to use a grid layout in order to see all of your students. No matter whether you are teaching or students are working on an assignment quietly and independently, you will be able to view each individual student at the same time.
8. The Great Suspender
With The Great Suspender, your computer can run much faster if you are known for having MULTIPLE tabs open at the same time. This extension suspends tabs in the background that you haven't used in awhile in order to free up more space on your computer.
9. SmallPDF
With so many lessons being online, SmallPDF is a must! It can do so many things including converting PDF to Word, Excel, or PPT.
10. ColorPick Eyedropper
This extension allows you to select specific colors that you may want to use from various pages. It zooms in for precise color wanted!
Save this list to read later by pinning the image below!