Using class slides with timers is one of my favorite ways to manage classroom time and student engagement. Before using class slides, much of the workload fell on my plate as the teacher. Once I began to implement class slides for different tasks throughout the day, I noticed that I began to have a much more student-led classroom environment! Let me share 3 ways in which you can use class slides with your students starting today.
1. Slides Can Help Manage Your Day
As a teacher, you know that there is so much content that you must get through each day in order to stay on track with lesson plans. If you're anything like me, you have your daily to-do list written on a Post-It note on top of your desk. There's absolutely nothing wrong with that, but it's also important that you share that list with your students!
Slides give you an organized way of sharing what must get done during the day with students! Not only do they help keep yourself on track, but they are also great visuals for students. Slides allow you to manage your day by pacing your lessons for good time management. They also help keep instructions or reminders on the board so that students aren't constantly asking you the same questions over and over again. Check out my 6 Tips for Your Classroom Morning Routine to help start the day off well!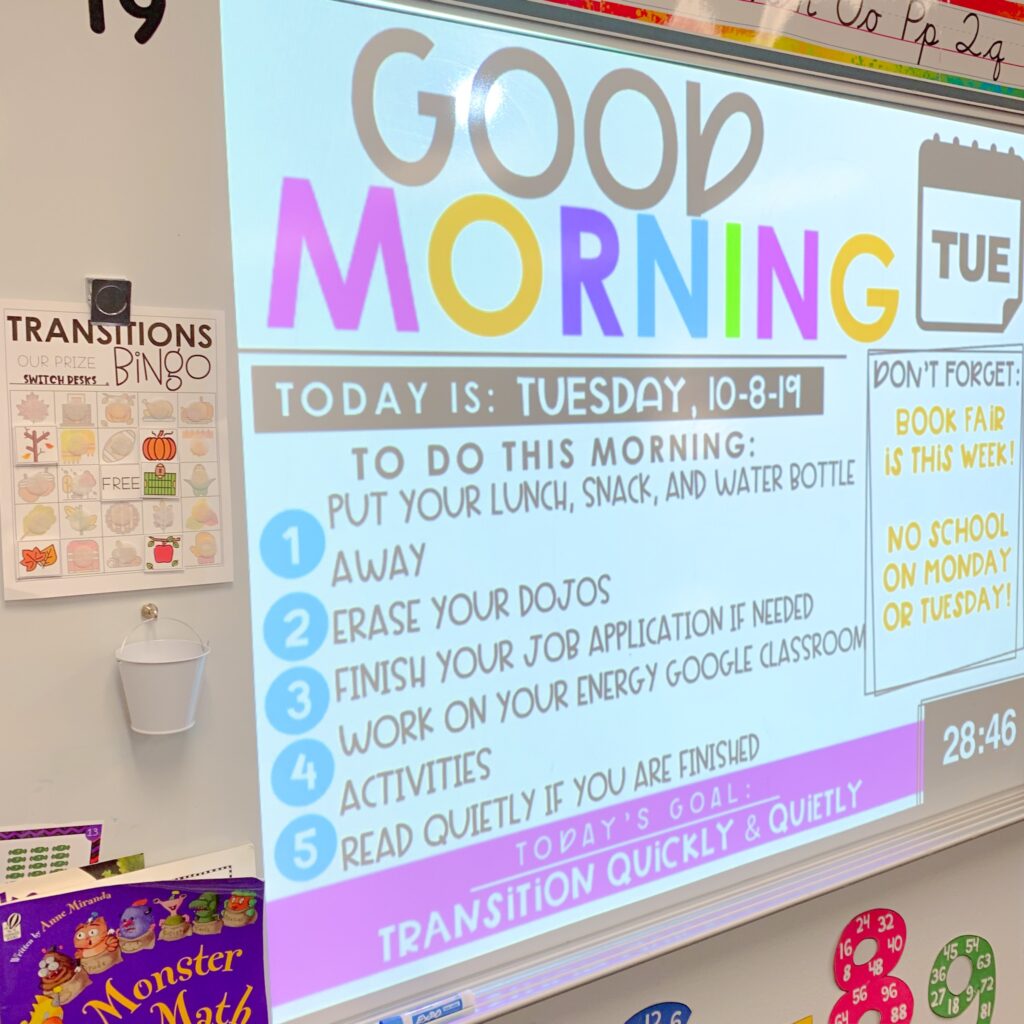 If you've never used slides before with your students, I highly suggest you make it a 2021 goal for yourself! You will not be disappointed! You can grab this FREE weekly slide to use in your classroom here!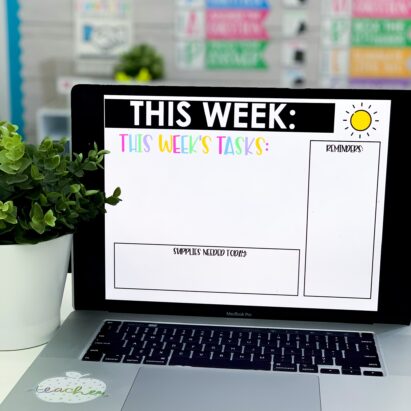 Class Slides Freebie
Learn how to use Class Slides to create strong classroom management with this weekly task slide!
2. Class Slides Boost Classroom Management
Every teacher would love that perfect class that never acts out and does exactly what they are supposed to do. Unfortunately, those are hard to come by. However, a good classroom management system can definitely be beneficial for both the teacher and the students.
By using class slides throughout the day, students have 1 specific place to look at to find important assignment information. Slides can be used for literally ANYTHING that you need them for! Assignment instructions, what to do when done, where to turn in the work, and how much time is left are just a few of the endless possibilities! They can even be used for virtual learning with these Distance Learning Class Slides with Timers!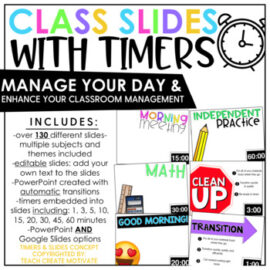 Distance Learning Class Slides with Timers | Classroom Management
Easily use these slides for distance learning by sending the slides as instructions for your students home learning! Use with or without the timers. Please let me know if you have any questions!
It's important that you share student exceptions with your class on how they should be utilizing the slide information. Students need to know that what you add to the slide is for their benefit. It is to help them get as much work done as possible during that lesson. It allows for fewer questions and student reminders because you have that good classroom management tool as a visual.
3. Student Independence is Fostered Through Class Slides
When we help our students take ownership it impacts our classroom management and environment. Transitioning to a student-led classroom environment does not have to be difficult with the correct tools in place. Individual students need to know that their behavior and work directly affects the entire class.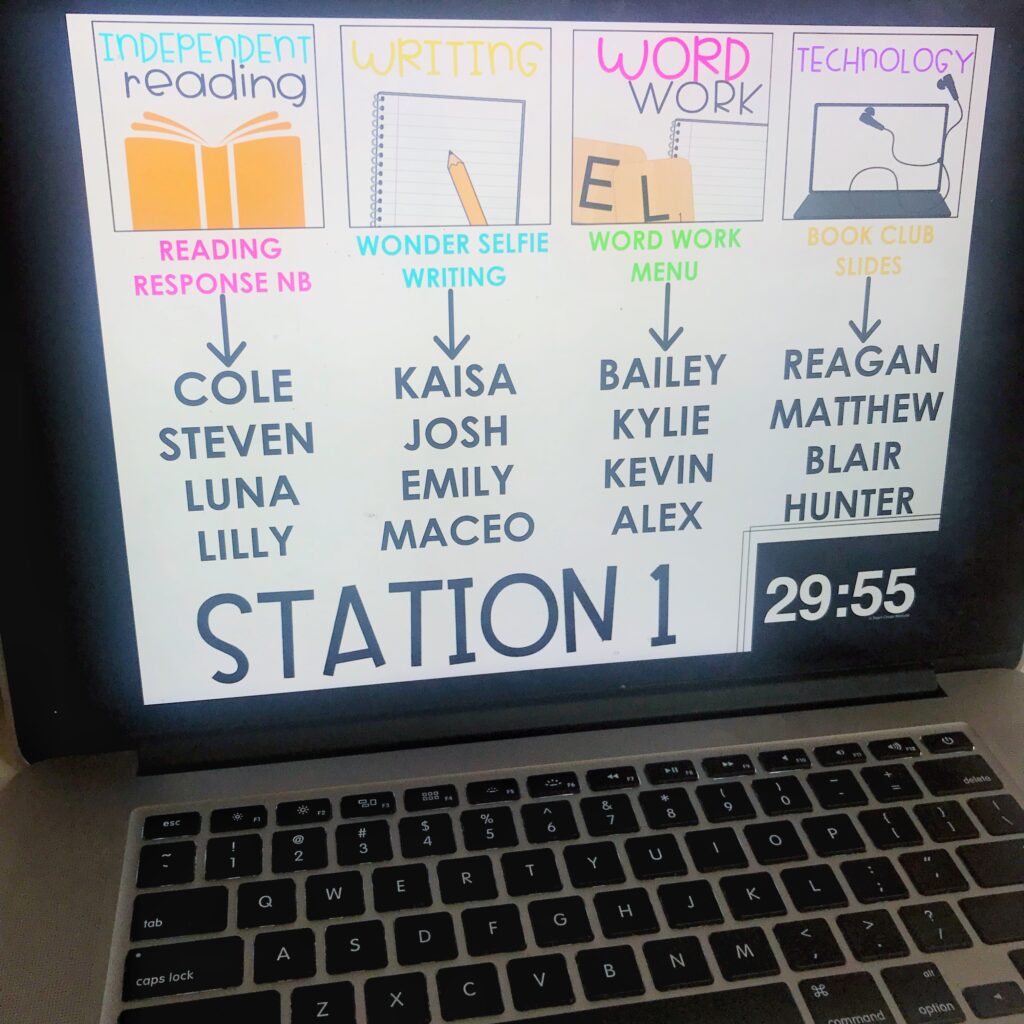 By utilizing class slides, students are given a visual timer. This shows them how much time total they have to complete an assignment, as well as, how much time is left. Students learn to manage their own work time allowing you to maximize your teaching and small group time.
One of my favorite aspects of fostering student independence is the fact that students begin to think for themselves. The slides included in this Classroom Management Timer Bundle automatically transition to slides that help with student transitions and clean up. They include all of the information that students need and the time it should take them to do it.
Class Slides with Timers Bundle | Editable | Classroom Management
This slides with timers bundle includes all the slides you need to help you manage your day and routine. Morning slides, agenda slides, and all class slides are included in this resource. Slides are editable and all have the options of embedded timers. For use with Powerpoint or Google Slides.
Remember that class slides are beneficial for both you and your students and can be used for SO many things throughout the day! Help create that calm and inviting classroom environment by having reminders and visuals constantly posted for your students to reference when needed!
Feel free to pin the image below to save this post for later!