What do you do before the winter break to make class time special for your students? I wanted to share some of my favorite activities to sprinkle in the final days leading up to the break.
Wrap Student's Desks
Use wrapping paper and wrap students' desks! This can be used as a community-building strategy, reward incentive, or simply just for fun. Some years I've even used the wrapping paper they can color for some extra excitement, but it can be hard to find. Ashley (Texas Lone Star Teacher) gives more details in this post HERE.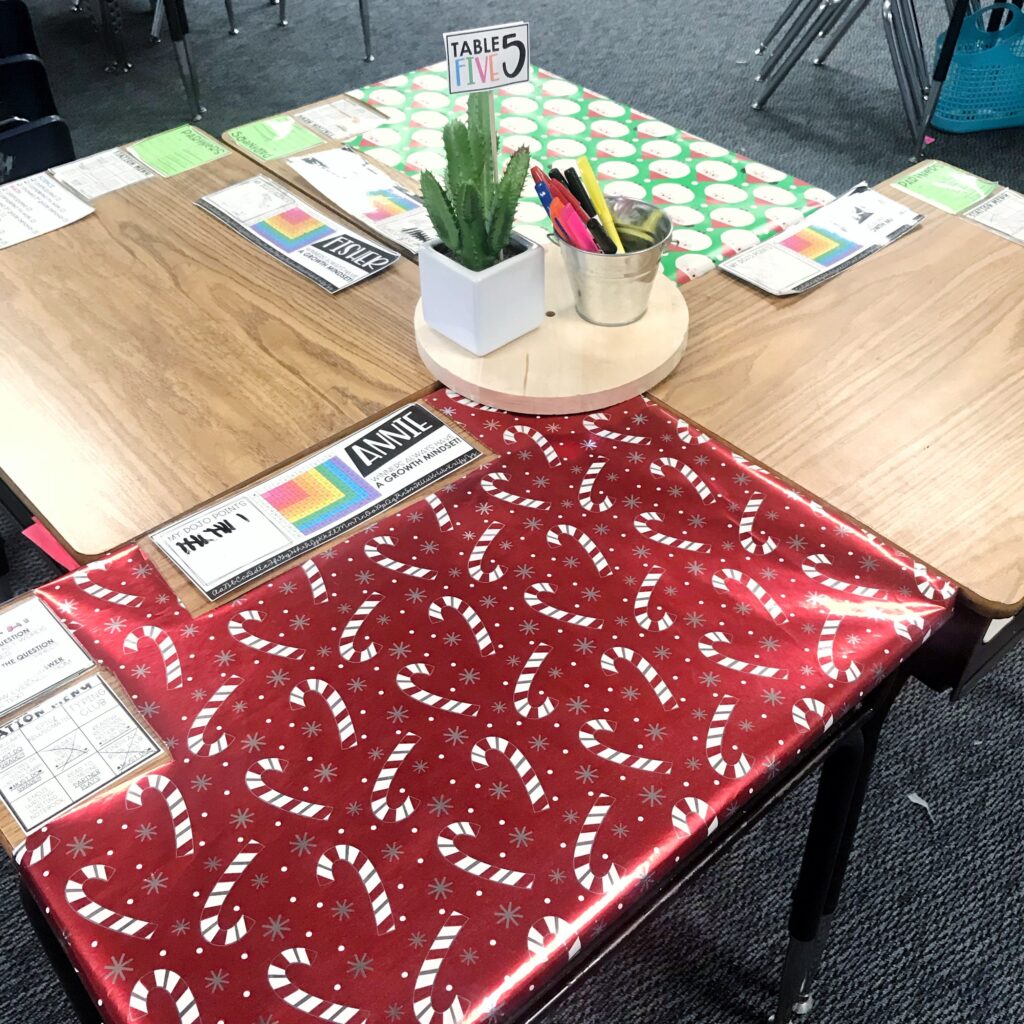 Festive Playlist
Put on a festive playlist while students complete the activities you have planned! If you don't play music often for your students, this is such a treat for them before winter break. I love using Josie Bensko's (Maniacs in the Middle) playlists on Spotify. Listen HERE!
Just a quick FYI…I recommend her playlists more for upper elementary students. I would listen first if you are lower el and see if it is a good fit for your class or not!
Work by Fire
Play a video of a fire burning in a fireplace. Not only is it such a fun addition to classroom activities, but you can use it as an incentive all winter long!
Playing a video of a fire burning in a fireplace adds a fun touch to your writing block or independent reading time. If your students really love it, it can be something they earn! Who knew something so simple as working by fire could increase student engagement.
Selfie Writing
Selfie writing is one way to join learning with fun! There are over 15 holiday-themed prompts to choose from. Students can take their selfies and make themselves an elf, snowman, Santa, gingerbread man, and more. Then they'll answer a prompt that goes along with the character. So fun!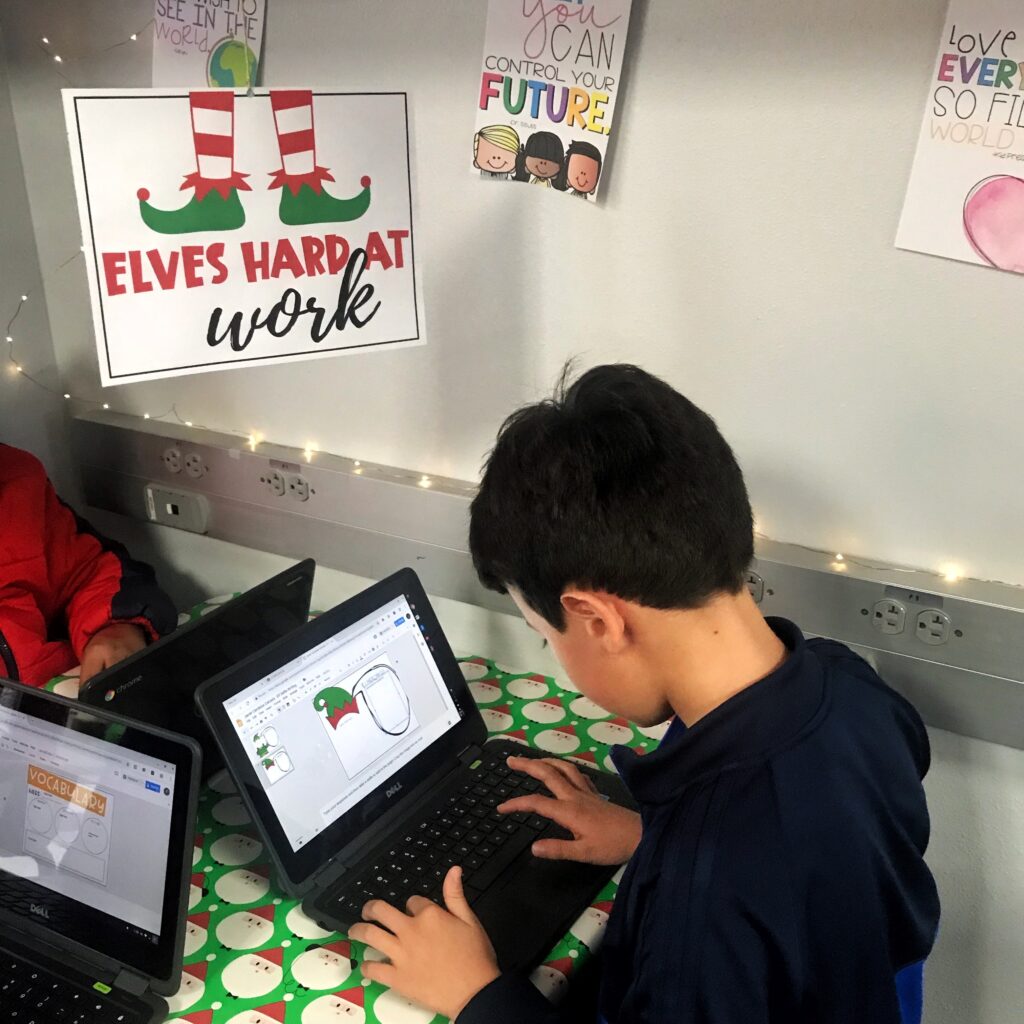 Photo Booth
Set up a class photo booth! Students will have a blast taking fun photos with their classmates during the winter party using all of the holiday-themed props. Read more on how to DIY a class photo booth HERE.
This works well if you have a classroom iPad to take pictures and task a student or family volunteer to be the photographer. If not, that's okay too! Take photos with your phone or have an adult volunteer do it.
Put together a fun slide show of all the pics from the party to show at the end of the day or when you get back from winter break. Don't forget to post to a class page for families if you have one!
Escape Room Room Transformation
How about a winter wonderland-themed class party and activity?! Room transformations don't have to be complicated or expensive! Here are three things to do for your easy winter-themed room transformation:
Grab a few white table cloths from the Dollar Tree to cover your tables and any other winter-themed decor you see (snowflakes, fake snow, trees, etc.).
Prep the Escape the Mountain Winter Themed Escape Room that comes with printable photo props, decor, and swag tags.
Send an invite to your students and encourage them to bring gloves and hats the day of the escape room. (They'll need them to escape a snowy mountain 😉)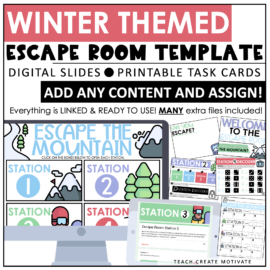 Winter Themed Escape Room Template
This winter themed escape room is the perfect way to add some fun to the classroom. Simply use the editable files to add your own questions, right answers, wrong answers etc. for your students to work on and review. You can use this as a digital escape room OR as a printable escape room to use within your classroom!
Reindeer Cam
Watch the live feed of Santa's reindeer while you work! I use this website HERE!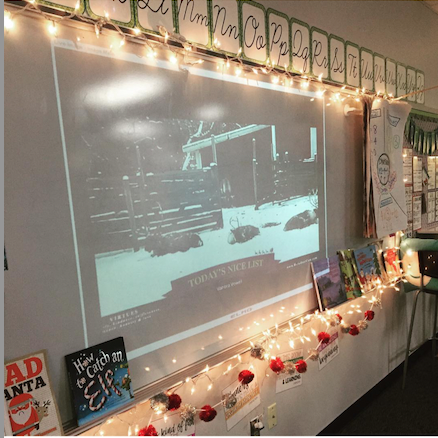 Pin the image below to revisit this post later!