HAPPY NEW YEAR!! Well..almost! Although the new calendar year does not mean a new school year, that doesn't mean you can't treat it like one! Here are a few new year's resources I use to do just that.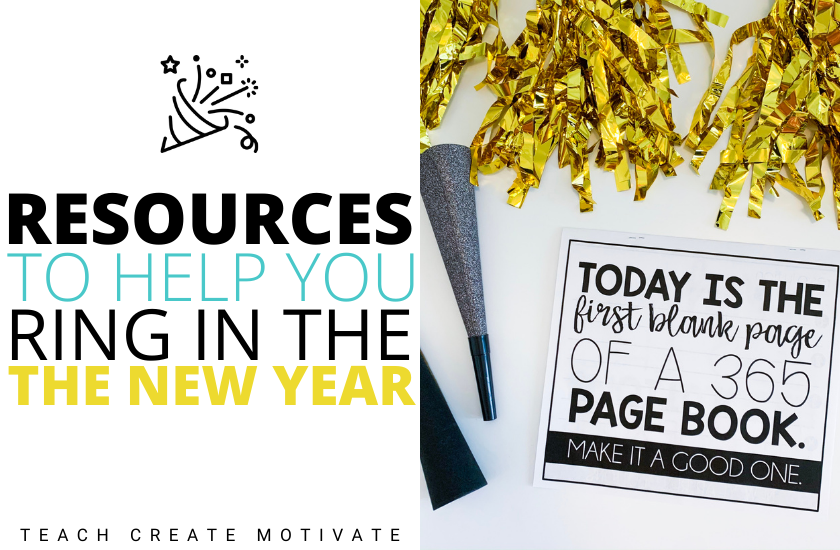 Class Slides
One thing I like to do after winter break is a reset with students. Of course, they know the classroom expectations by now, but this is the perfect time to revisit them! When we return from break, taking the first day to review and practice routines and expectations can be everything for your classroom management.
Class slides with timers is the perfect new year's resource to help you fine-tune expectations ad routines in the new year. Display directions and expectations on the slide and set the built-in timer for how long the activity or transition should take. Easy as that!
Goal Setting Activities
I also like to reflect and set goals with students for the "new" year. These digital and printable activity pages are perfect for morning work, a station, or an activity to transition back to learning. Students will answer prompts on resolutions, memories, and goals. Here are just a few examples:
2021 Memories
School Goals
"insert your own" Goals
Then vs. Now
Growth Mindset "I will have a growth mindset in 2022 by…"
All the Feels "What I will miss the most about 2021 is:"
Change it Up "1 thing I will do differently this year is: & 3 steps I will take to get there
One Word Freebie
Here is a freebie just for you to try with your students after the break! This mini flip is perfect for them picking their one word for 2022. Sign up below to get the flipbook straight to your inbox!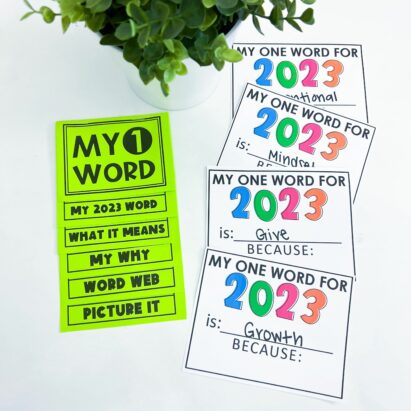 New Year Freebies
Help students set goals with picking one word for the new year. These one-word cards and one-word flipbook provide an engaging way to do this with your students after the break!
New Year's Resolution Flipbook
Make a flipbook with your students to save memories from the previous year and create resolutions for the new year. This is a fun new year's resource for the first day back as morning work or a soft start activity!
New Year's Activity Bundle
This is the bundle of the New Year's Activities (digital and print) and the New Year's Flipbook! Buy the bundle to save!
Bitmoji Bookmarks
The final thing I like to do with students in the new year is celebrating it! This bitmoji bookmark pack has bookmarks for every theme. Students LOVE seeing their teacher as a bitmoji, so they are excited to get it in their books and use it for reading. In addition, they are super easy to make AND get students into their books. A win-win!
Selfie Writing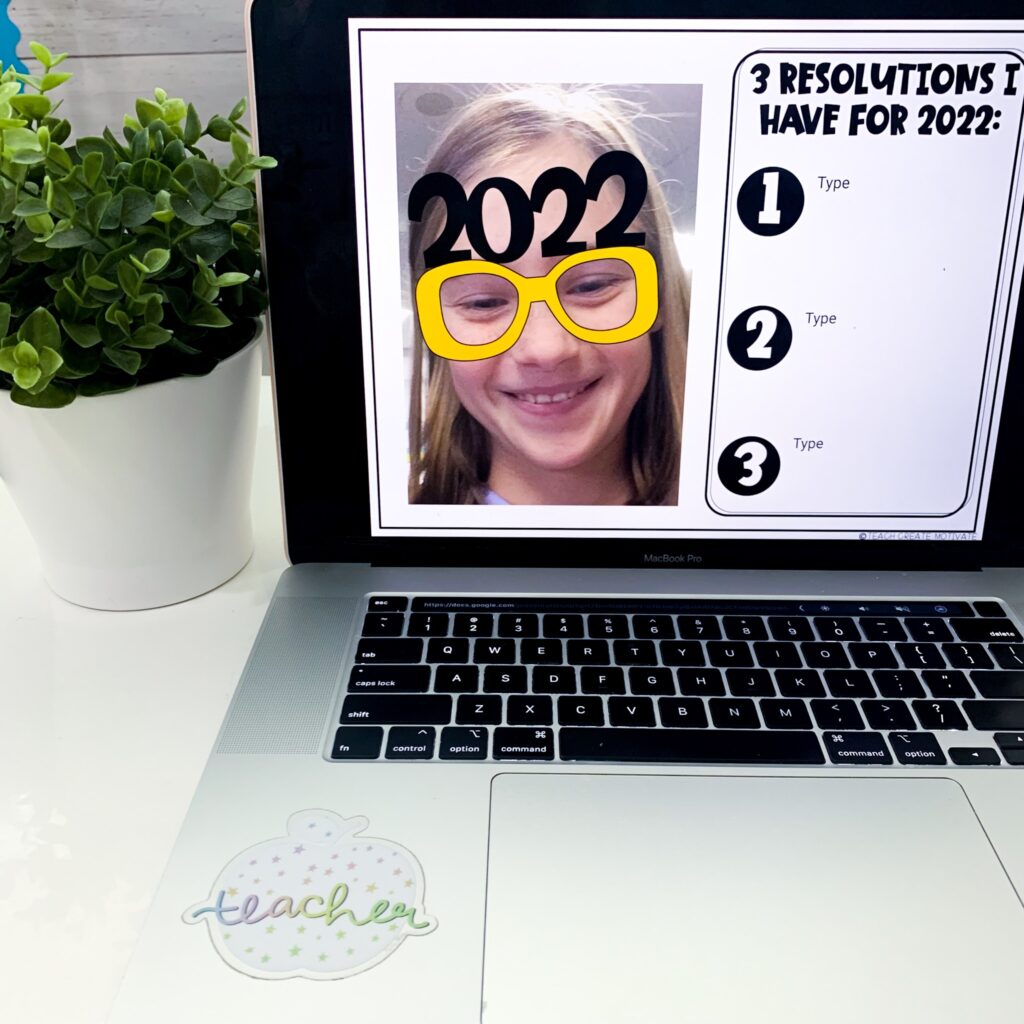 Themed writing is one of my favorite things to do with students! Selfie writing is the perfect addition to centers or stations because the students get so excited to use the interactive slides to write about the holiday.
Photo Booth Props
At the beginning of the first day back, at the end, or even in the middle, have a mini New Year's celebration. Pass out party hats or 2022 glasses to wear (*snag them at a party store, Walmart, or Target for a discount after NYE.) Have a small dance party using videos from GoNoodle and have some fun together! While you have your mini-celebration take some photos with photo booth props to bring in the new year.
Your students will love ringing in the new year in class this year! Use this time as an opportunity to reset for the remainder of the year and celebrate all that you've accomplished together already. Keep reading about setting goals with your students in the new year HERE.