Incorporating the seasons and holidays into the everyday classroom routine is a great way to keep students engaged and excited about learning. These are five of my favorite themed activities to add to your fall lesson plans for writing, test review, stations, classroom management, and more!
1. Fall Writing Prompts
There's no such thing as too much writing! Writing is one of those subjects our students need to practice, practice, practice, but that often makes them feel pressured, and writer's block creeps in. That's why I love incorporating fun ways where students can write without pressure!
These writing prompt cards are the perfect fall resource for quick writes, station work, fast finishers, and more!! They are themed and have real photos so students can easily make connections or write about what's happening in the photo. It's all about options!
Just print on cardstock, laminate, and put on a binder ring! Then, students can grab and go for a station or when they need something to do when they finish an assignment before other classmates.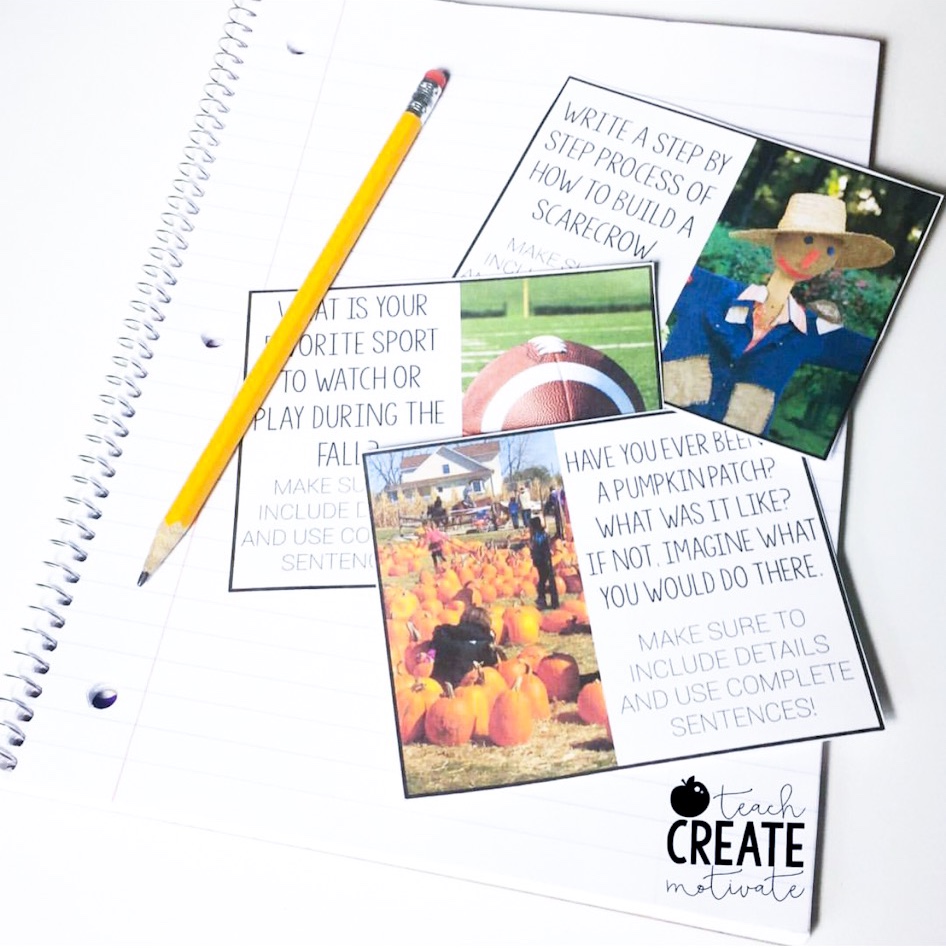 You can also assign the prompts digitally. The writing prompts are on Google Slides, so you can easily assign and go! Make them a morning work activity or center option at their fingertips.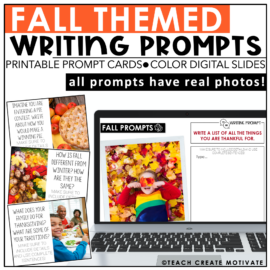 Fall Themed Writing Prompts
This includes 20 Fall themed writing prompt cards with real photos! Prompts come in both printable color cards (4 to a page) and digital slides to be used with Google Slides.
2. Fall Bingo
Holiday crazy creeping up on your class? Keep your classroom management in check with Fall Bingo!
This bingo board will help you manage those extra behaviors before the break! Use it to polish much-needed skills before the November/December stretch, when the holiday crazy really kicks in.
transitions
kindness
no blurts
teamwork
homework
participation
on task
This management tool is perfect for the whole group, table groups, or even individuals! For example, I love to use fall bingo to introduce individual bingo boards and motivate students.
3. Selfie Writing
If your stations are getting too repetitive or you're just looking for a fun way to get your students writing, Selfie Writing is just what you're looking for!
Students take a selfie on their device and insert it onto the slide. Then they can move the prop included on the slide to dress up their photo. Finally, students respond to the prompt on the same slide.
A perfect way to use this is to assign it as a station and give students the choice of which writing they will complete. In addition, each slide includes a prompt, a place for the student's selfie, and themed props.
Fall themes include:
Football
Turkey
Scarecrow
Pumpkin Patch
Apple Orchard
& more!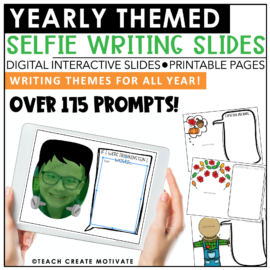 Themed Selfie Writing
You will love these themed and holiday writing pages. These selfie writing prompts pages can be used in print or for digital writing (version to be used with Google Slides™, Seesaw, Canvas, Teams, or PIC Collage.) Have your students "take a selfie" with over 100 writing prompts.
4. Fall Themed Escape Room Template
As the first couple of quarters or semester wraps up, that can mean testing or a needed refresher! This Fall-Themed Escape Room Template is an excellent way to review upcoming tests or review content from earlier in the year. You can use it for social studies, math skills, literacy activities, language activities, a science center, and more!
The hard part is completely done for you. All you have to do is add your own content, questions, and answers! This escape room is completely customizable to any subject area. You could even use it to review expectations if needed!
The pack includes digital and printable versions so you can quickly assign and go online or print task cards and have a fun movement activDon'tround the room. Don't forget to print the fun extras like swag tags and photo booth props to capture the excitement of completing the escape room!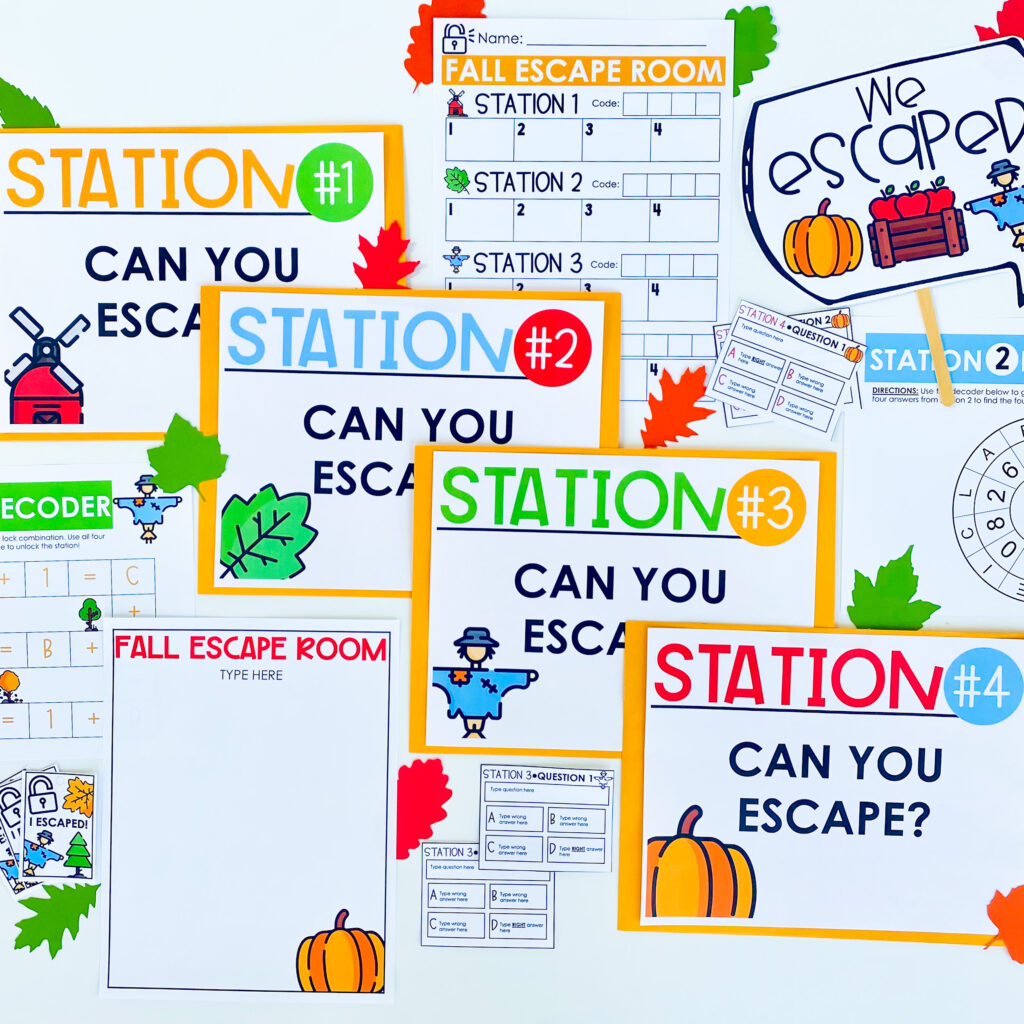 5. Fall Reading Comprehension Passages
Fall is a great time to review all the reading skills you've taught so far to your young learners! Add themed reading comprehension passages to your fall lessons.
Pair the reading passages with anchor charts or graphic organizers! Pairing with a graphic organizer or anchor chart will help your young readers understand the reading content better. It may also help them when they are answering text-dependent questions. Make one together in small groups.
More Fall Resources
You'll find all my favorite fall resources mentioned above and more like election day, bat, and pumpkin resources when you click HERE!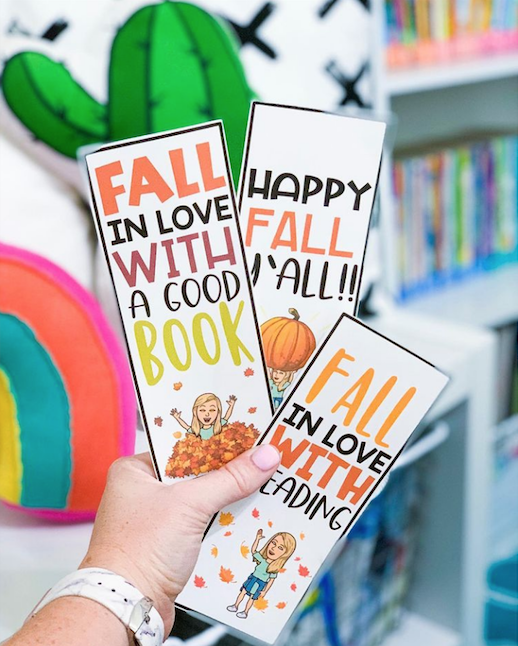 If you're looking for a special fall treat for your class, I like to give these Bitmoji Bookmarks as a quick little gift. Treat your coworkers by spreading a little staff sunshine with this fun, "You've Been Boo'd" idea!