With Veterans Day coming up on November 11th, I wanted to share some of my favorite Veterans Day activities to add to your Veterans Day lesson plans for your elementary students.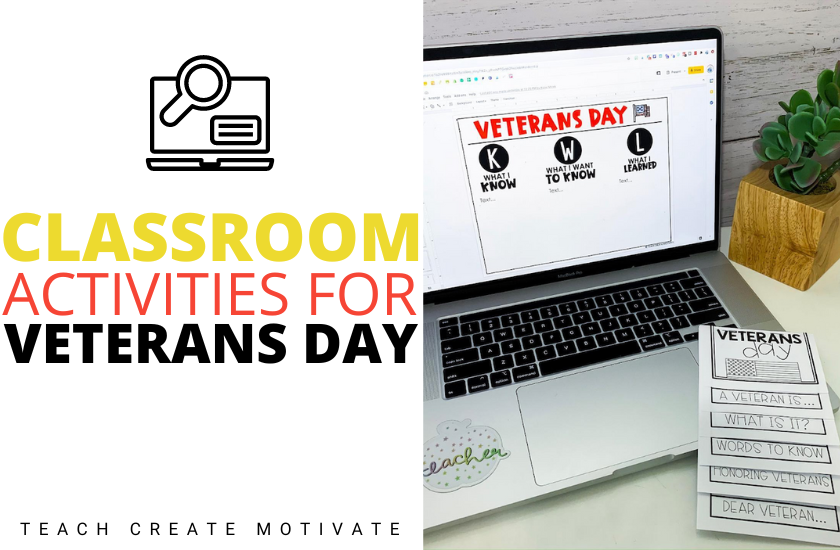 Read Alouds
Read-alouds are a great way to introduce students to an important topic like Veterans Day. One book to read on Veterans Day is The Poppy Lady: Moina Belle Michael and Her Tribute to Veterans. It's a picture book that tells how the poppy flower became a symbol of tribute and support for veterans.
Your school or city may hold a special day to honor veterans, and students will see this flower around. This is a great way to pay tribute to Michael's work and for students to have a deeper understanding of the meaning of the poppy and why Veterans Day is important.
Another great book for your Veterans Day lesson is Rags: Hero Dog of WWI: A True Story. This is a touching story of a dog and a solider's bond throughout WWI. This true story give students a view into the life of a solider. Find more favorite November read alouds HERE.
Veterans Day Lessons & Activities
Before the read-aloud, start a Veterans Day KWL chart with your students to help give you a better understanding of what they already know about the holiday honoring our armed forces.
You can work Veterans Day activities into your schedule in many different ways. Sprinkle the activities throughout the week in stations or centers, or add them to your social studies block. Graphic organizers, writing prompts, letter writing, and reading passages are great ways to teach about the history of Veterans Day.
Nonfiction Passage
Dive deeper into Veterans Day by introducing unfamiliar vocabulary to students with a Veterans Day vocabulary activity. Then, assign a Veterans Day nonfiction passage so students can learn more about the national holiday.
After these activities, students should understand what Veterans Day is and why we celebrate it.
Veterans Day Mini Flip Book
The Veterans Day mini flip book would be an excellent activity for students to complete for morning work throughout the week after introducing Veterans Day. This would make a great partner activity too!
They can use what they learned in the read-aloud and nonfiction passage to answer the prompts.
What is It?
A Veteran Is…
Honoring Veterans
Words to Know
Dear Veteran…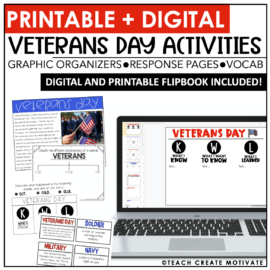 Veterans Day Activity Pack
This pack includes flipbooks, writing pages, vocab, and more!
Veterans Day Writing Slide & Printable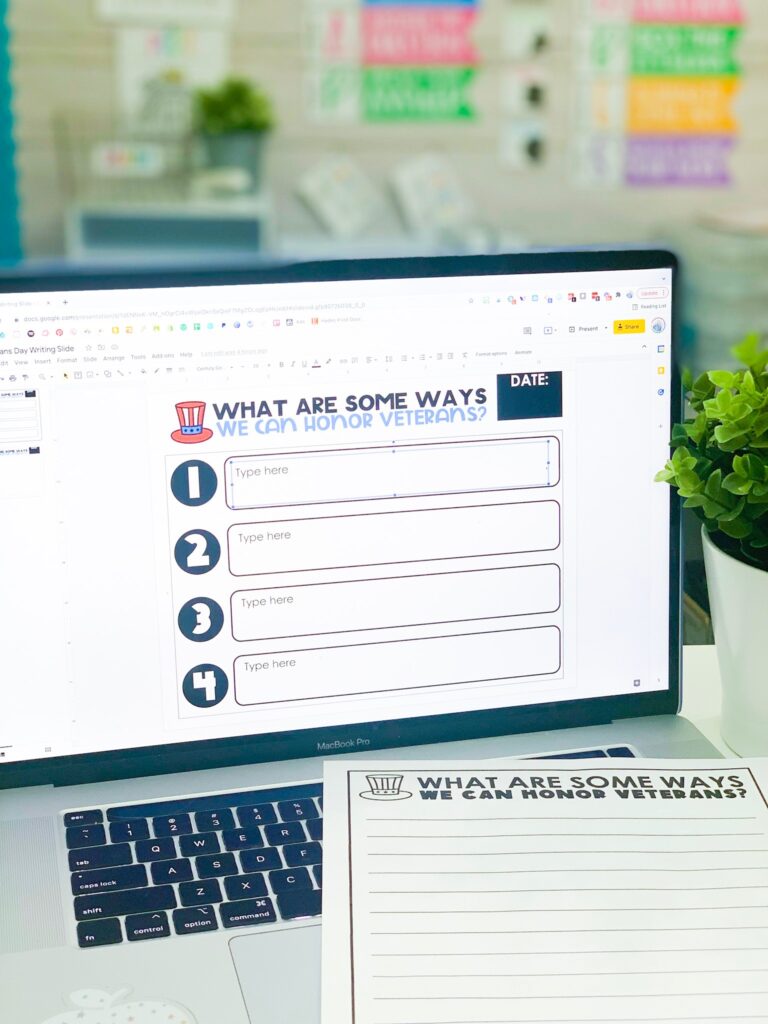 Use this Veterans Day writing activity as morning work, a station, or an extension of learning after discussing ways to honor our Veterans. Get it for free by entering your info below!
If your school invites local veterans or family members who served in the military for classroom visits, these will make great activities to display in the hallway or learn about this national holiday beforehand.
I hope you found something to add to your Veterans Day lesson plan. These student activities and Veterans Day ideas are an easy way to learn more about the experiences of service members and the history of the holiday.
Pin the image below to revisit this blog post later!